There are many colour combinations in our head that we strongly believe will not be able to make the cut. For instance, blue and orange, we think will be the worst thing you can do to your taste buds. However, if designers were to be believed, these combinations may seem unlikely, but they have the ability to work like a charm when done in a proper way. In the photos, henceforth, you will notice how the most unlikely pairs make such a huge difference and also provide some unusual interior design ideas. As a matter of fact, all it takes is a proper shade of colour, and you can make orange and green work with each other! With this article, you will see that there is no such thing as a bad colour combination, just combinations done poorly.
Green and Purple
[Image: Elad Gonen]
These colours together don't stand a chance, but if you put them in a same space and allow it to work, they do actually complement each other. However, TV monitor in this room clearly shows, taking help from Monet, of course, that purple lilies work really well in green surroundings! The two hues thus harmonize gloriously.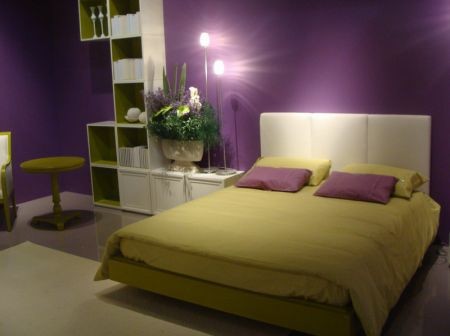 [Image: Ilija Mirceski]
The best thing about pairing unexpected colours is that they leave a room for excitement. Just as soon as you step into this bedroom done in purple and green, your automatic reaction will be that of intrigue and surprise, in a good way!
Orange and Blue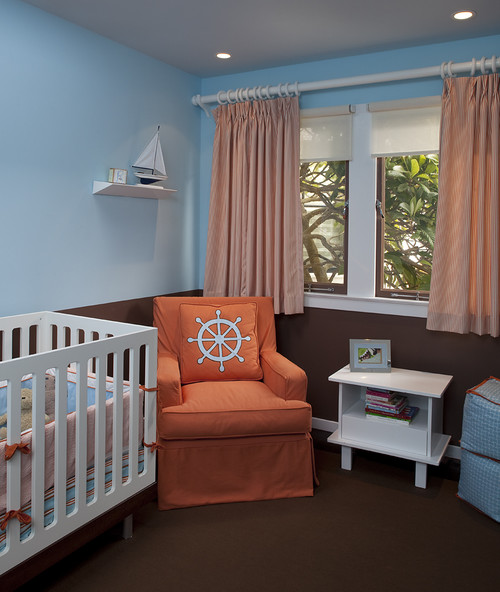 [Image: Artistic Designs for Living, Tineke Triggs]
In this image, the walls of the room are coloured in blue which has been paired with orange coloured furniture. However, the designer covered the bottom half of the room in brown so that orange can get a much friendlier surrounding and a backdrop. The curtains done-up in muted orange and white bridge the gap between two contrasting colours.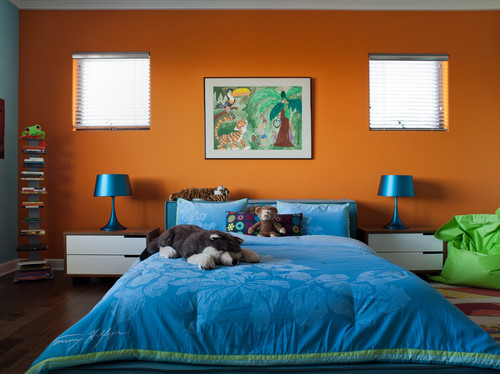 [Image: Lizette Marie Interior Design]
In this room, you will see that while orange and blue seem like an undoable pair, but when the blue is pale, and the orange is towards the burnt side, they work together wonderfully. Blue and brown definitely work well so when you tone down orange to come into the brown palette, they start to complement one another.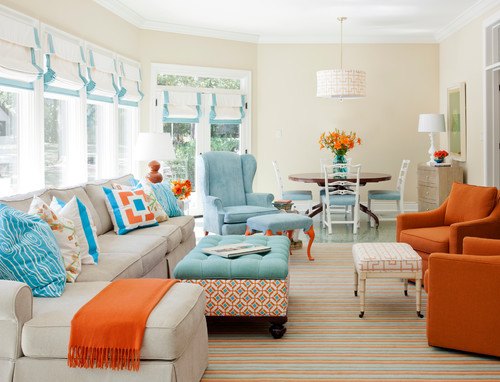 [Image: Tobi Fairley Interior Design]
A lot of colour combinations have a lot to do with geographical location, as well. Sometimes, bright colours fail to match up to a dark and gloomy weather outside. They are most likely well suited to a place that is sunny and receives a lot of natural light.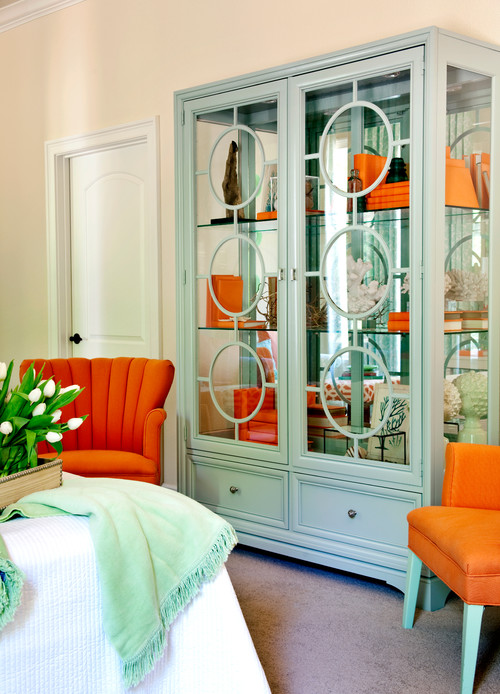 [Image: Tobi Fairley Interior Design]
There is another alternative to playing blue with orange, as shown in this image. The blue here is modest and allows orange to overpower. If you have odd colours at play with one another, try to alter their intensities to make them work.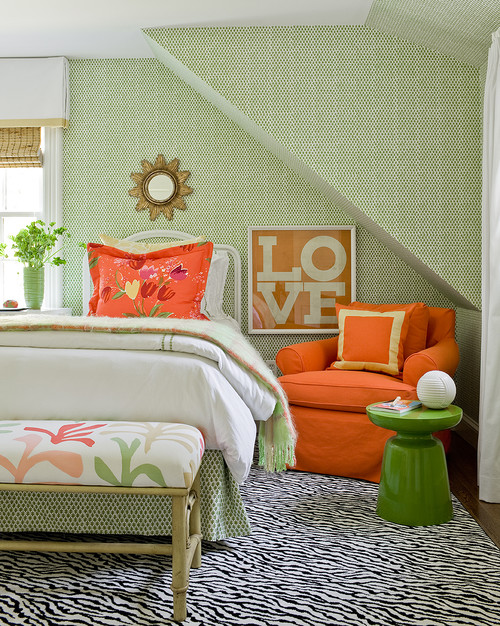 [Image: Michael J. Lee Photography]
Another unlikely combination that will leave you wondering about your aesthetics is green and orange. However, this image is a living proof of how the two are capable of working together. The wallpaper and the carpet below have shots of white that help balance the two hues against each other.
Blue and Pink
[Image: CWB Architects]
This colour combination appears to be best suited in nurseries, especially when the parents are unaware of the child's sex. However, this pairing works great in so many ways. The blue is a sublime pastel and the pink here is also so vibrant. When the two colours are toned down to pastels, they almost never fail to work together.
[Image: Alexander Johnson Photography]
If you are still not confident about blue and pink, then perhaps you can try blue and magenta. This eclectic colour combination is bold yet classy in so many ways.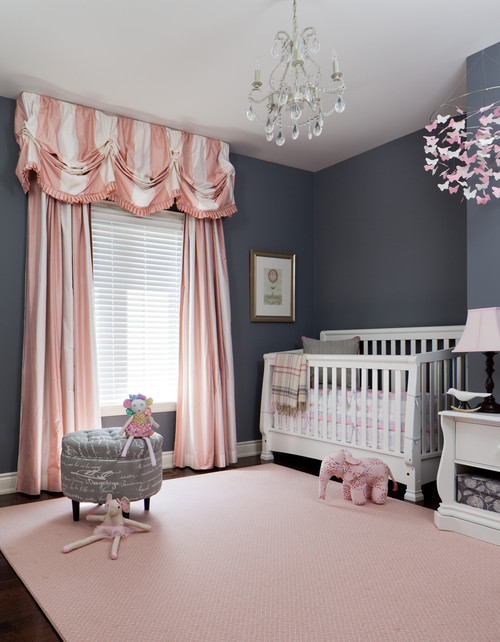 [Image: Merigo Design]
In this room, the blue has been dropped to a shade of gray and so is pink. Pink and gray have always been a good colour combination. The trick here is to give the two opposing colours a mutual ground for them to be paired together.
Pink and Green
[Image: Creative Décor by Mandi]
This colour combination is doing great because of the various hues of pink around the room. The range varies from a rosy pink to powder shade. This way, its chances of pairing well with green increases by leaps and bounds. Striped pink only gives room to make its impact in the room.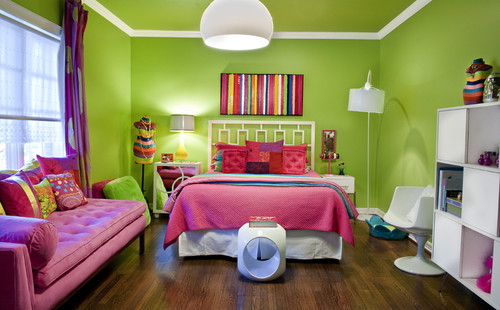 [Image: Canon & Company]
It has been said that the strong colour combinations do great together when one of the colours are being dominated by another. However, this bedroom disobeys that rule to the last letter. The two bright colours have been put together to work in complete agreement.
Blue and Coral
[Image: Tobi Fairley Interior Design]
Coral and Blue seem like one of the most impossible colours to pair together. However, as we all know that this combination is highly prevalent in the sea world then what makes you think that it will fail in your home?
Orange and Pink 
[Image: Arnal Photography]
Don't worry about the resale value of your house because you chose some eccentric that you like. Sometimes, you must do things that you want to do. This shower room has the quality of making you rise and shine, even though the water is not running.
[Image: The Bozzuto Group]
The same logic applies here as well when the two bright colours have been pitched against each other in such a way that they complement instead of repulsing one another.
Gray and Brown
[Image: Christopher Hoover – Environmental Digital Services]
Even though, this colour combination is good yet it is also sombre for some. But, if you put them together in a proper way, they make the room look masculine and also stunning. This is the kind of bedroom any man wouldn't mind being the owner of!
[Image: CM Glover]
Another way of using the two colours is warm tones. In this room, the gray shade has a hint of red in it which blends beautifully with brown at all levels.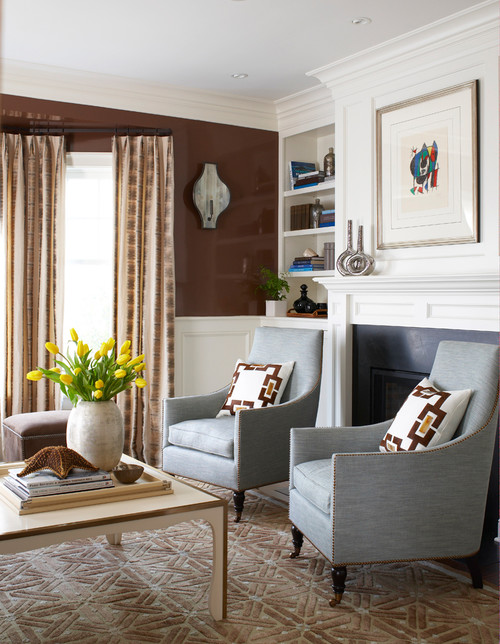 [Image: MuseInteriors]
From this image, you will see that brown and gray are such a sexy pair together. Gray is hard to pair with, and some may even call it tricky because of its ability to go from dynamic to drab in no time. Before you finalize a palette, make sure that you have tested their samples at various times during the day before you make the final decision. If it does, it offers a sublime and classy look to the room that we all crave.
Orange and Aqua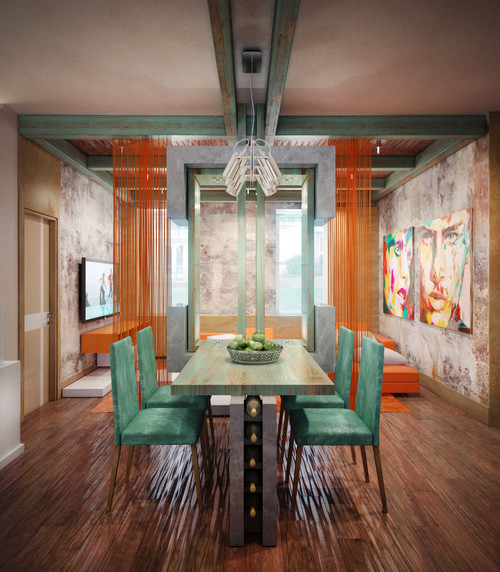 [Image: Annis Lender]
With colours like aqua and orange, just a hint of it done right can take it a long way. This room has enough of the two to make it appear harmonious. They provide a complementing surrounding without overpowering the space.
[Image: bbbmunro]
Sometimes it takes a great aesthetic insight to work up pairs like orange and aqua together. While most people will agree that together the pair may appear brash, unruly even. However, if you use them playfully, like in this room, it uplifts the décor to an all new level. The colour combination has been given a rest by using dabs of natural wood and white which restores a sense of balance.
Colours can be called musical to the point that they create melody when paired correctly, just like musical notes. It is an art to see what colours have the potential to work together even though some may not see it. These ideas are enough to get you to experiment but don't be afraid to work up your own combinations as these ones are also the result of crazy experiments!