Our lives have come a long way from what it used be back then. Flat screen TVs, internet based phones and other such technologies have put many things to disuse. However, amongst these old fashioned and obsolete items lay treasures that can be used today and used well into your home's design providing some out-of-the-box interior design ideas to the onlookers? Let us get up and close with all these retro retreats and make them usable again, albeit creatively!
The old rocking chairs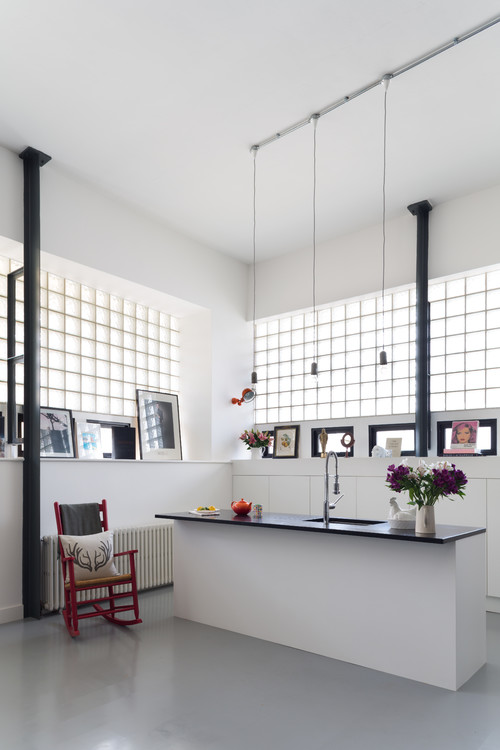 [Image: Trunk Creative Ltd.]
Rocking chairs conjure up an image of old grannies sitting by the fire and knitting in their own comfort. However, there is much more to it than just being a piece of furniture that brings longing. It can be used as an appealing addition to any room and create a point of visual interest. In this image, the red chair fits perfectly well in a present-day modern setting.
The old records players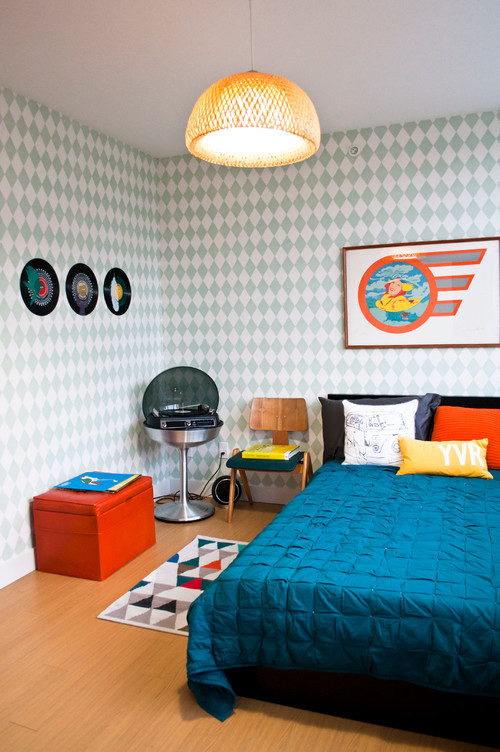 [Image: MANGO DESIGN CO]
Does that cackling sound of the needle on your record player bring back fond memories? Do you feel nostalgic when you see all those musical records that you once enjoyed with your loved ones? Take it out and display them on funky stands which are a sharp amalgamation of two periods. Who knows if they can play just as well too? Worth a shot, isn't it?
Bed Warming Electric Blanket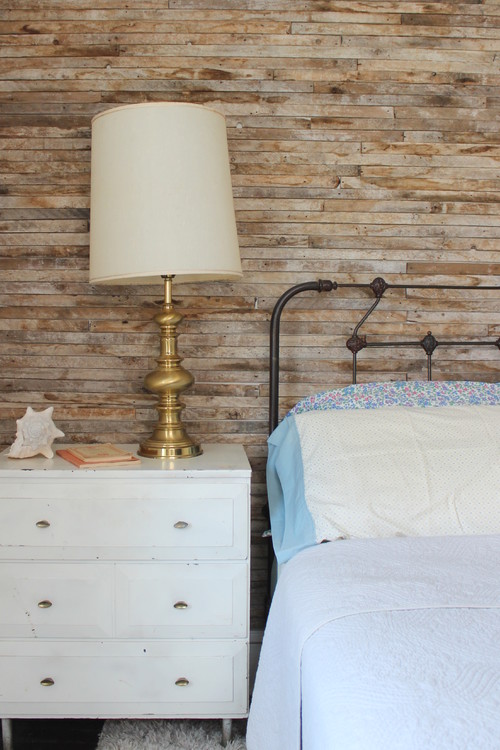 [Image: Sara Bates]
The electric blankets came for a very brief period into the market and were instantly a hit because of its bed warming abilities. Although, there were many cases of how mattresses caught fire at night or people losing essential bodily fluids which impacted its acceptance. However, you can still find these available at some stores even today. On a chilly night, you can use these in moderation and slip into a cozy bed all warmed up for you!
Specialized eiderdowns for extra warmth
[Image: Simone Barker Interiors]
These paisley and floral eiderdowns were one of those retro innovations that were meant to bring in additional warmth and up the coziness quotient on a winter night. These semi-duvets have an extra layer of insulation and are made of satin fabric for greater comfort. These were replaced by quilts and sheets later but are always open to be brought back. Their floral finish also brings in their rustic vintage charm to the room.
Booze Cruise with Hostess Carts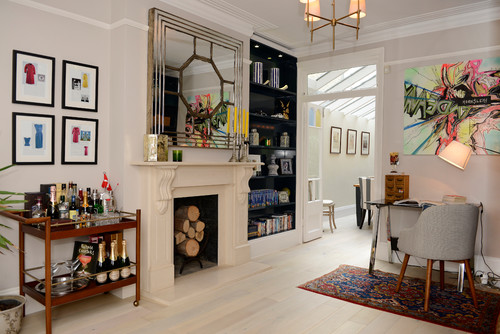 [Image: Potter London]
Back in the day, it was a regular thing to see carts at home that were used to wheel in food right at the dining table. They were later also equipped with hot plates and ovens so that the food could be served piping hot, ready to eat without making unnecessary trips to the kitchen. However, this hostess cart was later changed into a much humbler variant made of wood. These wooden carts were used to serve afternoon tea along with other refreshments. These days, people use it as a bar amongst other functions. You can place all your booze in one spot and cruise it to whichever section of the house you want when entertaining guests.
Living Rooms Two Steps Down
[Image: Diligence International]
Sunken living rooms are so chic that it never should have been retro in the first place! These are timeless and oh-so-amazing. The moment you see this kind of setting, the first thing that occurs to your mind is the 1970s ranch. To make it more the part, you can also bring in some sheepskin rugs and a fireplace with a drama to complete this lounge.
Vintage Hat Stands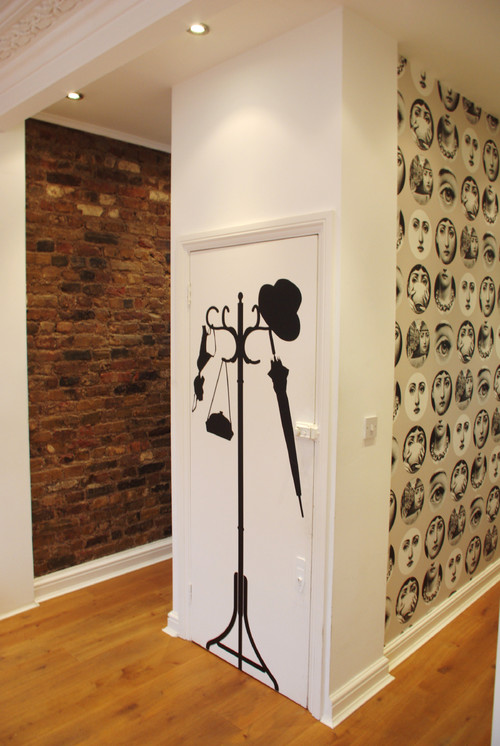 [Image: Avocado Sweets Interior Design Studio]
We all know of a time when hats were a crucial part of the ensemble and also necessary when one was leaving the house. However, as soon as you enter, the hats were placed on a stand that were located near the entry way. If you do not have enough room to accommodate an actual stand, then you can also consider using a sticker to bring in the retro feel.
Telephones with rotary dial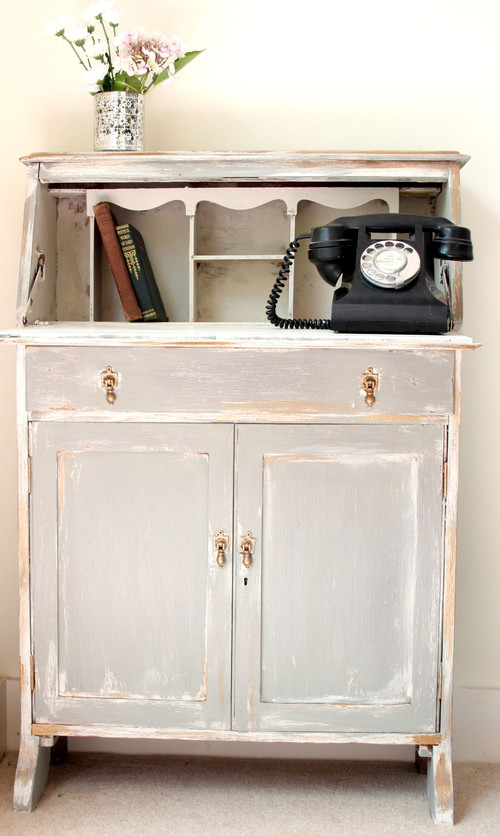 [Image: Rosanna Novella]
The old telephone receiver has now become a distant memory, ever since the cell phones came into being. It is still reminiscent of good old days when we swirled the chord as we talked on the phone and that buzzing sound as you dialed a number. This old phone will sit best on a unit that also speaks of an era gone by.
Large Flasks Made of Glass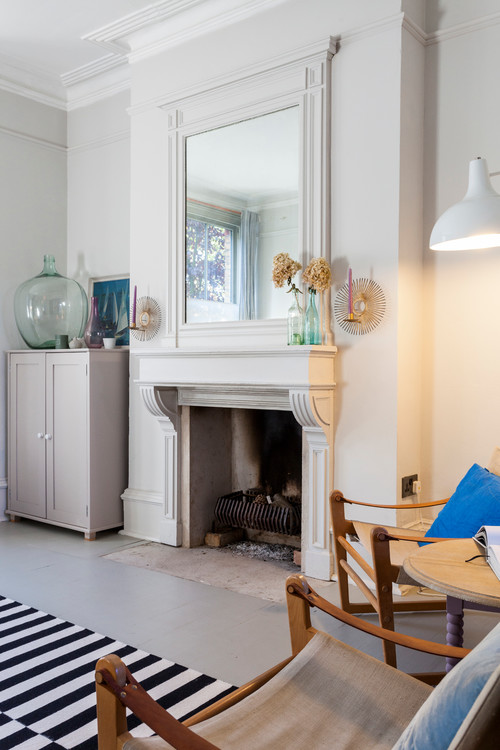 [Image: Chris Snook]
Back in 1960s and 1970s, huge glass jars were really popular and also a very common décor item. They were used for a variety of purposes like planting a cactus or to deposit loose change. They are one of those items from the past that can be easily accommodated into the décor of your present day without making too many shifts.
Old typewriters
[Image: Rikki Snyder]
Typewriting was the best thing that happened to people who enjoyed writing. Then typewriters may have fallen into disuse due to obsolescence but their font is still alive today that brings the old feeling back. However, now you can also bring in the typewriter, albeit for décor purposes and reinforce the vintage feel in the room. You can also type in a few words, perhaps to enjoy the 'ting' sound or to look at that oddly satisfying font.
Retro is chic and timeless. This is the reason why they keep coming back in some form or another. You can easily pick these items from garage sales or even dig into that attic to locate your own personal memorabilia that can be used to glorify your home!