When you are remodeling your kitchen, you focus your entire design on what you can store on the surface. Cabinets, wall paint, counter tops and appliances play a big role in what your kitchen will finally look like. However, it is the small things that make all difference in a way you can enhance the storage space in your kitchen which makes your space not only efficient, but also highly functional.
If you want that your beautiful kitchen should be more functional than just being gorgeous, then you need to open your mind to ideas like pullout shelves, wall-mounted boards, pantry systems and the likes.  Here are some 13 kitchen storage ideas and tips that you should incorporate while remodeling your kitchen or even while new construction.
Pullout storage for Plates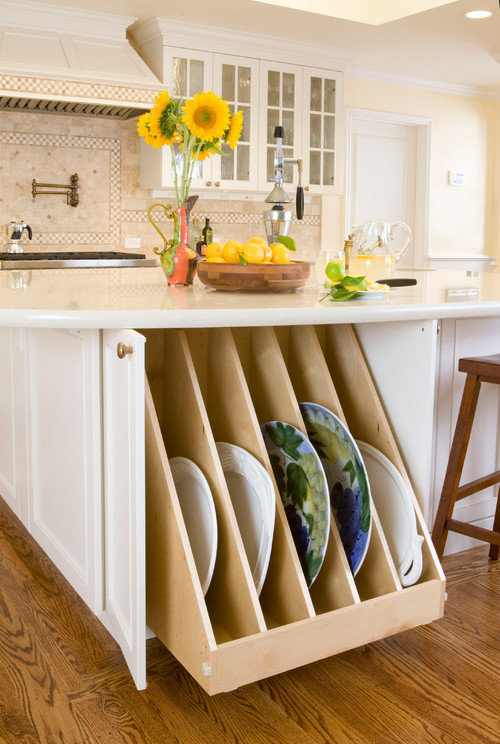 [Image – Kitchens by Meyer Inc]
When you are entertaining guests at your house, that's when you need to pull out your big platters for serving that are stored in the upper cabinets. It can be a lot of hassle to step up the ladder and take them out and store them back in every time you have visitors. However, you can plan to integrate pullout storage at the end of the island counter in your kitchen. Although it requires a lot of space, yet it is also capable of housing large platters conveniently, which can be reached easily.
Appliance garage on the countertop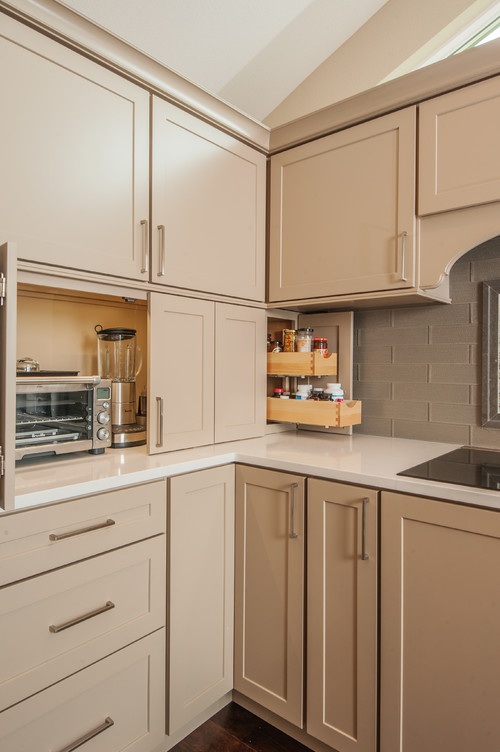 [Image – Kayron Brewer, CKD, CBD/Studio K B]
If you have ample space on your counter, then you can tuck your regularly used appliances like a toaster, microwave, blender, etc. in a dedicated slot in an appliance cabinet. This will keep your counter clutter free and cord free. In this image, the designer used a niche to store the appliances with an inclusion of an outlet so that they don't have to be pulled out every time they need to be used.
Use corners for drawers
[Image – Simpson Cabinetry]
Lazy Susan is one of the options to utilize the corners. However, corner drawers are also increasingly used by the homeowners to use the corners for storage. With the help of these full depth drawers, the homeowners are able to make most of the available space.
Low rollout in deep drawers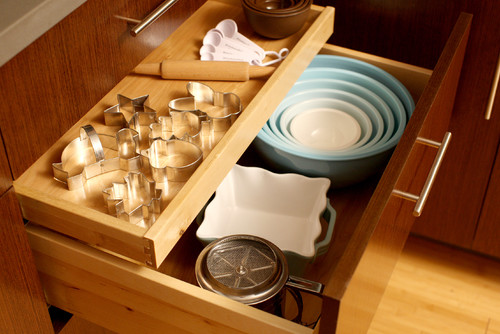 [Image – Dura Supreme Cabinetry]
If you have a deep drawer in your kitchen, you can also add shallow rollout drawer on top of it to store items like cookie cutters, cupcake papers, etc. These drawers do not need additional hardware or space. They can be accommodated in one of the deep drawers in your kitchen.
Separate Drawer for Cleaning Supplies Storage
[Image – Dura Supreme Cabinetry]
It is often very challenging to store the cleaning supplies as we never really plan that space while the kitchen is being designed. They are mostly stored under the sink. However, every time you have to reach something we end up knocking over many other bottles in the way. A rollover drawer dedicated for cleaning supplies will make it easy for you to store and reach the needed items.
Pullouts for Spices Storage
[Image – Shannon Poe]
Spices are most commonly used items in the kitchen and are often stored haphazardly due to their uneven sizes. However, by incorporating a pullout spice rack will keep them in order and will be easy to access on a daily basis. You can install these additional racks in the base of the cabinets or even upper cabinets. Many homeowners prefer to use two on either side of the cook top to maintain the design unity.
Island for Cookbook storage  
[Image – Brio Interior Design]
You can easily plan the open end of the counter or island as a storage space for cookbooks in the kitchen.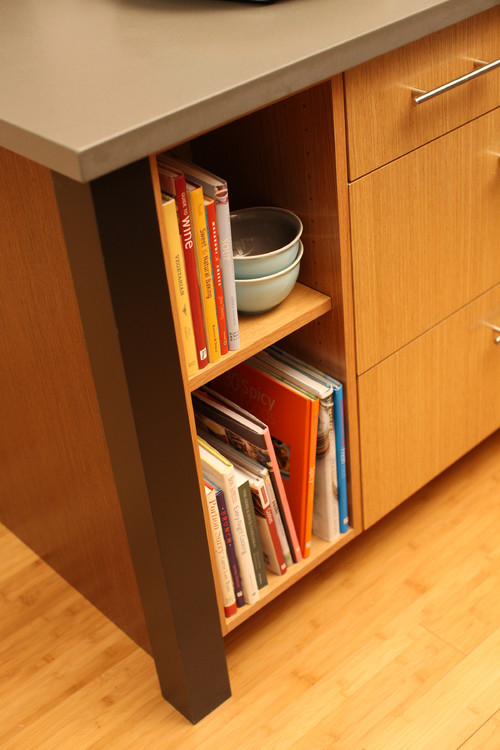 [Image – Dura Supreme Cabinetry]
You can use any cabinet in the kitchen for the storage of cookbooks. All you need to do is remove the cabinet doors and match the décor with the rest of the interior.
In-counter Knife Storage Slot
[Image – DeVos Custom Woodworking]
Sometimes a knife block on the counter uses a lot of space and may also look unattractive. However, if you want that the knives should be within your reach, but also not so rudely visible, then you can think of getting in-counter storage for the knives. These can be customized as per your design plan. Another option is to install a drop-in block for storing the knives. These blocks are set inside the kitchen counter or an island countertop and offer an enclosed space for storage.
You can also request for a customized knife block that can be made out of any wood, which can be made in contrasting material or matching the countertop color. These slots can be designed fully to the specifications of the buyer.
Walk-in Storage for Kitchen Supplies
[Image – Marie Newton, Closets Redefined]
A walk-in pantry will be any homeowner's dream for their kitchen. It can completely sort your kitchen supplies in one end and free up a lot of stuff for other things. In order to build this walk-in pantry, you need enough room to create that space. However, in some kitchens, there are closets that are not of much use to the user. Hence, this too can become a perfect storage space as a walk-in pantry. You can rope in a professional closet designer to help you redesign this closet to accommodate as many items as possible and that too in an organized manner. You can optimize your kitchen storage by simply adding this pantry to your kitchen design.
In this image, one can see that the kitchen walk-in pantry has many pullouts and innovative storage spaces along with overhead lighting to provide enough illumination to this spot. There are also small electrical outlets to run the appliances that have been stored in this pantry. To shut off the pantry from the rest of the kitchen, one can use pocket doors
Pantry System 
[Image – Tommy Hein Architects]
If your kitchen is not large enough to incorporate walk-in pantries, then you can install a pantry system. This system provides a flawless storage space along with a cabinet so that you can access all the items easily and quickly. You can choose these systems as per your own kitchen specifications as they are available in different sizes and shapes and configurations.
In this image, the pantry system is very simple and also serves the purpose perfectly. The interior of this pantry has been oriented vertically instead of horizontally that explains less swinging elements. Due to the elimination of all the visual barriers, one can see the items clearly from where they are stacked.
Ladder to access Upper Cabinets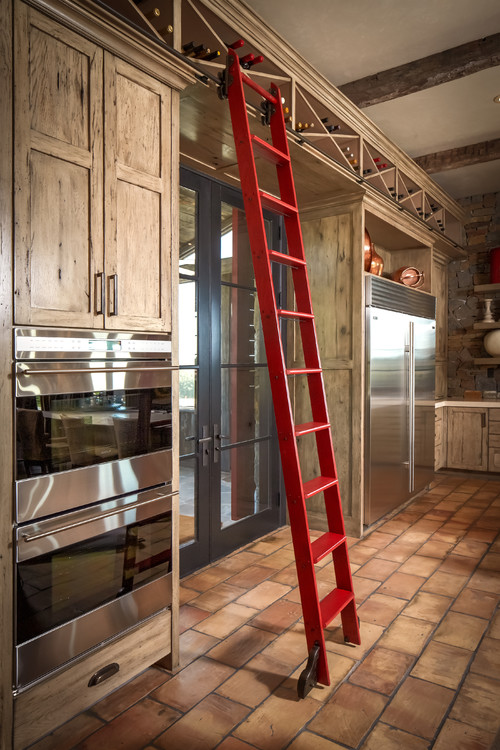 [Image – Thompson Custom Homes]
A kitchen can use as much storage as possible. However, sometimes it is not easily accessible and cannot be reached just as easily. But, if you install a ladder into your kitchen and align it with your design, you can attain organizational euphoria. It can be made of any material like wood or metal, which mainly depends on the décor of your kitchen. You can either get them permanently attached through rolling style or get the hook type ladders that can be removed when not in use. There are also some ladders that can be pushed inside the wall when not being used which eliminates a tripping hazard.
Backsplash for aesthetic appeal and easy storage
[Image – Davenport Building Solutions]
There are many people who get the backsplash storage due to its visual appeal. However, they also provide an excellent storage space that can be accessed easily. You can store anything on this backsplash storage and get the best out of your kitchen space.
Wall-mounted Pegboards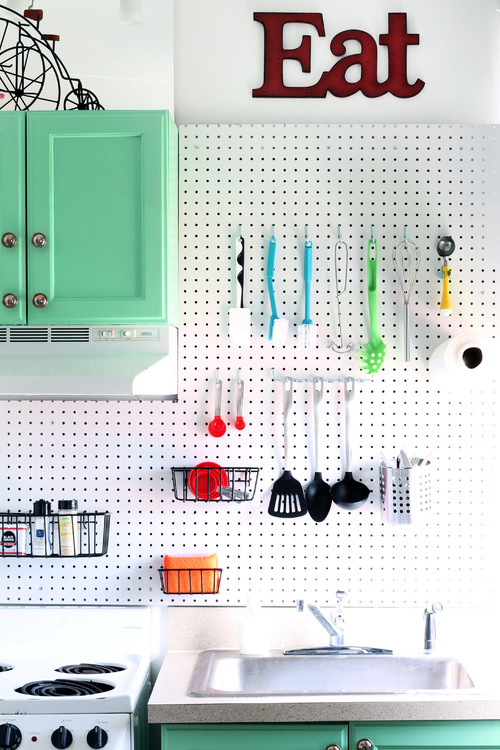 [Image – Liv by Design Interiors]
If you have a small house and a kitchen with very limited storage space then wall mounted pegboards are your best bet. You can install these on any unused wall or even utilize some portion of it that can be changed into an efficient space for storage. Since they have little protrusion from the wall, hence offer less or no interference with the cabinet. You can also add these to a pantry to maximize storage. They are completely customizable and can be designed fully to suit your kitchen décor. These boards are very flexible as you can add or remove the hooks as per your need.
These amazing storage design tips while remodeling your kitchen or while new construction can really make a lot of space available to you. Just follow these tips as per the design requirement of your kitchen and get more out of your available space.