Lamps and fixtures have transcended from simply being functional to being much more than that. You can alter the room's mood and space by using the right fixture. When buying a lamp for your home, there are many factors that you can consider, such as colors, composition, scale, etc. It doesn't matter what your décor style is, it can be traditional or modern because there are lighting ideas and choices available for all kinds of options. You may not know this, but a simple fixture can also help you carve out your personal haven by making the correct lighting choice. Here are some of the options that you can choose from when selecting interesting lights and lamps that will do justice to your décor in multiple ways.
Bubble Light Fixtures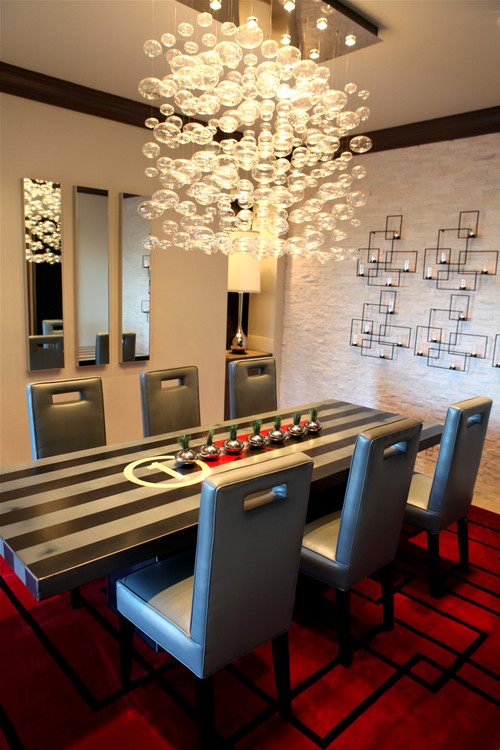 [A.S.D. Interiors]
It is such a calming effect to have a set of tiny bubbles hovering above as a bunch of clouds. Call them a modern take on hefty chandeliers; they can add a certain bit of charm to the room in so many ways. These glass orbs reflect the light off and give them a soft magical glow while casting its warm light in a room. Considered as one of most stunning dining room lighting ideas, you can change your dining room's mood by installing these soft bubble lights that delicately illuminate the faces of diners to keep post dinner conversations alive.
Drumroll Fixtures
[Union Studio]
Drum shaped pendant lights are so unique and visually pleasing in this room. They add a sense of drama to a simple décor and their charcoal finish works in perfect combination brick wall and the utensils hanging on them. Not to mention, how they work wonders in becoming an excellent source of task lighting for your kitchen island.
Lighthouse
[Albert, Righter &Tittmann Architects, Inc.]
Imagine a lighthouse right in the middle of your house. A lighthouse is a column that works as a beacon and also as a dramatic point of focus on a staircase. You can change the illumination level from fully lit to a soft glow. It can also function as a nightlight to keep your stairwell dimly lit.
Modern Pop Style Installation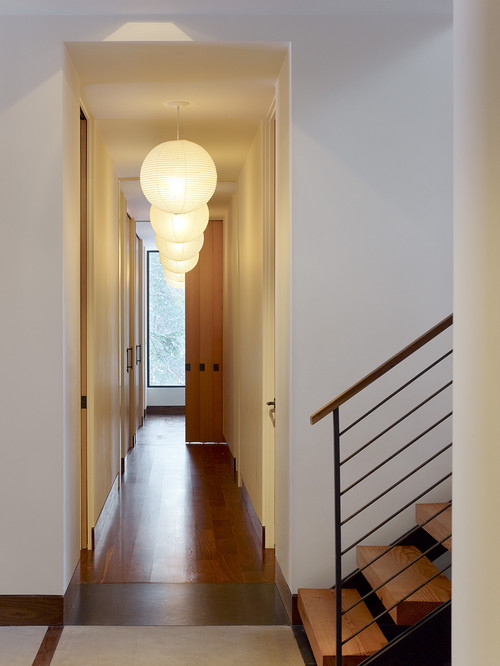 [John Maniscalco Architecture]
This artsy repeat installation is a classic case of using multiples to create a dramatic effect in the hallway. Paper lanterns are so gentle and offer soft illumination. Most importantly, they are inexpensive, which means that using many will be not only visually pleasing but also affordable.
Sputnik
[Handman Associates]
This sea urchin is a welcome change from the regular sputnik-themed fixtures that we normally see everywhere.
When this fixture is lit, the bulbs pleated into slender rods cast interesting twig-like shadows on the walls and ceilings. It also helps in lifting the walls covered in grass cloth.
Swing-arm Lamps
[LKM Design]
In this room, the swing-arm reading lamps not only provide the needed reading light but also perform the duty of being a visual treat in this sitting room. With their general lighting, they make a cozy spot for reading with overstuffed chairs and focused reading lamps.
Grouping the Items Together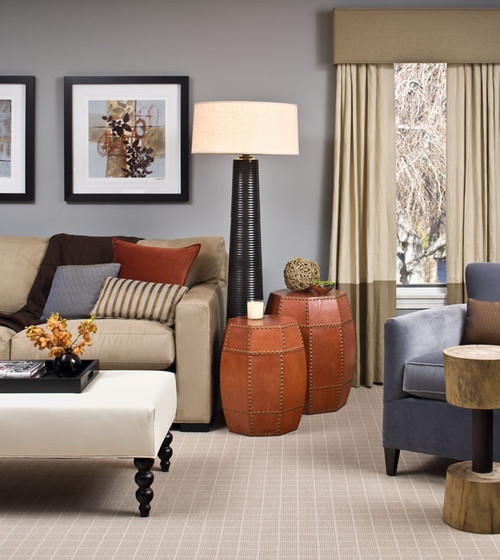 [Modern Family Room]
Nothing works like a charm the way a huge floor lamp done right. In this living room, the floor lamp is filled with statement pieces that are scaled to suit the rest of the room's décor. In fact, they are tied into the leather drum tables rather than making a statement of its own. This composition gives a cohesive look to a living room.
Using Red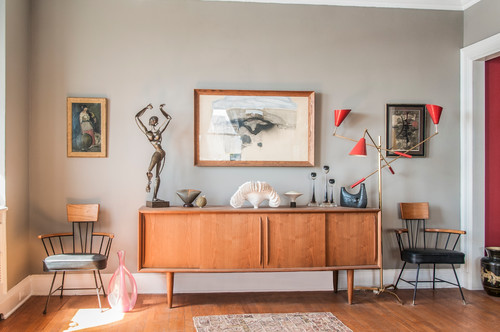 [Amy Krane Color]
These adjustable standing lights have been paired with pastel grey-beige wall, coupled with vintage wooden furniture. Together, they offer a color splash into a softly hued room. The lamps are a great inclusion with an additional benefit of focusing the light where required. However, in itself, fixture manages to stand out with its pop red and lights up the room not just literally but also figuratively.
Match the Collection
[Kit Republic]
Next time you want to buy a lamp for your room, you can even design one that goes well with the artsy collection. In this image, the ceiling fixture does not demand too much attention because it is simple, with clean lines. In fact, it does a good job in highlighting the room's décor rather than attracting attention to itself.
Pendant Lights in Bathroom
[Amy Newman Lauffer, CID, LEED AP]
Wall sconces are so run-of-the-mill when it comes to decorating a bathroom. Instead, try these pendant lights for added effect and illumination. This look comes hardly expected, and you can use all the available wall space for something more functional such as a medicine cabinet. You can adjust the length of a pendant light to ensure that it illuminates the face properly.
Candlelit
[Twist Interior Design]
A wrought iron candle sconce may seem like something of the past, but in this bathroom, it fits right into the old-world charm.
The candle in this wall sconce is lit by a small bulb that appears like an actual flame but can save you from the fire hazard or the effort of changing a candle as one runs out.
Logroll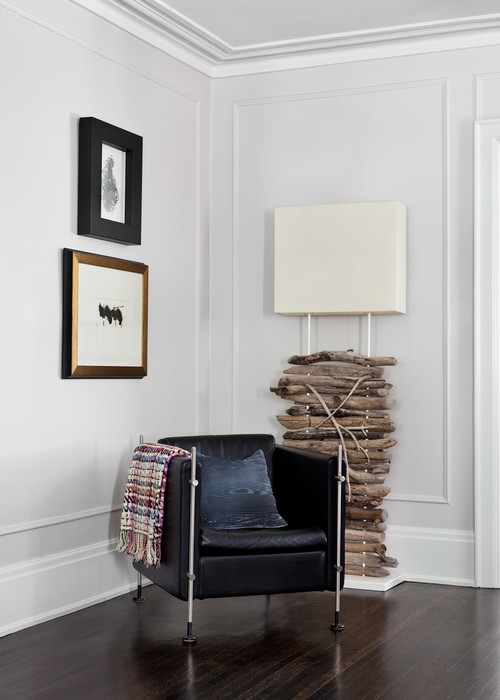 [Sara Bederman Design]
The light in this room is a work of art. A floor lamp that is a mix of a sculpture and a light fixture is a great addition to a minimalist room. The flat shade complements the artwork while the base adds a sense of texture to the traditional walls, matching the molding on the wall panels.
Uplight, Downlight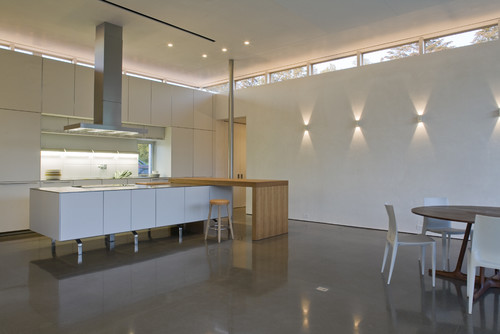 [Bushman Dreyfus Architects]
No rocket science in these lights, just plain sconces that light the wall in a pattern by blending into minimalist décor. As one of the classy kitchen lighting ideas, you can introduce interesting light patterns rather than using garish artwork in your austere room.
Origami Inspiration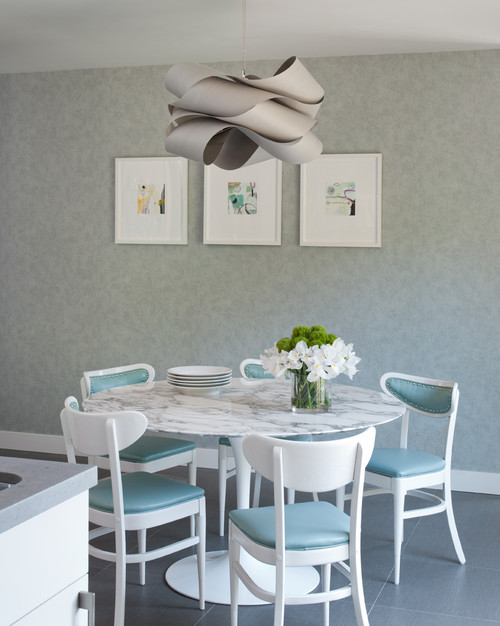 [Shirley Parks Design]
The origami-inspired lamp in this room is the ultimate focus of the dining region. When your turn out the lights, it appears as if a sculpture is floating in your room. However, the rolling folds in lamp capture and scatter light in an artsy way.
Birdcage Lighting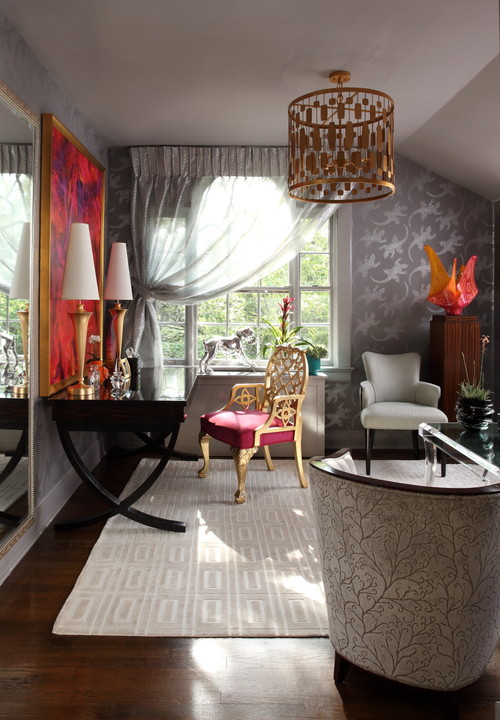 [BAK Interiors]
Metal is so rich and can instantly lift up a room's décor by diverting the attention to itself. They also serve as an exciting focal point. What works best with a metal work birdcage are the shadows that are cast into the walls of a room? In this case, metalwork also complements filigree work on a gold desk chair.
These lights are just some of the many options out there that can enhance your room's décor to an all new level with their simple presence.