We have a tradition to give flowers as a token of greeting to the loved ones. Any occasion at our place means a lot many flowers. Decorating flowers is a creative art, and there are many ways to do it, but to stand out from the regular, you can employ some out-of-the-box ideas to decorate with flowers like the following:
1. Mix up flower and fruit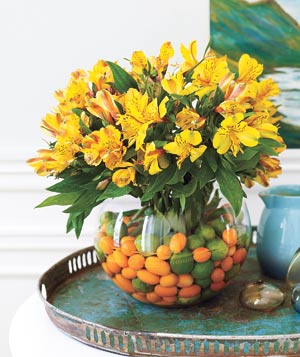 It is fairly traditional to mix some kind of fruit with floral decorations. Usually berries are chosen for their versatile nature. Take a clear, round bottomed vase and fill it with olives or berries in many colors. Then fill some water, but only till the berries or olives are just covered. Place gerberas or other flowers and some leaf twigs to fill the mouth of the vase. The arrangement will stay for a few days and look stylish and very chic on any surface.
2. French style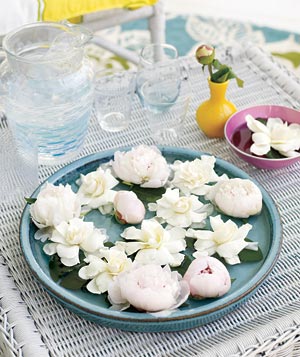 Well, the French like it very sophisticated; and so do you! Why not try this stunning display of the lovely roses or peonies you have had delivered this very morning? Take a round, flat plate with slight edges and fill it up with water. Add some essential oils to the water for extra fragrance. Cut up the stems of the flowers till the corolla, or the base and lightly place the stem-less flowers in the water. Keep adding more flowers till your plate is full or till desired limit. The floating, light flowers look extremely beautiful, especially when placed in the centre of the dinner table or on the hallway table or shelf. Welcome your guests with this delightful arrangement!
Flowers say it all so effortlessly that little of the other decoration is actually needed. Be it birthdays or those special anniversary dinner for the two of you; be it a grand gala party or even a funeral service, flowers are always a statement. They never overplay or underplay, they make for the perfect occasion accessories. Try out these innovative styles for the flower decorations at your home or workplace and get the crowd talking!
3. Cabbage vase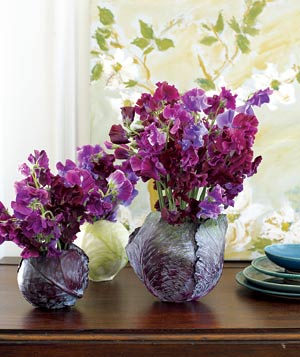 We have all seen glass vase, crystal vase, ceramic vase and even stone and wood vases are quite popular these days. How about a fully organic vase, which can be thrown away with the flowers when they decay? Simple yet classy and unique, carving out a hole in colored cabbage and using it as a vase may seem very quirky, but this will sure fit into some theme gathering you will or are having. Just carve out the hole, add some long stemmed tube rises or lavenders and you are good to go!
4. Flowerbed on the table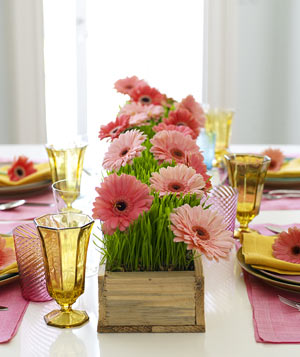 Flowerbeds in the garden look so pretty! And now you can get them to the dining table too! Procure a wooden box and fill it with floral bricks. Cover the bricks with artificial grass so that they do not show through. Take the flowers, gerberas preferably, and cut their stems up to desired length. Insert drinking straws in the stems to make them sturdy enough to stand firm in the box. Now, taking care of the placement, insert the flowers in the bed. To make it look natural, keep it haphazard and varying lengths.
Make your flowers look out-of-the –world! Do them up in great styles and see them bring brilliance in the way you have your guests over. Have an innovative take on these styles and ideas too, and maybe we can learn something as well! Tell us how you transformed your flowers. Keep the ideas flowing!