Before you jump into switching up your furniture pieces, replacing the floors, redoing the wall colours, you should look into the lighting work. When you sit down and brainstorm living room lighting ideas, you will know that this is an affordable option, and it can actually help in updating the attire of your living room. You can play around with lighting in so many ways that it can make your living room look grand! You can work on the architectural details of fixing the lights, focal points, direction, layers, flow and so much more. If you are ready to redo your lighting system, here are 5 things that you need to consider.
Put lights at the unexpected places!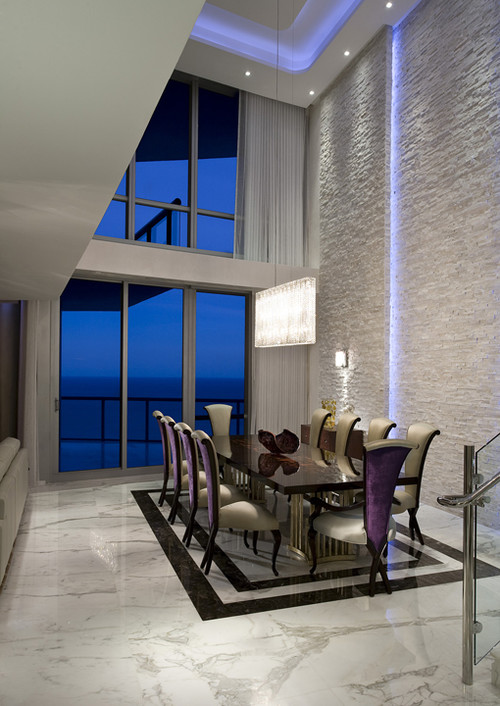 [Source: Craig Denis]
Yes, you read right! If you want to add panache to your living room, you need to go a little artistic and unpredictable. Go with unexpected ideas that define the style of your house and your own personal fashion too. Make sure you are setting a certain mood in every corner of your living area.  Going for unconventional lighting ideas is always better than sticking to the same old boring detailing. Like shown in the above picture, you can use blue LED lights in tray ceilings in the dining area of the room. You can also go for little ceiling lamps or spotlights in a certain corner, which doesn't need bright white lights.
Layer it up!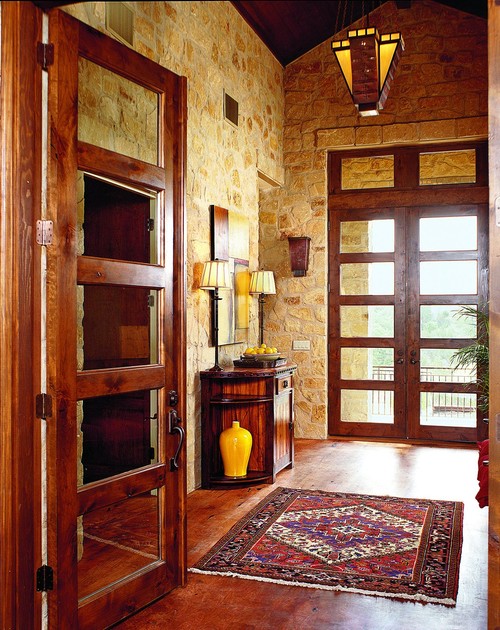 [Source: Cornerstone Architects]
By layering it up, we do not mean you have to put all the lights on one wall or the same side. You can add three layers of the same type of lights in the surrounding sides in one area. If you have a balcony or an outdoor space attached to your living room, you can use these incredible outdoor lighting ideas to enhance the look of your boring balcony. You can add two lamps on one side and pick a ceiling lamp to add a spotlight effect in your space. You can also place long lamps on the entry way at each corner to highlight that portion in your house.
Use dim lights!
[Source: Brantley Photography]
Add a cosy feel to your living room with dim lighting. Dimmer might be expensive, but it will actually save you some money. When you dim the lights, you save money on your electricity bill and also increase the life of the bulb. This essential tool gives you a certain control, which is amazing. You can just add dim lights near your dining area in the living room to make it cosy if you often enjoy candle light dinners.
Are the lights in trend?
[Source: Alene Workman Interior Design, Inc.]
If you want quick fixes with the lighting and don't want to spend hours finding ideas on all the lights in the living room, you can just update them. Go for eye-catching pieces like chandeliers instead of old-school ceiling fan light fixtures. You can also opt for rectangle wall fixing lights for the pillars in the living rooms. This will not only draw attention but also look classy plus elegant.
Is your lighting focusing on the right spots?
[Source: D Kor Interiors ]
When you put lighting in the living room, you need to place it strategically. You cannot just place it wherever you like. If you are going for wall scones or spotlights in the living area, make sure they are right above or beside the sofa set. You cannot have the sofa or sitting area in the room dull or with fewer lights. This is the main highlight of your entire living space and the place where you will spend most of your time.
So, plan properly before you make major lighting changes in your house. Use these 5 essential tips to update your living area!