Designing your home office is not just about having desk and starting out with work, but there is a lot more consideration to the idea. Unlike corporate offices where you have an instant vibe of the work environment, the essential nature of home offices is relaxing. There's a need to make sure that the mood for work is maintained, and for that it is essential to find the smallest things that can help you work better. Here are some small but smart interior design ideas that can work in a big way.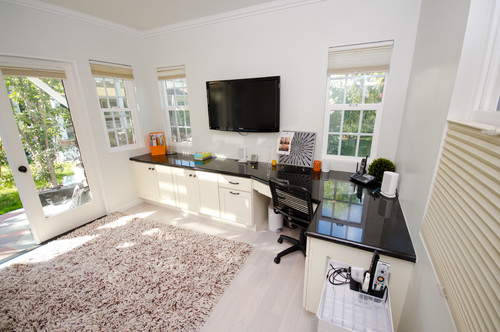 [Image – Stonebrook Design Build]
Connect with the nature: Ideally, when your desk is designed to have a look at the nature or water, there is an instant increase in the mental energy. This can be a great choice for those who have a park or garden outside the home or even a flowing fountain can be good. However, when you don't have any options, even adding a couple of plants in the office can be a good idea.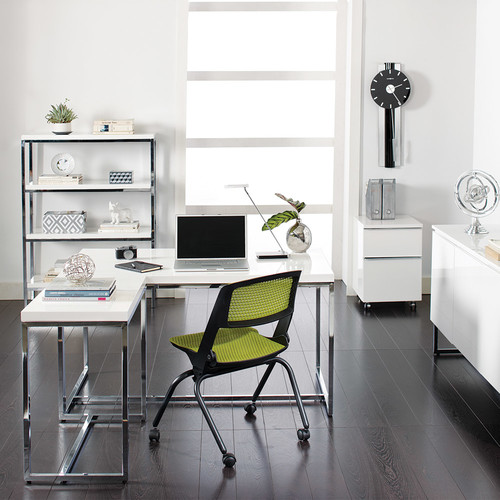 [Image – Dania Furniture]
Use some modern office furnishings: You may need taking one file from the right and might need to just place it on the left the next moment. It is important to understand the kind of job you have and invest in some quality modern furniture that can reduce the movements and enhance the furniture. A rolling push-back chair or even a completely customized system of racks is a basic idea.
[Image – CARNEMARK]
Use More of wood: Wood for the office is known to have a soothing and calming effect just like leaves, plants and water. If you can have some unpainted wood touch to the office, nothing like it because there is no denying that classic offices are always in vogue.
[Image – Lucy Johnson Interior Design]
Keep staring away: It is imperative that you stare away from the computer screens because the eye strain can be often more damaging than you think. The best thing to do is to look for the things or have something that you can look at every 15-20 minutes of computer work.
[Image – Pella Windows and Doors]
Get greener: From painting the walls in green to having more plants, green is the color that works best for any office, not just a home office. What you can do is change the paint or can have something green to look into as it would yield in better creativity and performance. Also, don't add red to the office because even in a small amount, red has a tendency to distract and thereby, you will find it tough in concentrating on analytics and numbers.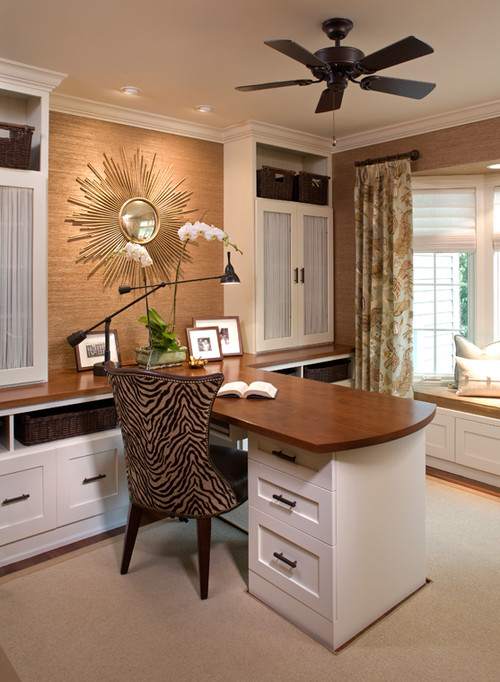 [Image – INVIEW Interior Design]
Add more technology: Adding controls for the lights, window blinds and other small things can help you ease many tasks that require getting you off the seat. This will not just ensure that your unwanted movement from the seat is reduced, but will also add on to your mental power.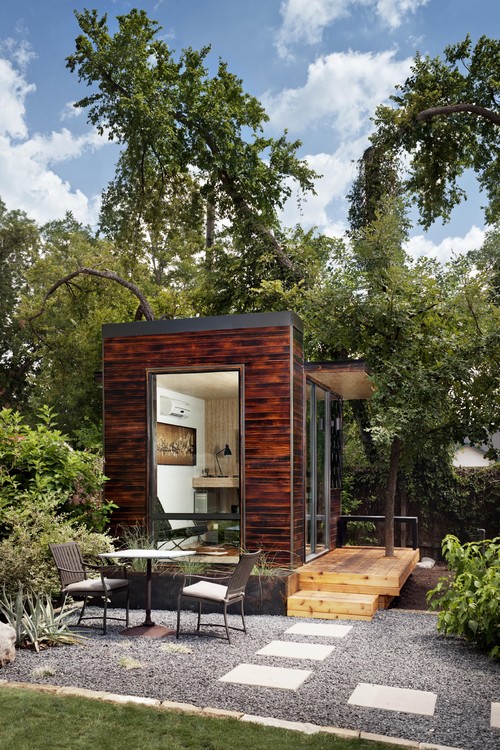 [Image – Sett Studio]
Check the door: Preferably, the door of the home office should be visible to you because there is a constant thinking in human mind about the guests. Many times, even the slightest disturbance at the door can be distracting, but when you have the door to check, you are much at ease. The best solution is to place the desk on the area where the door can be seen without running back.
With these smart interior ideas, you can easily enjoy working from home!