In urban areas where the space is an all time challenge, the biggest challenge happens when you get a house with long and constricted living area, and you are not sure how to deal with this much space. However, with simple design techniques and little knowledge of the interior decoration, you cannot only do justice to the décor of the room of the room, but also create cosy nooks and areas for formal seating. Here are some design ideas and tips to give you a head start so that you can rearrange that furniture effortlessly and get the desired look in the room.
Plan your furniture as per the activities
[Image – Jeffers Design Group]
When you know exactly what you would be using the room for, breaking down into sections will not be much of a challenge. The best way to deal with a long room is to give it two seating areas. This way you would be able to fill up the room without compromising on the furniture. You can also add customization to the respective spots as per the activity that it would be used for.
To be able to justice to the design, you can add floating piece of furniture and stick with the colour palette to maintain harmony in the room. You can also add some extra set of chairs for the guests who would like to mix up with the other group.
In this image, the designer has used an ottoman table for an informal seating in one end and created a formal one with a long table to favour the size of the room in another end.
Add more pieces of sofas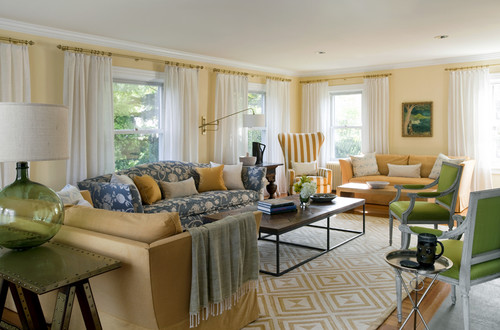 [Image – Andrew Suvalsky Design]
In a room that is long and thin, nothing fills up the space like additional pieces of the sofa. If your room is not long enough to accommodate another set of seating, then by adding more seating pieces will finish the space for you. In this image, there are three large sized sofas in combination with an extra set of chairs for the guests to become a part of the conversation whenever they desire. On the other end, a wing chair breaks the monotony with its tall stature, and also, acts as a breaking point in the room with its bright hue and majestic appearance.
Add Floating Furniture to Dress up a Room with Doorways on both Sides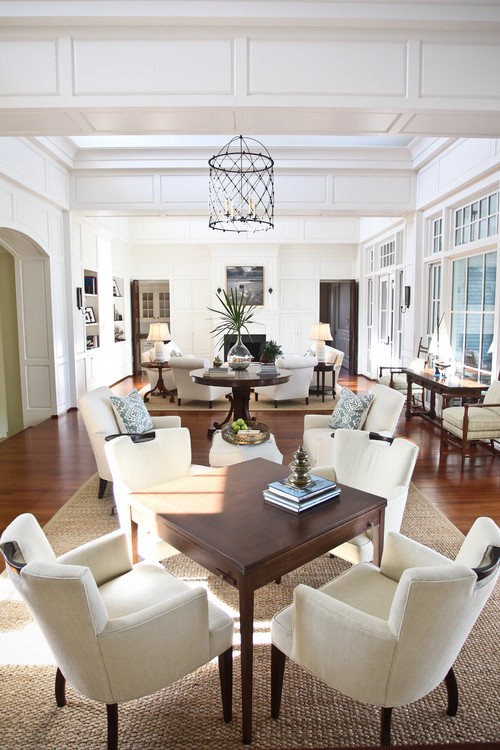 [Image – Margaret Donaldson Designs]
In a room that is elongated and has doorways on its either side can be a little tricky to design. The only solution here is to create a divide in the room using floating furniture in between two seating areas. You would be able to separate the formal seating from the game area. Just throw in the matching furnishings that complement the wood tone, which will bring unity to the room's design.
Archway Bisecting the Room's Space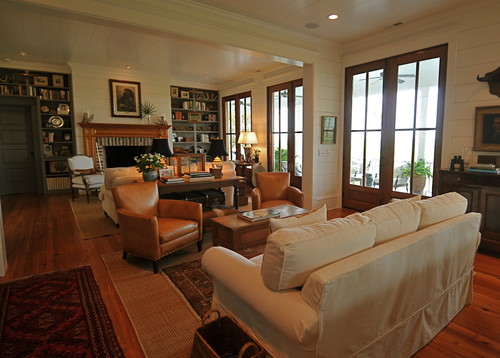 [Image – Alix Bragg Interior Design]
The room in this image shares a common colour palette on both the sides, which makes the designing a little easier. Besides, the room has been lent an easy divide with the help of an archway that bisects it into two sections organically. The side that has been closest to the kitchen uses leather upholstery due to greater use and higher chances of wear over a period of time.
When your room has a recessed ceiling, it brings a natural divide to the room, which makes it easier to break into two areas. You can then decorate it as per the rest of the interior décor.
Long, Narrow but Not too Big
[Image: AND Interior Design Studio]
You can easily design a room that is long, narrow, but not too big. Just add a single group of seating to define a room's design. For creating a small divide, you can throw in a round table with a few chairs so that one has a chance to break away from the group if they want to.
In this image, a combination of a day bed along with a loose set of chairs makeup for a cosy seating arrangement and manages to use the space effectively. Just a couple of chairs behind the rear of the main sofa make for a small alcove that can be used for any purpose.
Adjust the Length by using extra Long Sofa
[Image – Urbanspace Interiors]
In this image, the living room has been given a contemporary appearance with the help of using minimal furniture and a back-to-back sofa to create a divide. While one section is definitely inviting, the other one has a reserved appeal
Fill up the space with statement pieces
[Image – ABRAMS]
The space is too long; fill it with a statement piece like a piano. It not only defines the room's central appeal, but also gives it a focal point.
In this image, the room is not only lengthy and restricted, but also has a high ceiling. The use of large chandeliers reduces the apparent height and does a great job in lowering the ceiling so that it appears less daunting.
These are some classic design ideas and tips that try to cover as many possible scenarios that one can find in a typical urban home. However, you can also use ideas of your own to create fancier spots and make a niche of your own. It is not very difficult to exploit large spaces so far as you have a creative bend of mind.