There is a decent area left rather ignored around the staircase in every home. The shape may be such that it is difficult to hang up decorative, or maybe the railing makes it tricky to add some furniture. Well, for any sort of staircase wall makeover, there is some issue involved. Instead of leaving it raw or fallow space, it is better to look for ideas to convert it into a useful and functional space. To know how to go about it, try these inspirations and design ideas:
1: Add a bench in line –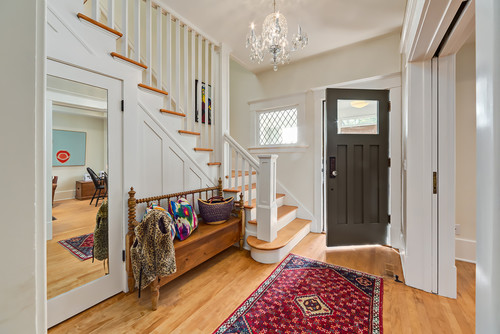 [Image – Kon-strux Developments]
The paneling makes it difficult to hang things up on the half wall and there is no room for anything else? Add a narrow bench for tidying up laces or sitting around. The space looks neat and the utility is also maintained. Add a carpet or runner in line and enjoy the symmetry!
2: Artistic wallpaper –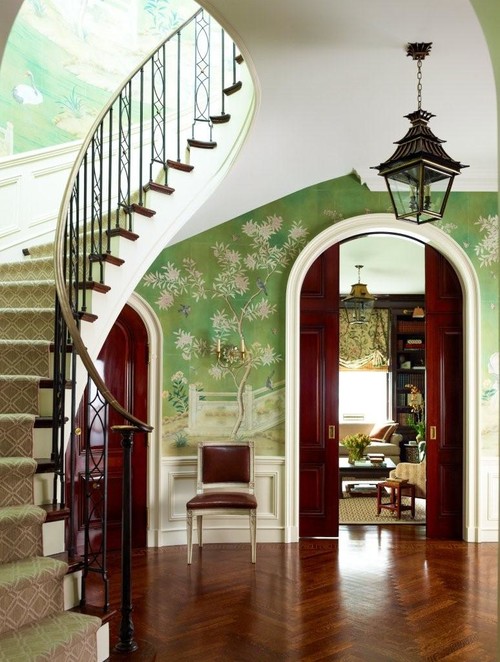 [Image – Studio 511]
The wall would look bare, and if artifacts are hung off the wall, they will be a bother for the commuters from one floor to other. Why not add an artistic wallpaper to cover this wall and provide a connection between the two floors, as well? It looks more appealing than the decorative items used for brightening up the wall.
3: Seating with no back –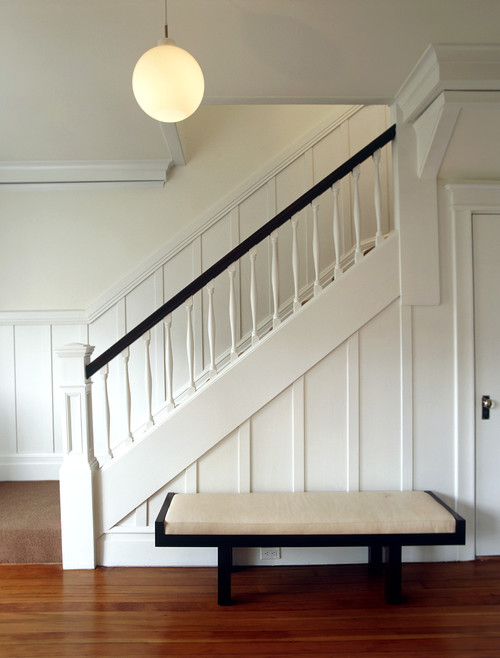 [Image – Cary Bernstein Architect]
If the staircase is steep and you feel a high-backed furniture item will be obtrusive or inconvenient, try a low ottoman or bench without a back for maintaining the openness, as well as, multiplying the utility.
 4: Storage ideas –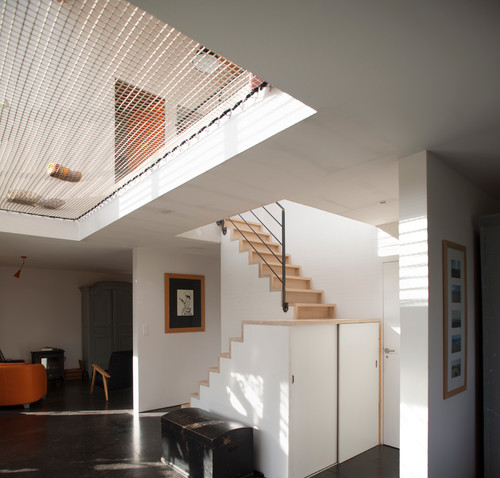 [Image – POLY RYTHMIC ARCHITECTURE]
Why not use the excess space around the staircase as storage and add a little something to enhance this very concept? Try adding a storage chest in which you can put everyday knickknacks and have a proper space for little nothings.
5: Planters –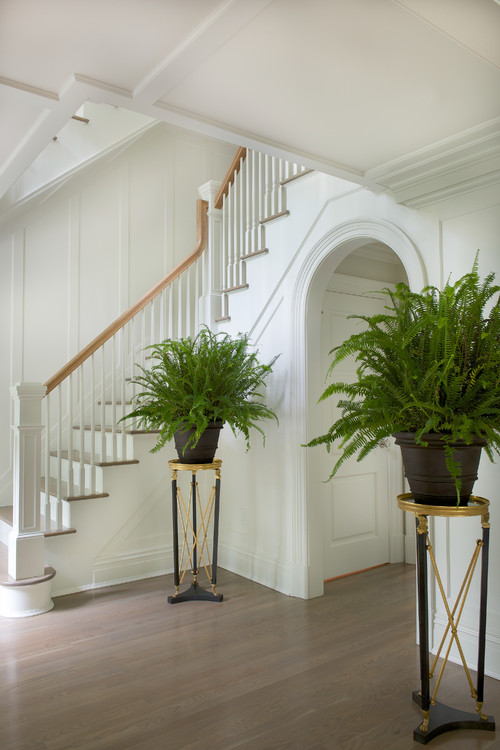 [Image – Titus Built, LLC]
Add a pair of nice planters around the area, to take the eye off the narrow or steep or oddly shaped staircase, filling the space up without any clutter, and also, making the space more attractive to look at. Choose some low maintenance, indoor plant and your job is done.
6: Narrow table look –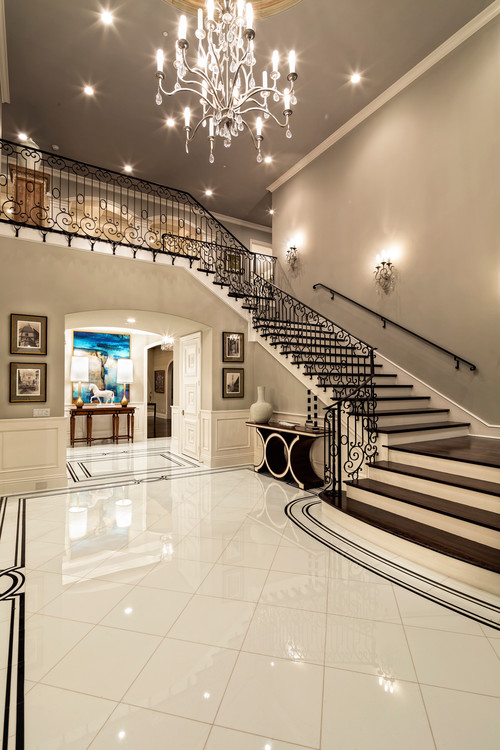 [Image – Jennifer Bevan Interiors]
Tuck away a narrow, high table for keys, papers and envelopes beneath the staircase for easy access to these items, as well as, a perfect something in the empty space in there.
7: Sit it down –
[Image – Mary Cook]
To complete the look of an airy double heighted stairway area, just add a chest of drawers and alone chair, which do not dominate the space and add a hint of liveliness and warmth to the open area. It can be straight-backed, wooden, upholstered sofa style chair – anything to be seated on makes the place look welcoming.
8: Salon look –
[Image – Alan E Brainerd Interiors Inc]
If the entryway and stairs are close to each other and only a narrow passage take you into the house, use the hallway as a salon – add ornate chairs and pouf's with a dainty tale and some bling around the space and sit in style while you wear your shoes, take your bags and get ready to move out of the house. The look is attractive and very chic.
The area around the staircase is too complicated to really experiment, and most people just leave it as it is when in doubt about what to do of it. Try these design ideas if they click in your home and brighten up the space as a very welcoming area.