This stunning and huge glass house is located in Pavilniai Regional Park in Lithuania and has been designed for a banker. Designed by every popular design studio G.Natkevicius & Partners, the house spreads on an area of 3,519 square feet around a yellow brick house.
The exteriors: The architects have worked on the site for preserving the historical and physical value of the house by using a glass shape for wrapping the house. The design with the glass form is not just a part of the entire house but the main intention is to offer 360 degrees views of Regional Park from each and every point on the ground floor. The lower level includes the glass shape zone in the basement featuring the Turkish bath, rest rooms and a garage that can accommodate two cars. The ground level consists of the living room, kitchen with the dining room and a wardrobe.
The interiors: While the walls have been vanished for glass panels with beams, the privacy in the interiors isn't harmed. Themed in black, the flooring has been done in tiles and a wooden staircase in the open style with black color railings connects the various floors of the house. The main structure of the house has been designed in brick and mortar style that has been highlighted with lights. The family rooms meant for gala time have glass walls where one can have beautiful sightings of the greenery around.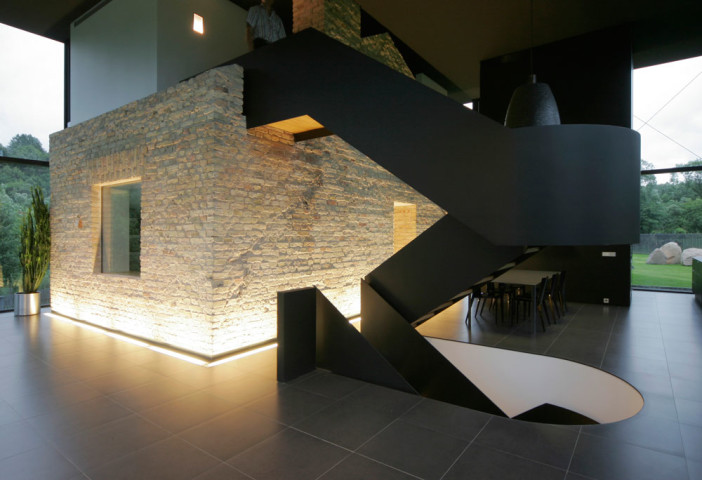 Furniture and lighting: The design studio hasn't offered much on furniture elements, but most of it is to complement the black theme in contemporary style. Apart from LED lights on the ceiling, the house also features hanging lights and soft lighting used to highlight the small and interesting things in the interior.
Photos by: R.Urbakavičius