Located on a golf course site in Mexico, the Aldea House designed by Seijo Peon Arquitectos y Asociados renders a beautiful transition of spaces surrounded by a vast number of medium sized trees. The predominant character of the site is defined by the location of these trees, and, hence, they were integrated as part of the design ideas and process. At the onset, with the decision to retain the trees, the architects fumbled with many layouts like the L-shaped, U-shaped and many more, but was unable to relate the spaces to the surroundings as the trees were many in number.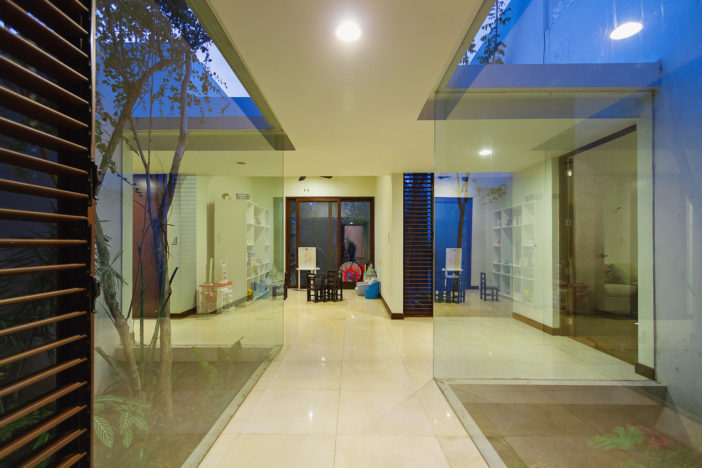 After a quick brainstorm of ideas, the architects decided to design the spaces with trees in between, thus creating small pocket gardens that offered to be safe playgrounds for children and yielded privacy, as well. It was more like travelling from one space to another around trees, like a village through a series of pathways to reach another space. This concept allowed them the freedom to design and de-group spaces around the golf course site. They had a core living, dining and kitchen, which formed the social area, and 3 bedrooms with bath and toilet as the private zone and service area, as well. The social area was designed in the centre that connects both the private and service area through a series of meandering pathways around the trees.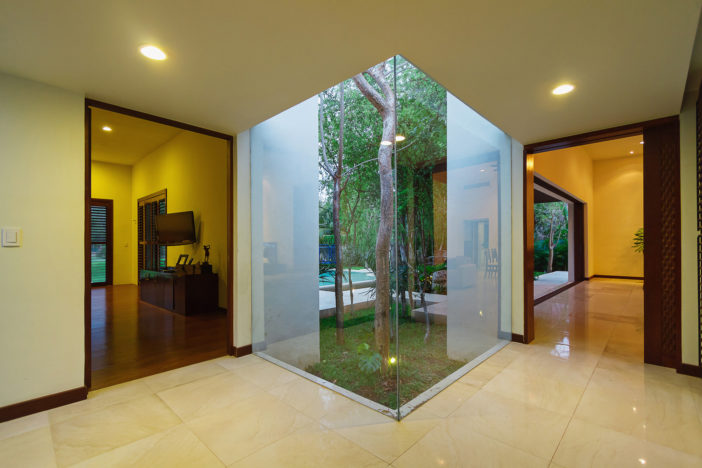 The house has an outdoor swimming pool with a verandah that basks away in the sun throwing away the warmth of light and shadows reflected by the pool. In general, the house is simple in structure and is laid with white cement masonry blocks with flat roof and enclosed by glass windows.  The perfect way to wrap a house around nature, the Aldea house is a refreshing design amid contemporary homes.
Photo by :- Tamara Uribe