Interesting shades and textures of materials adorn the facade of B25 House which appears as a huge boxed structure from the street entrance. Designed by PK Architects, the house, in Iceland, is large and is built of magnificent proportions with a hidden and recessed entrance. The architect has used red rhyolite, gravel, sand, and wood to bring about an undulated texture to the entrance of the home. These materials highlight the finer details of the house which seem to be illusively hidden from the onlooker. The entrance is accessed by a recessed pathway, which seamlessly fits into the red rhyolite facade.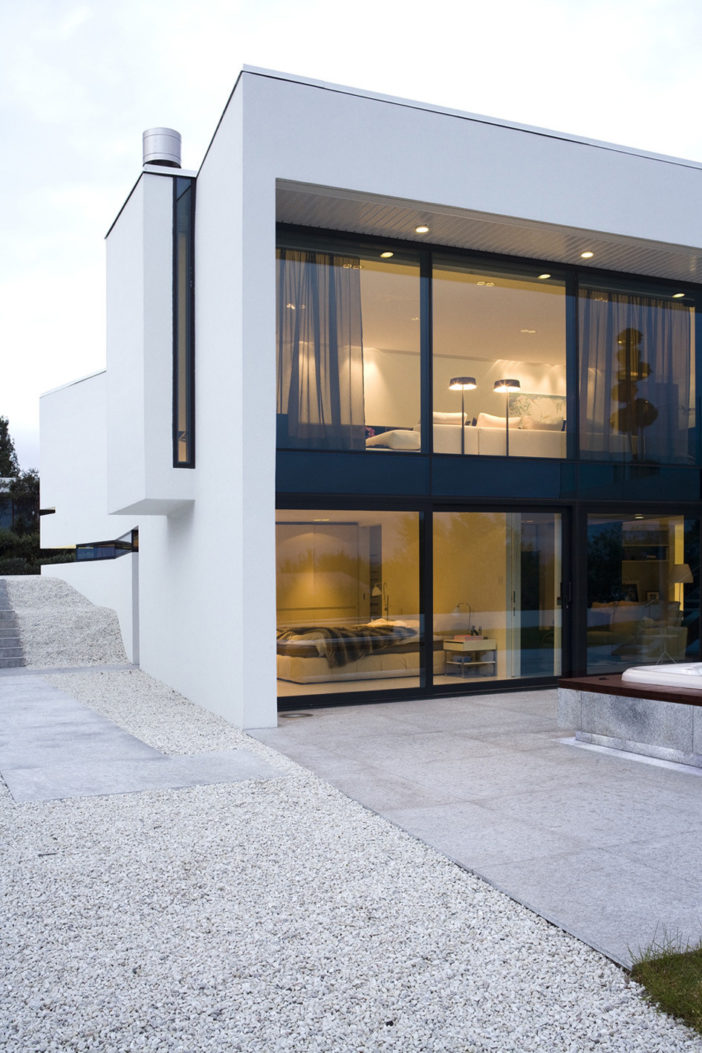 The facade from the exterior looks large and boxed whereas the internal spaces are designed in harmonious relation to the external landscape. Tall glass facades, skylights, recessed entrances, white textured walls, and minimalistic background settings create the perfect backdrop for the uncluttered home. The ceiling of the house is left undaunted and retains their charming plain look that perfectly complements the décor of the internal rooms.
Another aspect, to ponder would be the arrangement of the rooms as the plot is larger and seems to be more than spacious but well designed by incorporating landscape and void spaces. As the home is closer to the street front, the private spaces of the home are moved towards the rear and the public space left towards the front. A clear demarcation between the usages of spaces helps in maximising the space for ease of movements and air circulation. Being, large and monolithic, the various recessed inlets and skylights flood the internal rooms with sufficient light and air, thus, regulating a comfortable temperature on the inside. Offering exclusive design ideas, the house is unique in style and composition and though it looks magnanimous, it serves the purpose and is well planned.
Photos By :- Rafael Pinho