Snow Picnic by Torafu is a restaurant that prepares gelato using liquid nitrogen in Japan and it is one of its kinds, where customers get to see the making of their favourite gelato flavours. It is a small sized restaurant with a seating capacity of 10-12 people with varied seating arrangements. Even with a small carpet area, the architect has brought out the illusion of spaciousness by creating three stepped levels on the floor with three different flooring materials. The use of classic tiles near the entrance, black linoleum flooring for the cantilevered seating and wooden flooring for the last level near the counter and back is a brilliant take from the architect.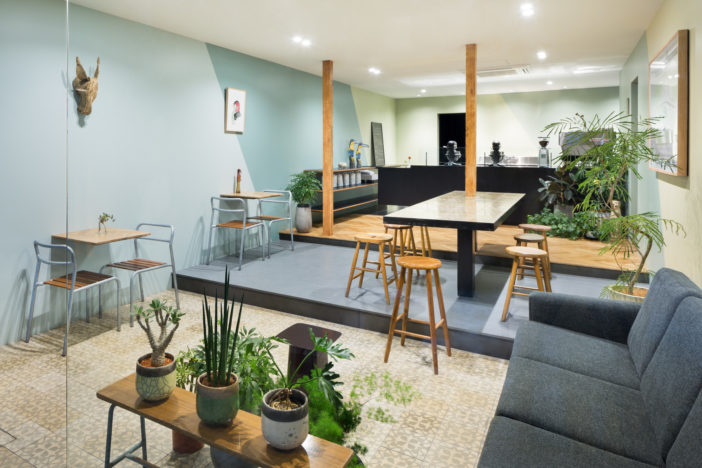 These levels generate the focus on the preparation of gelato on the black counter, which can be seen from the street, as well through the glass front facade. Even the lighting arrangements are subtle, which focus on throwing back the light from the ground, to create interesting silhouettes on the wall. The architect has also focussed on the seating arrangements, where chairs of different sizes with cantilevered tables and a sofa is placed at each level, so as to accentuate the depth, and also, to be flexible in seating.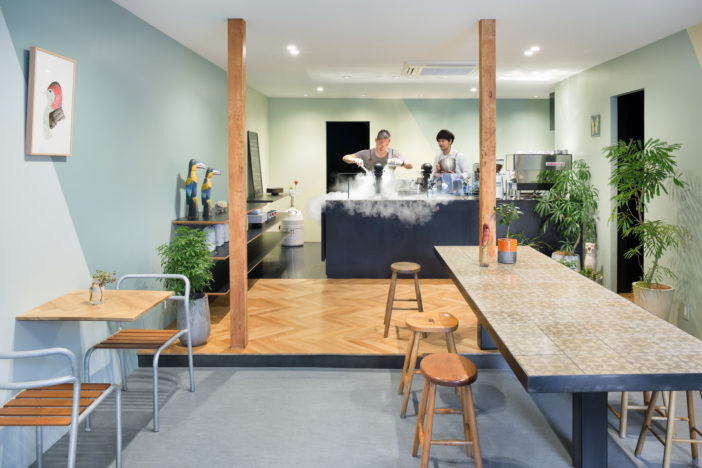 The interior décor of the restaurant is kept simple and neutral shaded, with pale blue shades, which bring about a calm and soothing ambience to the place. Also, green potted plants are kept at various areas of the restaurant to add a sense of being in a garden, as well. The use of the cantilevered table set with tiles for the countertop is definitely a highlight in the restaurant, and more so by the use of wooden poles for support. On the whole, a very novel idea of introducing gelato to the customer and the making of it that unfolds in front of their eyes is an unforgettable experience.
Photos By : Takumi Ota