Victorian homes are classy, sturdy and many interesting inherent features that make them so timeless. We have all lived in a Victorian home complete with terrace open spaces and townhouses. With their sash windows, cast iron fireplaces, skirting boards and cornices, these homes look fabulous and ornate.
Along the years since the Second World War, many of these original features were ripped off from the ostentatious Victorian homes so that they could make way for the modernization and bring the Victorian homes up to date with the latest style offerings. However, just like anything else, the fashion in home décor has made a comeback and the designers are trying to salvage or reinstate the look of the old Victorian homes along with latest features without robbing it of its actual design.
These days, the designers are incorporating the original features of a Victorian home with the latest style and functionality. However, there are many ways to maintain the sanctity of the vintage appeal of a Victorian home without living in an ancient structure. Here are some interior design ideas and tricks to get the look.
Retain the Sash Windows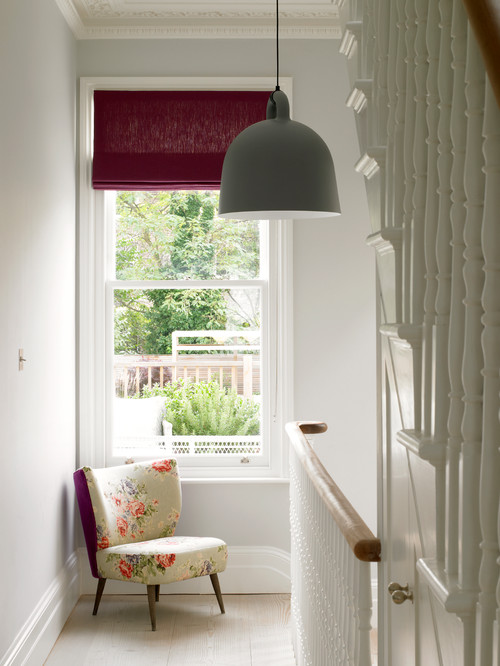 Image: Stephen Fletcher Architects
In yesteryears, sash windows were an original feature of a Victorian home. If you still have those windows, then they can be retreated to improve their lifespan and add beauty and character to your house. You can also look into upgrading the sashes with double glazing. However, if you do not have your sash windows from that era, there are companies that can recreate the authentic look for you in their manufacturing units.
Keep the original flooring
Image: Colin Cadle Photography
It has been a fashion for many years to get rid of the carpeting and expose the wooden flooring underneath. There is a sort of style to the floor that has been used for all these years. If your wooden boards are battered and worn off over the years, it can also be repaired and synchronized with the existing look. It is always better to take help from a professional at this stage so that you can carefully bring your old floorboards to the current style without losing its originality and quality.
Cornices for an aesthetic look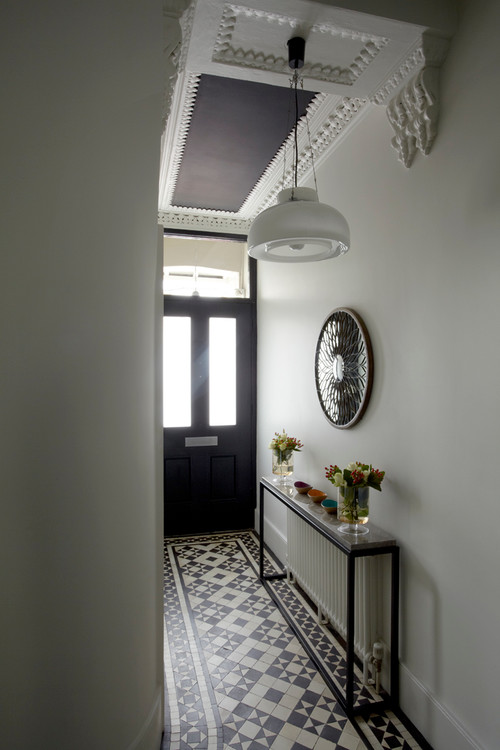 Image: Chantel Elshout Design Consultancy
The plasterwork cornicing done in Victorian homes has been loved by the homeowners and designers alike for their visual appeal and ability to add to the design of the house. If you do not have the original cornicing, you can recreate it today and make it a focal point by painting a dark colour around it. This is one of the safest ways to modernize and use the conventional art of cornicing in the same space.
Ceiling Rose with Contemporary Lighting
Image: Robert Rhodes Architecture + Interiors
The ceiling rose has been one of the most prominent features of a Victorian home and would not be fair to remove or not include in your décor, especially if you are updating a Victorian home to 21st century. You can reinvent this rose with plasterwork and dress up the spot with contemporary lighting. In this image, the lattice artwork on the lighting creates interesting designs on the wall and ceiling when lit up.
Dark and Bold Colours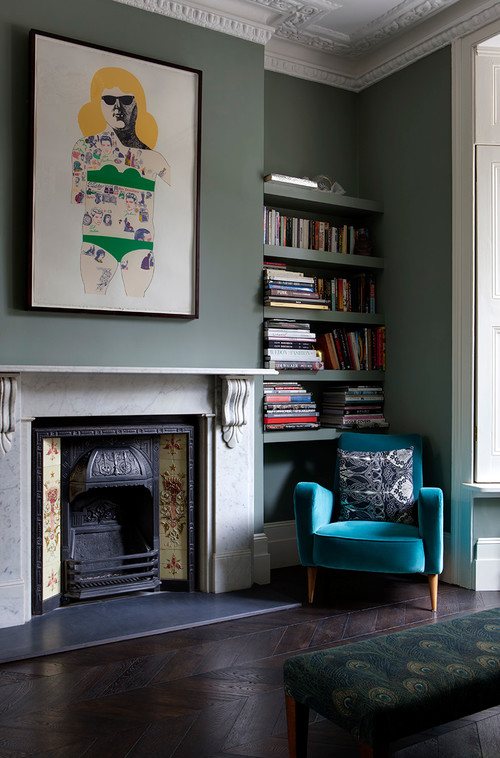 Image: Brian O'Tuama Architects
The dark hues that are currently in fashion work wonders when it comes to Victorian homes and are completely in sync with that era's love for bold hues. In this image, the room has been done up in cloudy grey that complements the vintage fireplace in the room in leaps and bounds. However, allow the fireplace to be its own focal point and do not clutter the mantelpiece with too many items. You can add more to the spot by simply using a contemporary artwork, which is hung above the fireplace which will add a touch of modernity without taking away the fireplace's striking timeless beauty.
Include a Sleek Extension
Image: Gundry & Ducker
Regardless of how flamboyant your house looks, don't be afraid to add a contemporary extension to your existing Victorian home. There have been many homes that have used this exciting idea and not only made good use of available space, but also been able to add a sleek kitchen-diner, which actually works with the rest of the design. It is a very exciting place for the family to get together and interact in this off age extension while the smaller rooms of the original Victorian structure offer more closeness and intimacy.
Incorporate the Brick Walls into Design
Image: Increation
If you want to bring out the rustic rawness in your house, you can expose one of the brick walls entirely or a section of it. Simple seating area in this place offers warmth and makes a home look like it has transformed from one another into another.
Be Open to Experiments
Image: Jeff Kahane + Associates
When we think contemporary, there are many ingredients that we think are a must have, for example, bi-fold doors, which allow the inside and outside of the house to blend into one another. However, regardless of how functional this door may appear, it is too contemporary and may seem incongruent to the rest of the home's décor. It is better to choose the items that can bridge the gap between conventional and contemporary and still appear modern. In this image, the homeowners have used a combination of windows and doors, which allows a complete view of the garden rather than using the typical folding doors.
Preserve the Character with Classics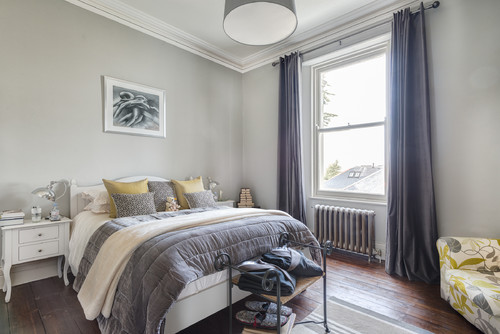 Image: Colin Cadle Photography
The designers modernize the Victorian homes by designing it such a way that it appears functional and yet maintain its true character of timelessness. It is not about creating a too modern look for such a property. The idea is to gradually bring the Victorian home into the 21st Century without losing its original touch. Although, it may be expensive to source the original vintage pieces, it makes absolute economic sense to buy the new ones that have been created as per the traditional designs and they are readily available.
Reuse the Period Pieces
Image: MDSX Contractors Ltd
You would be amazed to find all the vintage pieces available at the flea markets and online stores that are up for grabs. You can bring them to life by colouring them into a bold shade. You can also add new knobs for a fresh look. These up-scaled pieces will fit right into your Victorian home without stuffing the room too much.
With a bit of creative design ideas and forward thinking, it becomes very easy to transform the way your Victorian home looks like it has gradually moved into the future. You can easily create a balance between the conventional and contemporary aspects of your property and bring complete unity between the two.