Foshan Korra Bath Ware is a China based company known for their range of shower room, shower panel, shower enclosure, massage tub, and other bath products. Their range is essentially designed to meet the needs of modern home where the bathroom is an extension of pleasure. Their range of massage tubs is particular popular with designs that are functional and sophisticated at the same time.
This is a freestanding massage bathtub featuring a transparent acrylic board in bright blue color in best quality. The base of the tub is designed in fiber glass for a universal appeal, and the product also features a pedal draining to remove water conveniently. This is more like a three way massage bathtub that includes water spray massage and water bath massage in one.
This is an exceptionally well designed Acrylic massage bathtub that accommodates two persons for that ultimate cozy bath. Featuring water pumps and jets with two pillows, the product is extremely functional with features like water flow regulator and Air pressure switch. The complete setup also includes a mixer, faucet and hand shower. There is a drainer with overflow for easy drainage. The entire supporting frame is made of stainless steel.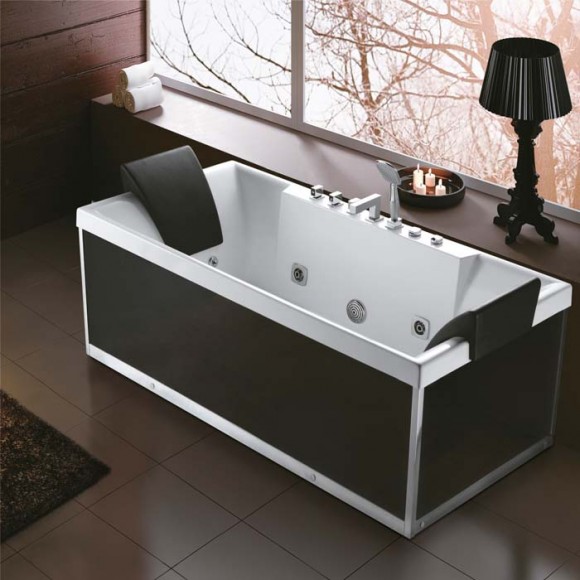 Another unique rectangular massage bathtub available with two pillows and varied color choices in glass panels such as apple green, white, black, light blue, and purplish red. There are revolving water jets with air pump and air jets for best kind of water massage. The product is available with a mixer, faucet and hand shower. The bathtub support frame is designed completely of metal. Spacious and truly revolutionary, this is a design that works extensively well for commercial and residential purposes alike.