Enhance the interior decor of your child's bedroom and give them the space that is no less than their fantasy world. At Children s Funky Furniture each bedroom collection and furniture item boasts of superior quality high density wood that has seamless intricate detailing and finish to leave a mark of expert craftsmanship and impression on the on lookers. Each product in the range offers you and your children the choices to create and tailor your selections to whatever style and taste suits best!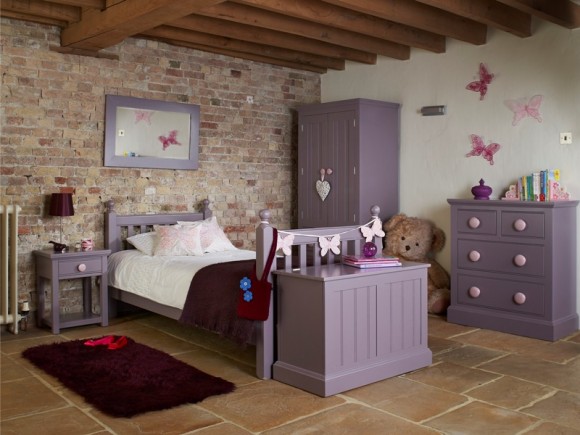 Freya Children's Furniture Range is an innovative design and looks classic at the same time. The furniture pieces include a high quality toy box, slatted LFE single bed, one drawer bedside, a chest which has 2 small and 2 large drawers, an all hanging wardrobe with option for one drawer or three. The over-sized knobs in this range are available in 9 stunning colors Furniture has a tough, long lasting high grade paint finish on all its product range.
If you are looking for outstanding and durable children's bedroom furniture then Grace White Bedroom Range will not disappoint you in this regard. This range has very fine attention to detail as can be seen in the craftsmanship of the small double bed, one drawer bedside , wardrobe all hanging one drawer or with three drawers, 5 drawer chest, 2 door/2 drawer wardrobe. The opal white/cherry finish, grain and quality of wood give it a contemporary look.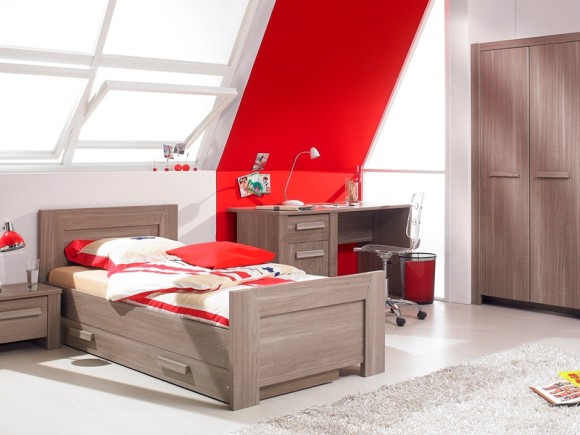 Finished in a charcoal imitation oak this Gami Hangun Range comprises of single drawer bedside, two door wardrobe half hanging half shelving, Two drawer desk, 3 ft single bed with high quality durable particle board. This modern design is highly imaginative and functional with seamless clean lines. The wooden knob panel is kid friendly and under bed storage for bedding, clothes etc., provides extra storage.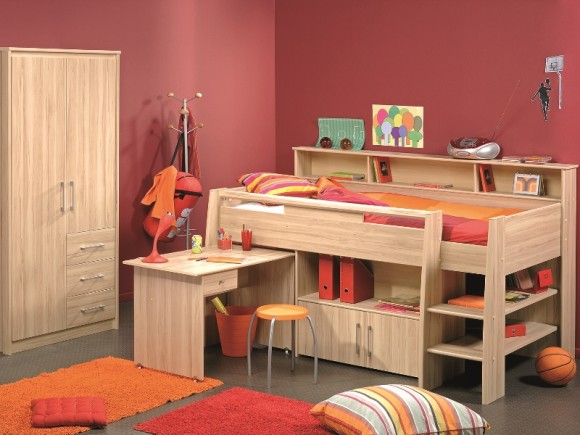 For maximum functionality and storage the Parisot Kurt Collection has a versatile mid sleeper bed with a single drawer pull out desk integrated into the inspirational design which is child friendly due to its finishes in high quality birch veneer effect and offers numerous options for storage with additional niches at the edge, back of step stair and foot of the bed. The 2 door wardrobe with 3 drawers provides clever and organized storage.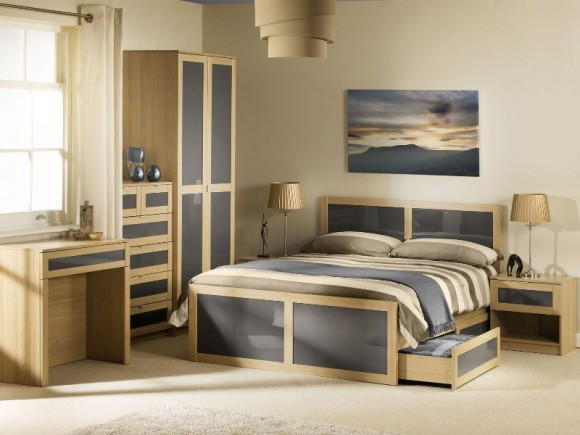 Strada Bedroom Furniture is a timeless collection and it gets its elegance from the light oak finish and designed panel with smoked high gloss foil. The double bed has under storage drawer and is also available in 3 ft single size. You can choose between single or double drawer bedside, 3 or 4 drawer chest based on your child's storage requirements and organization. The dressing table is very sleek and serves as a multipurpose desk for study and stacking.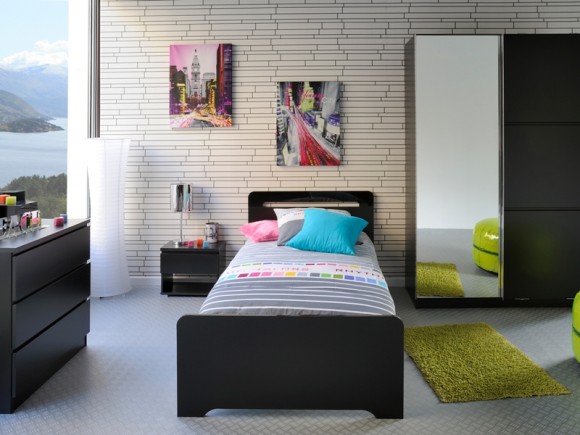 Choose Black for a classic look that will keep up with the trends for years. Your child will glide smoothly into adulthood with the Parisot High Tek Collection as an abode. The furniture is finished in a high quality black veneer and is well complimented with the contemporary design be it the single bed, chest or bedside table. The 2 door wardrobe with a full size mirror has railing and shelves and hence wards off the need for a dresser.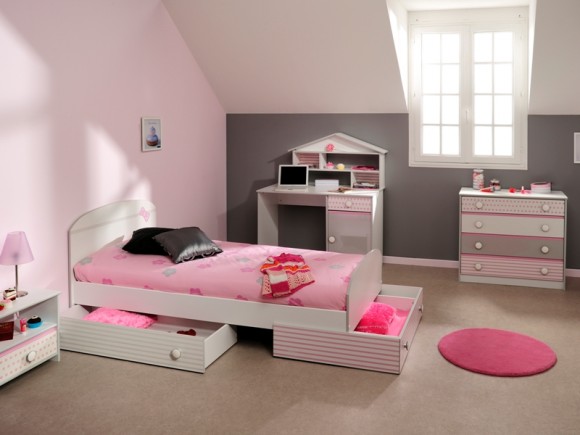 Your little princess can now claim her cupcake kingdom and live her dream with the Parisot Cupcake Collection. The whole range is enchanting and very finely crafted with a lot of compassion and thought put into its design and utility. The pieces are beautifully finished with a foil white Megeve finish. Drawer fronts and doors have a melamine with deco print effect. The hutch has open shelves for showcasing your prized possessions!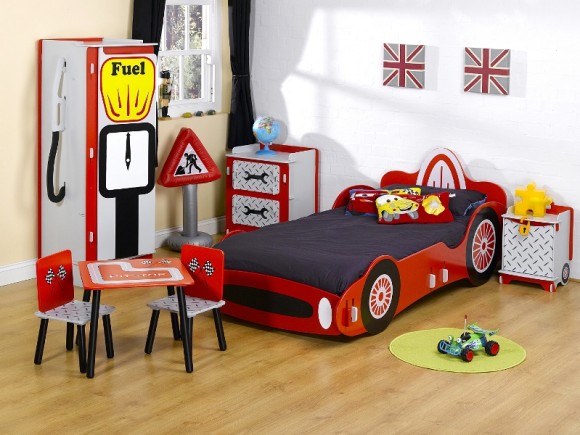 For the kid whose passionate about cars and dreams of race tracks, what better treat than a revamped Kidsaw Racing Car bedroom! The Collection has all the essentials including a full size 3 Ft. single racing car bed suitable for any child, a wardrobe that is designed to look like a fill-up pit stop for your Racing Car Bed. The bedside table, toy box and table with 2 chairs are designed to blend with the racing car theme room.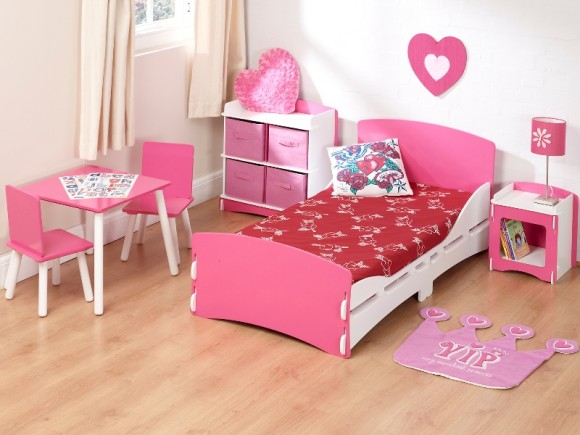 A great addition to your daughter's bedroom will be the Kidsaw Blush Furniture Rang. Designed with opulent shade of pink and white, designed keeping in mind lots of style and storage space. The drawer frontal and the full size single bed headboard foot-board are made of fabric sheet. The accompanying pieces include toy box, 2 door wardrobe with hanging rail and shelf, table chair suitable for ages 2-6.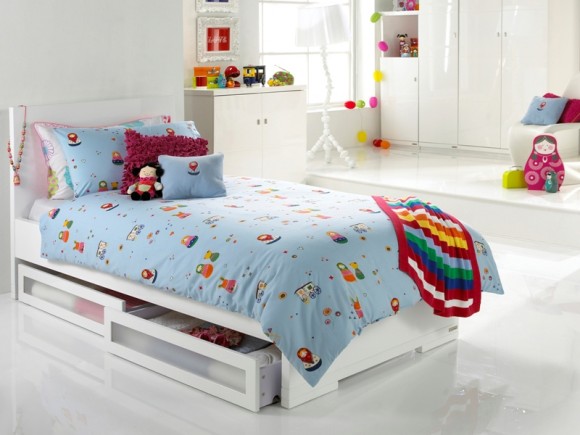 Great on style, accessibility, durability and storage! The Izziwotnot Skyline White Collection with its sleek design and high gloss lacquer is the very best of Italian Design. The single bed has two under bed storage drawers with see-through foil panel for an organized storage. The 2 door white wardrobe featuring hanging rail with two lower storage drawers and the Tall boy with 2 drawers 2 shelves offer additional storage option.