When you make a decision which includes buying a piece of furniture, one gets awfully confused with so many options available and little to no knowledge about how to choose the correct one. When choosing a sofa to buy, you not only need to take their fabric into consideration, but also many other aspects, which define regular sofa from an excellent and comfortable one. Here are some important commonly used technical terms that will help you understand your sofa better along with offering amazing furniture ideas to the onlookers.
[Image: Fluff Designs and Décor]
There are a lot of different styles and types of sofas, which are readily available in the market. After you finally make a choice of the fabric that you want, you need to consider just three more features, which are available in each other's combination and make your sofa unique, as well as comfortable.
Arm and Cushion Style
[Image: Kate Jackson Design]
The sofa that we see here in the image is what we call and arm and cushion style sofa. The arm in this sofa is sometimes referred to as English or even London arm. The seat cushion of this sofa will wrap around the arm giving an appearance of letter T, and hence this is called T-cushion. So, technical terminology of this sofa is English arm with T-Cushion.
People that have traditional tastes and conventional choice of style prefer using this kind of sofa. In this image, one can see that the sofa is complemented with an eclectic mix of conventional décor with antiquities and historic reference all across the room.
[Image: Allegro Limited]
The same sense of style can be seen across this Texan room, which is done up with high duty fabric and English arm with T-cushion sofa for the traditional look.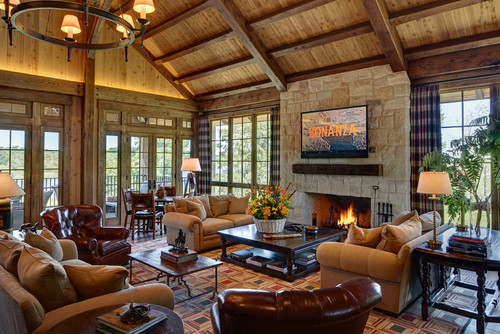 [Image: Taylor Lombardo Architects]
In this image, the sofas that are used are Lawson Arm, which can be identified by the seat cushion that does not wrap around the arm of the sofa like in T-cushion style. It has a straight cushion and thus referred to as Lawson Arm with Straight Cushion.
This type of arm is perfect for a room that is done up in Classic French style mixed with the English taste or traditional and intermediary style in interior.
[Image: Katherine Shenaman Interiors]
A point to note, however, is that even though each arm of the sofa tends to have a period or vintage look because of its characteristic lean in that direction, there are no hard and fast rules to style this one. You can make it a part of your décor in whichever way you want.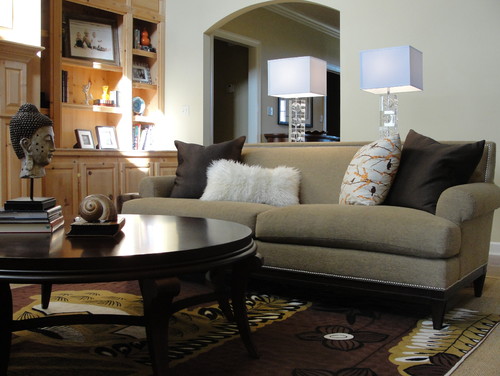 [Image: Rebekkah Davies Interiors + Design]
In this image, the sofa has a sock arm, which is paired with t-cushion. However, in this case, the sofa is available in both straight cushion and T-styled cushion. The design of this sofa is clearly suitable for contemporary décor because of the clear lines and lean design.
[Image: Kleban Furniture Co. Inc.]
Here you can see a pleated arm with T-cushion, which resembles the style of a sock arm but is differentiated by the pleats in the front. It works perfectly in a living room that has been designed with traditional and conventional setting. However, this sofa is highly versatile and will fit just, as well in a modern living room.
[Image: Renewal Design-Build]
In this image, the sofa has been combined with a chaise lounge and has a track arm with a straight cushion. This arm is an ideal one for a room that has been done in ultra modern and contemporary style. This kind of style will be rarely seen with T-cushion as many people think that a straight cushion is much more modern design friendly.
All the manufacturers will tweak the design of these arms in one way or another so that there is more variety to choose from. However, here are five basic choices, which define the cushion style.
Back Cushion Style 
[Image: Valerie DeRoy Interiors, LLC]
The next important choice while buying a sofa is that of the cushion type. In this category, there are basic varieties available. The example used in this image is that of the Loose Back, which means that the cushions will remain completely unattached from the sofa, which allows them to be rotated and turned when required. This can be helpful as you can now use the upholstery for longer and will last twice as long as it is being used from both the sides.
[Image: Syringa Realty]
Another category in the Loose Back type is called multi pillow as seen in this room. It is just a variation of the last one and has a number of pillows lined together to offer backrest.
[Image: Decorating Den Interiors-Strok Design Team]
The second style is referred to as Semiattached because it appears like loose back, but the cushion is attached to the sofa's back. This piece is perfect for the people who prefer the look of a loose back sofa but would not like to spend too much time every day just to straighten the look and make it look neat after every use.
If you have children or pets at home, then also, this may be a great option as they can together do a lot of damage to the loose cushions.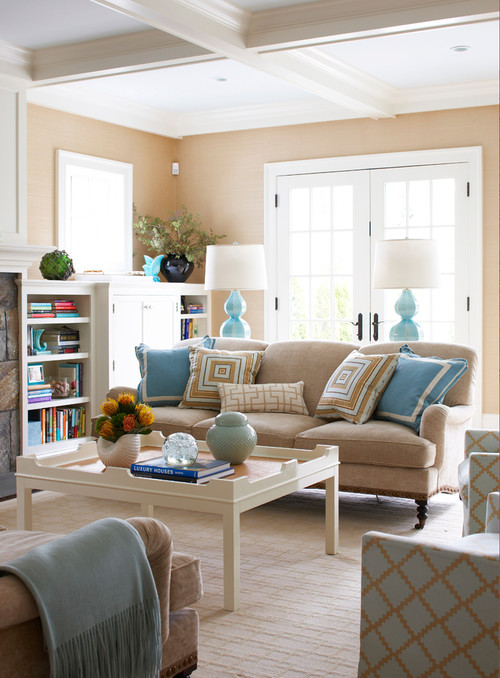 [Image: MuseInteriors]
A tight back is yet another option to review when buying a sofa. In this case, the back cushion has been completely integrated with the sofa's back. This sofa is completely firm and no additional fluffing is required to make it feel comfortable. It always looks sorted and neat in a living room.
However, you can add extra throw pillows, which can match the rest of the look and make room for extra comfort.
Base Styles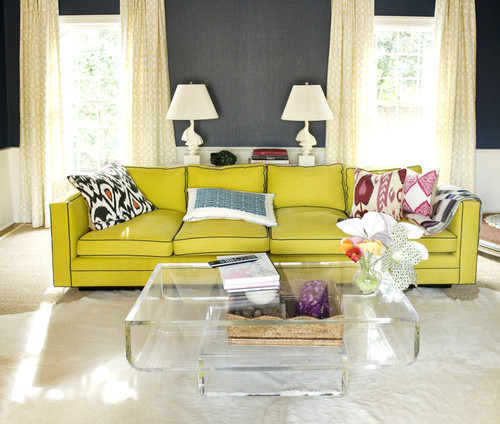 [Image: Luck Stone Center]
The last consideration while buying a sofa is the kind of base that you want your sofa to have. Although, all the categories that have been discussed above have different kinds of base, but it all comes down to two basic categories.
The first one is an upholstered base as is seen in this image. This base is available in a variety of leg styles and foot styles like turned feet, tapered feet, bun feet and as in this case, invisible feet.
[Image: High Fashion Home]
In this image, one can see the skirted base in this sofa. Although this a kick pleated skirt, there are many other variations that are available when you select the base style. There can be a higher number of pleats, ruffles, dressmaker pleats, etc.
When it comes to base style in a sofa, the traditional ones will have skirted base while the upholstered one look more contemporary. However, there are no rules around these styles as you can dress them with whatever look you want. Like here the skirted sofa is a perfect addition to the traditional and contemporary design elements of this room.
To sum it up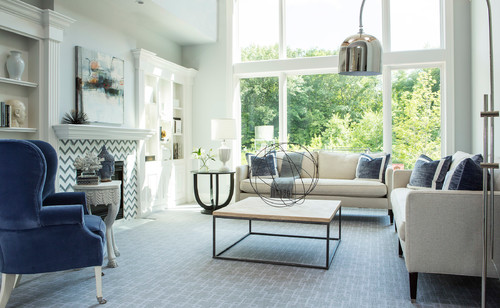 [Image: Martha O'Hara Interiors]
There are over thousands of styles available these days and all the sofas are built around the categories that have been discussed in this article. So, when you go out there to buy a new sofa, all this knowledge will come in handy when you make that choice for your living room.