Home Design Architecture
Geometrix Design designers, Elen Miroshkina and Michael Miroshkin, of Russia have completed this stunning apartment located in Triumph Palace building in the city of Moscow, Russia. Spreading on an area of 1,560 square feet, the apartment works for its placement on the building on the 45th floor where the beauty of the world down can be enjoyed.
The exteriors: Being an apartment, the main task here for the designers was to ensure that light spacious interiors are created within the limited space. The sunlight for the apartment comes from every window, and instead of having zones, the designers have worked on using open side of the apartment for creating floor to ceiling windows with wooden beams. The main attraction of the house is the extended terrace with wooden flooring that serves as a perfect place for picnics and social time with some excellent furniture.
The interiors: The rooms here are zoned to create a visual difference rather than using walls. For example, using a light cross wall that is textured with leather panels, the kitchen area has been functionally and visually separated from the living room. The hallway features an illusion of extended space with use of a mirrored wall, while the walls are completed with slick surfaced panels. The entire theme of the house balances chocolate and beige for creating a unique setting. The bathrooms have been completed in light beige mosaic.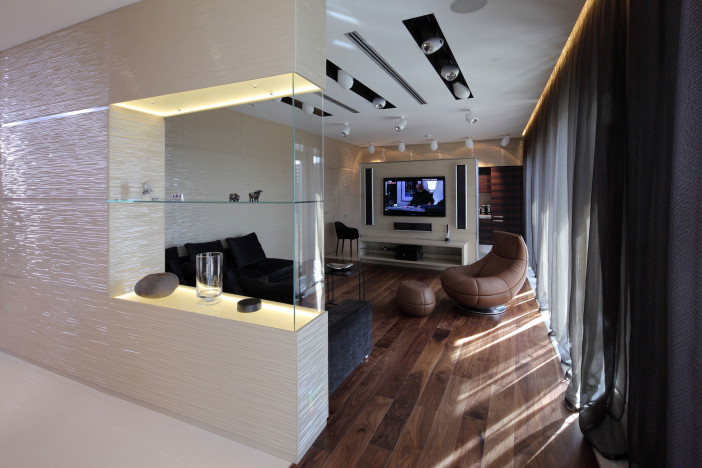 Furniture and lighting: Rather than using bright sources of light, the house uses soft light, especially for the bedrooms, to ensure the coziness is retained. Contemporary recliners, chairs, eco style outdoor furniture and cozy sofas have been used throughout. A perfect apartment to check for sheer passion of design and perfect placing!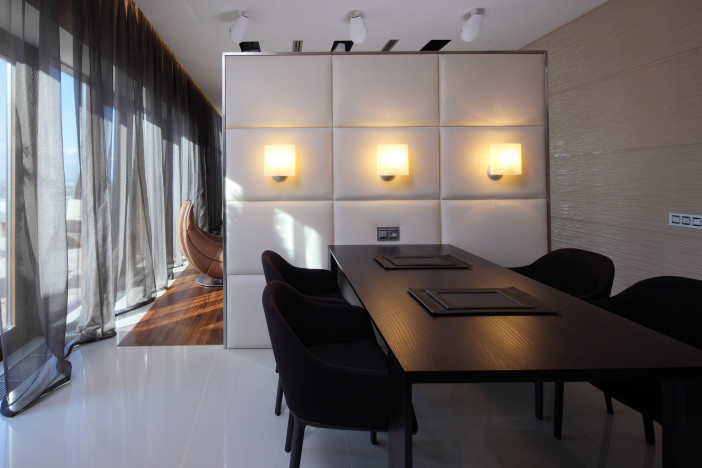 Photos by: Zinur Razutdinov