Pfister brings the classiest choice of furniture that comes from 25 years of experience and creativity molded in balance with functionality and practicality. With most designs created out of wood, the company promises to bring new sides to modern homes aesthetically. The designers and intelligent craftsmen of the brand add innovative dimensions to the use of wood in kitchen in styles never seen before.
Round kitchen from Pfister is a complete wooden design in Canadian maple in light brown color with elements of stainless steel and glass. Gluing the front and base, the design comes with a stainless steel sink that can be customized as per the needs of the kitchen. Perfect for homes where round motifs rule and space is not a concern.
This Solid wood kitchen model comes designed in maple in cherry color with countertops made of granite. The theme is all about making maximum use of wood, including for the floor and the walls. Designed with perfection, this is the perfect practical kitchen that leaves room for comfort and movement.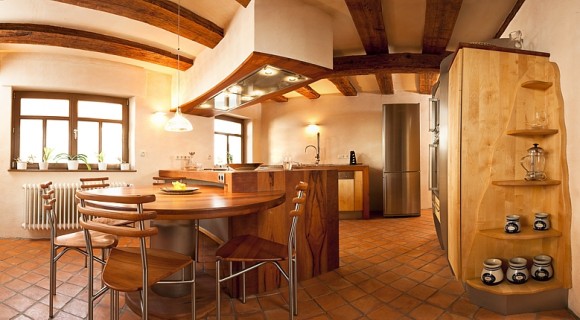 This is a solid maple wood kitchen model with worktops and countertops designed in Birnbaum. The design uses electrically opening pantries, which makes it possible to install and use modern kitchen appliances for that amazing cooking experience. The idea is to set the atmosphere for healthy cooking and eating.
Another wood kitchen designed from wood of the barn, using oak beams, from the masterminds of Pfister. Complete wooden design that leaves room for designing new themes with newest kitchen technology in mind. Practical and appealing, the design is more like story telling where old wood will whisper a lot to the home owners.