Calm and serene, the Office around a tree, designed by Lukstudio in Shanghai, comes alive with a placid visual, which evokes a creative play of light and shades. It is true to its origin of the concept, where the strong notions of sway, subtlety and stableness can be encountered in the office space.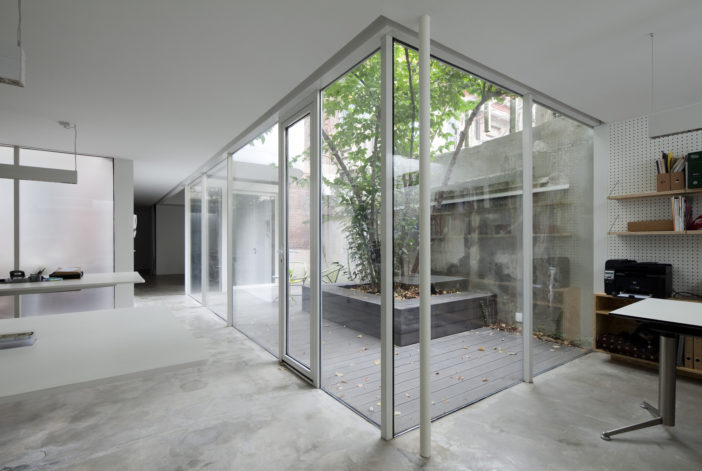 To emphasise this point, nature and the structure are interwoven to create a bond that remains harmonious all through the year around and responds in an unspoken and ephemeral manner. A new lease of life stands restored to the deserted tree, which becomes the focal point of the office space.

At a closer review, the site reveals close alleyways, which create an undisclosed entrance hidden from street view. In fact, the entrance vestibule is partly cladded with a steel profiled door with pocket spaces in between to arouse the curiosity of the workers. A well-thought and rational sequence of spaces follows up from the entrance to the working stations.
Firmly rooted to the original notion of building around a tree, the office space has a high ceiling to articulate the volume and expanse of the space. Other rooms such as a meeting, pantry and lounge room stand facing the tree and provide a calming ambience to the office space.

In short, the tree is the primary design feature of the office space and offers beautiful transcending visuals of its green leaves and shaded girth. It cuts back the harsh rays of the sun, improves the macro climate of the house and projects as a focal point of the office space. Even the walls remain decked in a white pastel tone, which complements the interior décor and aura of the space.
In essence, the office space is brimming with life and colourful visuals that stimulate working minds, far from the chaos of the streets.
Photos By : Peter Dixie