The Roncero House project has been completed by ALT Arquitectura, a design studio based out of Spain. This is a two storey home in the contemporary style, completed at a location in Madrid, Spain.
The exteriors: This contemporary home has a unique entrance for each of the floors, with a complete narrow longitudinal scheme that works well with the garden space. The house seems to be designed with concrete surfaces that are over the ground, and thus, retaining the beauty of the design. For the construction, the main design is in concrete, while there is also extensive use of fluted metal such as polished stainless steel. The windows have been completed in aluminum finished steel and allow a lot of light inside. The entire house has been done in line with the exteriors, and there's also a pool on one side.
The interiors: The beauty of the interiors comes from a well maintained white interior theme. The color accents come from the smallest of things, including the houseplants and paintings/ art on the wall. An open style staircase connects to the upper level of the house. A lot of the interior spaces have open areas where one can enjoy the weather while for rest of the other parts; glass has been added to bring lightness to the concrete construction.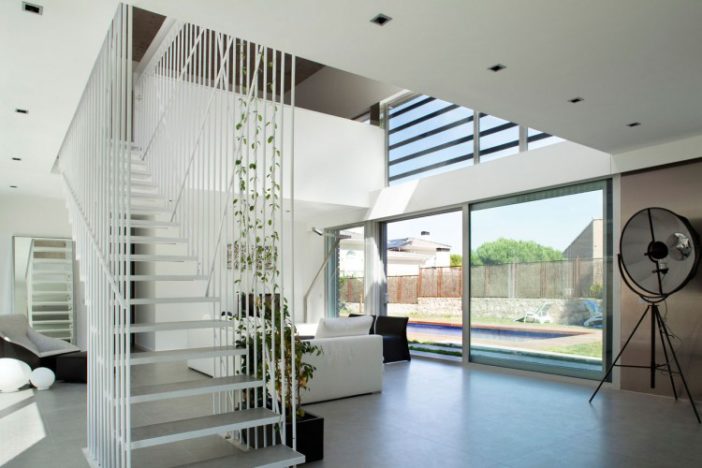 Furniture and lighting: The furniture ideas and choices are in the contemporary style with white being the main choice for couches and sofas. Some of the fixtures are added to wall to form a table, and there are areas where the minimal areas have been used to the fullest. For the lighting, there is extensive use of LED lights for most of the rooms for a light feel.
Photos by: Silvio Posada