The Showroom Eurobike – Porsche, in Brazil, designed by 1:1 arquitetura: design reflects the brand and its high standards in an elegantly styled store front display lounge. It is about giving that visual appeal that attracts clients to take a tour of the various Porsche cars kept on display at the lounge by using steel corten, exposed concrete, glass and wood. The lounge is designed as an extension of the Porsche brand, where simplicity in design details is expressed vividly through the use of various materials. It is about racy, dazzling cars, which steal all the attention while the internal walls, flooring and admin office are underplayed, but emote strong connections to the store front.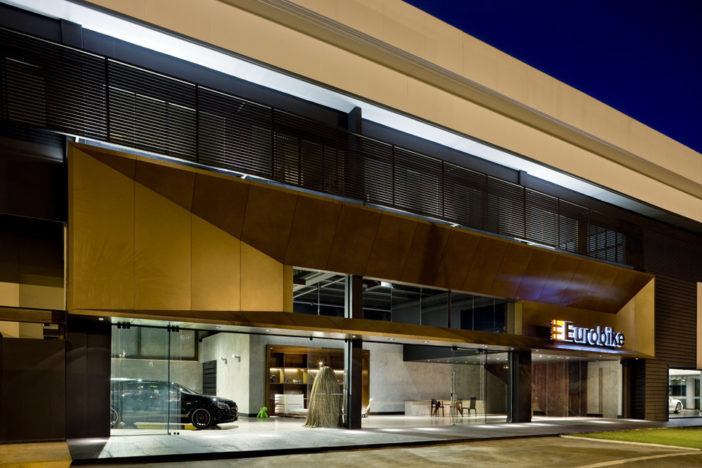 Other aspects that were considered while interior designing the lounge was to keep in mind about the circulation space, as each car on display is treated as a model with scenic lightings, enough viewable space around the car and is different from the other cars. This showroom is devoid of colourful walls or interiors and allows the car to steal the limelight whereas the walls are left natural giving out a rustic finish to the lounge. Divided into two levels, the first level is the lounge and display where large glass facades span the wall length, with an L – shaped display configuration for the Porsche cars. A sleek wood counter with a hidden toilet and 2-seater lounge with an in-built open shelved wall for car accessories and brochures completes the frontal facade. Not to forget is the wooden stairs leading to the admin office above which overlooks the display lounge.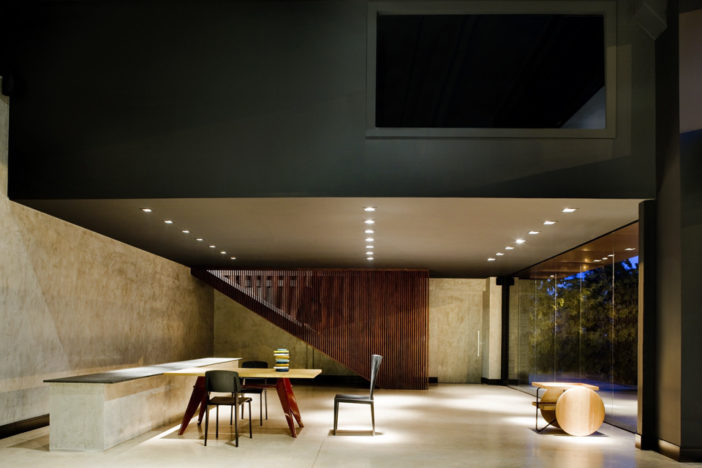 At the rear of the display lounge, a garage is designed to hold about 6 cars that have easy drive-in and drive-out facilities. With about enough room for 8 cars on display, the showroom Eurobike lives up to the brand's name and quality standards.
Photos By : Cesar Edgard