Thomas Haas Patisserie designed by Bricault design in Canada is a unique confectionary boutique for handmade chocolates and is the second of its kind in the city. The earlier patisserie joint has molecular motifs, which is reused in this latest flagship store along with customised furniture pieces. A lot of thought is given to the extruded walnut ceiling that gives a nutty touch to the store, which has a reflective mirror on the inside. Moreover, simplistic details on the walnut ceiling create an intimate experience for the shoppers to see and taste the various flavours on display.
The highlight of the patisserie is that of the ceiling pattern that reaches down to the walls and glides over as display shelves. A transition such as this lends a flow of continuity where every detail of the interior design is in harmony with the thought process behind the label and flavour of the handmade chocolates. The interior carpet area is narrow, where one-third of the section is covered up for display and service counter along with customised seats and the other half is designed for the kitchen and office area.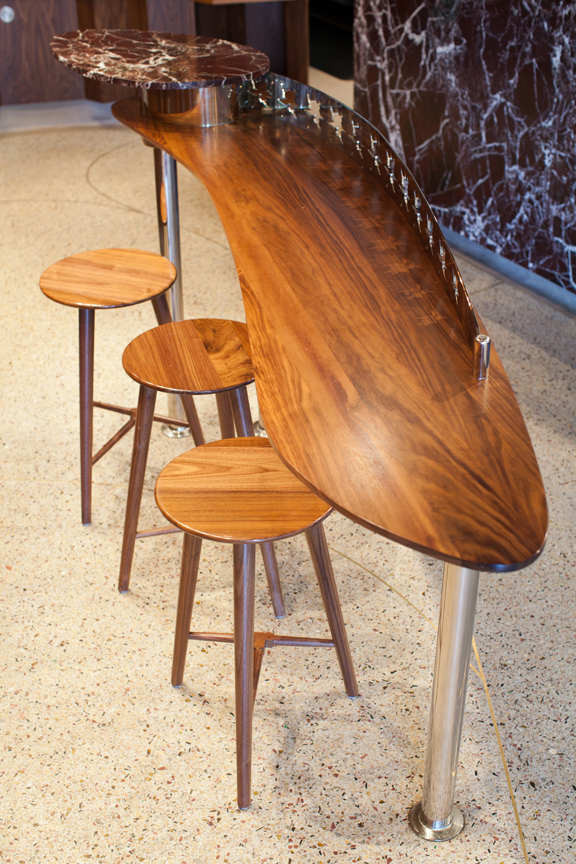 A quick look at the interior would show the use of hazelnut shades in varying tones, which impersonates the colour of chocolate and gives the décor a warm and creamy rich colour. The tiles are kept simple and pale, so as to give more focus on the ceiling and display units. On the inside, there is a work area, blast chiller and staff change room, which are aptly designed, keeping in mind the facilities needed for melting and tempering the chocolate. On the whole, it is a small, but uniquely designed patisserie unit for chocolate with sinful temptations and a ravishing décor.
Photos By : Farah Nosh