A storage medicine cabinet is not just for keeping your aspirin or toothpaste but also functions as a mirror in the bathroom used for daily purpose. It is a must have for any bathroom to meet not one but several needs.
Even though they are highly useful in our bathrooms, medicine cabinets are not as easy to select as it may seem. Recessed cabinets may seem great at first but need a lot of efforts to be installed, which can be hectic. On the other hand, wall mounted options are very easy to install but are not very frugal with the space. Here are some cabinet design ideas and tips to help you figure out the best option which is perfect for your bathroom style.
Recessed Cabinets
Image: Bill Fry Construction – Wm. H. Fry Const. Co.
Recessed cabinets are a popular choice because of their ability to save a lot of space and their visual aesthetic appeal. It can easily adjust to the rest of the surrounding without jutting out. They can also blend into both traditional and/or modern bathroom decors.
However, they are highly labour intensive when it comes to mounting one. You would require a professional to install this cabinet into your wall system, which can be an added cost apart from the labour. You may require skilled people like plumber and electricians and may also have to reroute some of the wiring to make way for a recessed cabinet.
It can also be a poor choice for short people or someone suffering from vision impairment as the recessed cabinets is located farther away than its wall mounted counterpart.
Perfect Installation Technique
Image: Whitefield & Co, LLC
If your bathroom is undergoing renovation, then you can consider getting a recessed cabinet instead of a wall mounted one. Since there will already be a lot of construction in the offing, it can be easily accommodated.
For the cabinet to be placed inside the wall, it needs a framed box as per the dimensions of the cabinet on all the four sides. You would also require framing in order to properly get the cabinet fixed in properly. If you are planning to insert the cabinet into an existing wall, then your carpenter should first open the wall up and see what lies behind it. This, however, must be done before you buy the cabinet.
For the cabinet to properly fit in there should not be any obstructions behind it. This includes the electrical wiring or plumbing supply and even the non-load bearing studs. If there is any wiring behind the wall, then they must be rerouted. You can get this done, but it would involve an additional cost.
However, in case of load bearing framing or pipes that cannot be relocated, then a different location must be chosen for the cabinet or you may have to switch to a wall mounted cabinet.
Image: Gilmans Kitchens and Baths
In this image, the cabinet has been mounted between two studs placed at a distance of 14 ½ inches. The frame covers the opening through the overlays. It is important to know that the older homes may have varied dimensions for the studs. In this case, extra framing may be required.
Image: Crisp Architects
In this image, the cabinet has been custom designed to include the recessed medicine cabinets, which have been integrated into a mirrored wall. These cabinets can be opened by a gentle push, which eliminates the need for door handles. This maintains the consistency of the mirror design without interrupting the view.
Wall Mounted Cabinets
Image: Christian Gladu Design
A surface cabinet, also known as wall mounted, is much easier to install because it does not need any digging or opening into the wall. As the name suggests, it can easily sit onto the wall and is perfect for an existing bathroom. It can also be used in a new bathroom, suitable as per the design. It is so simple that you can do it yourself over the weekend.
However, many people consider this as an obstruction as the cabinet protrudes from the wall rather than being inserted into one. It can spoil the existing design by jutting out. Also, there is not much variety available due to the design limitation.
If you plan to do this by yourself, just know that the cabinet needs to be screwed into the wall by using one wall stud. There are also some designs that can allow drilling through any location in the back of the cabinet so that it can be anchored into the stud. When you get the bolts, they must be compatible with the weight of the cabinet to hold it together.
Cabinet Styles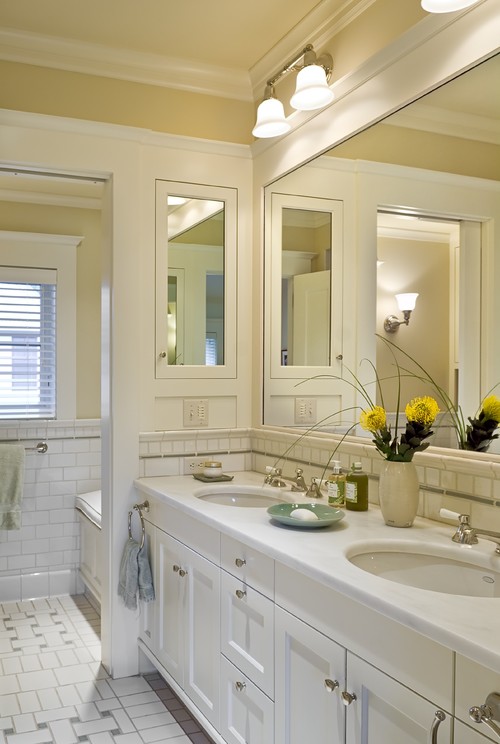 Image: Smith & Vansant Architects PC
When you decide to choose the type of cabinet you want – wall mounted or recessed, the next step is to choose the style. They are available in modern, traditional or transitional styles. You must choose the one that fits your home décor perfectly.
Traditional style medicine cabinets have a wooden frame and bevelled mirror with decorative moulding. It also includes additional hardware with requisite finishing. These components play a huge role in giving the cabinet its traditional look and feel. Most of these cabinets are inspired by Victorian era, although there are also craftsmen inspired varieties also available.
In this image, the designers created a custom made traditional medicine cabinet that fits perfectly into the bathroom décor and looks like a part of it.
Image: John Lum Architecture, Inc. AIA
If you are looking for a sleek and modern finish, then choose a contemporary style medicine cabinet. They are frameless and are much easier to clean, as well as manage. Lack of edges eliminates the accumulation of dust or paper towel lint. However, be careful as the edges may be sharp and can be a safety hazard if you have small children at home.
Image: Tatiana Takaeva
In this image, there are five frameless medicine cabinets placed alongside one another. They not only provide ample storage but also offer a seamless mirror surface.
Image: John Lum Architecture, Inc. AIA
In this design, a different technique has been used offering amazing some bathroom decor ideas. The medicine cabinets are installed on a block of the glass wall. Since the glass wall does not provide enough support for the cabinet, they have been secured using the wires from above and below. The vertical lighting doubles up as task lighting for the cabinets.
Image: Rebekah Zaveloff| KitchenLab
This transitional style medicine cabinet is made of metal frames. It is a perfect mix of modern and conventional designs and can be suited for either type of the bathrooms. When mixed with their surroundings, they can provide industrial or even retro look.
Image: Harry Braswell Inc.
This cabinet is hinged in a horizontal setting instead of using the vertical style. With its mirrored sides, there are also fluorescent lighting with a provision of the power socket and sliding cosmetic mirror. It's a complete package for a medicine cabinet.
Image: CWB Architects
This medicine cabinet has been custom designed with a painted wooden frame that juts out of the wall. It is flanked by mirrors on two sides that double as a door for the cabinet. This modern, sleek style is contemporary, but the wooden frame adds a touch of the traditional look with subway tile and marble finish on the countertop.
Image: J. Carsten Remodeling
This medicine cabinet has an unusual design, which hides the cabinet artwork. The customer of this cabinet bought the cabinet with a mirror and replaced it with a framed artwork to give it an original and unique look.
Image: NJW Construction
In this cabinet, the power outlets have been built-in, which are perfect for hair dryers or electric razors. These outlets hidden behind the doors provide neat and nice looking bathroom that is sorted and organized behind the closed doors. However, as a safety measure, be sure to get certified wiring for your outlets placed within the cabinets that can sense leaks and disconnect the power supply to prevent electrocution.
Bathroom medicine cabinets have become a thing of décor as much as their utility. They need to properly blend into the design for the bathroom to look pleasant. Choose from these styles as per your preference and design choices, as well as the utility.