It has been said time and again that any design becomes from regular to aesthetic due to the attention to details. Decorative aspect of the design is very crucial for décor. However, if we do not pay heed to the small things, the whole design can fall apart. Your day to day bathroom items may not be a thing of beauty, but with the right storage and display, they can play a huge role in enhancing the overall attractiveness of your bathroom. Here are some simple and yet intelligent bathroom decor ideas and ways to pump up the storage in your bathroom and augment the wow factor that the design is truly worthy of.
Embrace flexibility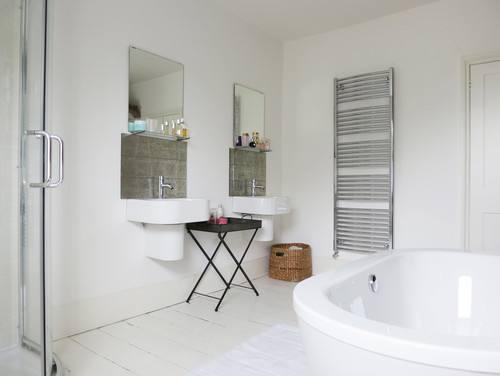 Image: Mad About Your House
A flexible tray in your bathroom is not just an interesting décor addition but can also be used to keep items of daily use like toiletries, etc. This tray will provide you the versatile storage option as it can be easily moved around as per usage. This can also serve as a temporary surface to house the toiletries of your guests in the guest bathroom while they are visiting you.
Decant storage for liquids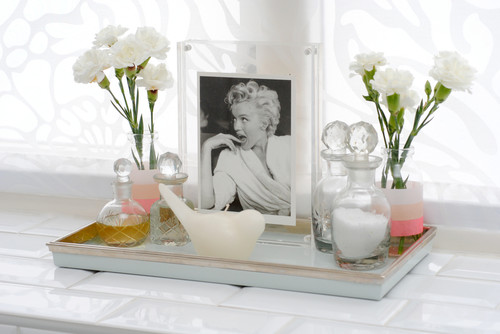 Image: Torie Jayne
Placing too many bottles and tubes on the bathroom counter not only clutters but can also spoil the look of your bathroom. Instead, you can invest in vintage decants for storage of liquids like soap, shampoo, etc. Minimize the labels from your countertop for an instant facelift. These bottles are readily available in a thrift store and are very helpful in providing a chic storage option. You can also upscale your used mason jars and put a few twigs to complete the look.
Use high branded bottles for storage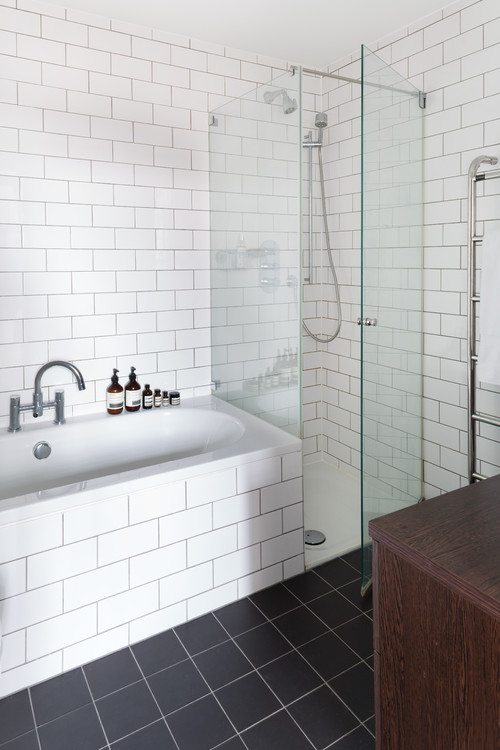 Image: Trunk Creative Ltd.
What works better than an actual luxury brand? A fake one! You can use the decant for storage of bath salts and also invest one time on a high branded shampoo bottle that you can reuse every time your regular shampoo runs out. Just fill the bottle with your everyday shampoo and place it on the storage tray. This intelligent technique will step up the glam quotient quite a few notches.
Pretty jars for storage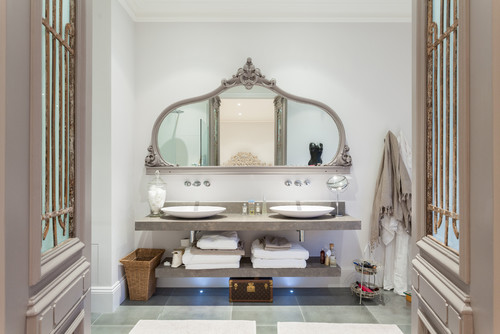 Image: Chris Snook
Use the soft and pretty cotton balls for display in the beautiful bonbon jar made of glass. They are not only a pretty sight but also make it easier for you to locate the cotton balls when needed. Storage has become so easy by using these items from your kitchen and making your bathroom look chic.
Add character with a tin box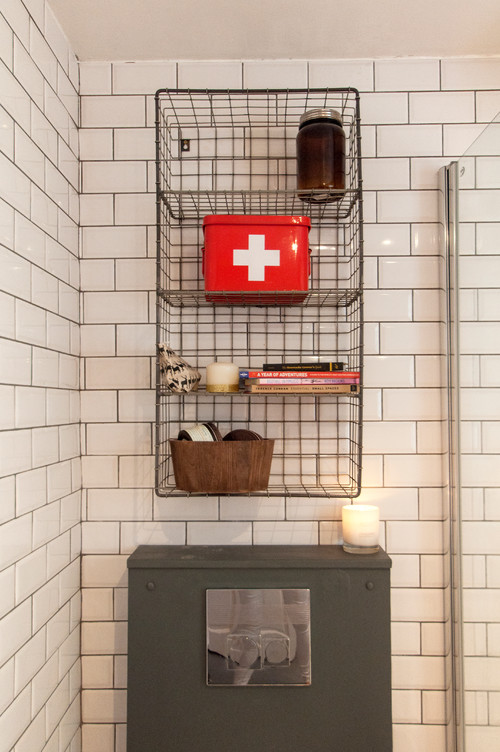 Image: Amelia Hallsworth Photography
Metal tins may seem like they have run its course. However, they not only have great storage ability but are also capable of storing items in the bathroom offering out of the box storage ideas. In this image, the red tin box is obviously being used for the storage of medical supplies. However, you can use equally usable vintage tin boxes for storage of myriad items.
Make use of Hand woven baskets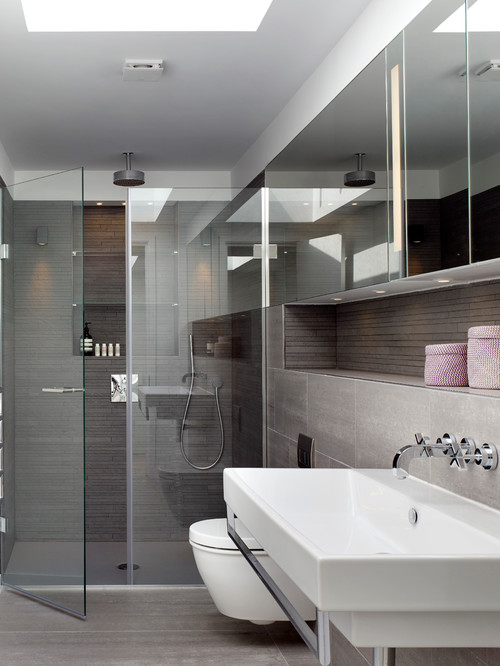 Image: Stiff and Trevillion
Hand woven baskets made of rattan are an ideal choice for bathroom storage. They not only look cute and attractive but also are a great place to keep items like washcloth, towels, etc. Their ability to adjust to the humid environment makes them perfect for a bathroom setting. You don't have to invest in boring neutrals. You can choose from exciting pastel colours and store them in bathroom recesses for easy access. You can also add a touch of classic timelessness by putting a luggage tag on top of each basket. Another interesting idea is to use the letter stamps to make note of the contents.
Make everyday essentials look beautiful  
Image: Lindsey Lang Design Ltd
No need to be mundane around the things that you use daily. With little creative bend of mind, you would be able to bring in a lot of utility and beautification to the items of daily use. For instance, Individual rolls of toilet paper make no value addition to the décor. However, when stacked in a basket, these rolls look not only good but make up for easy access too.
Make good use of towels
Image: Paul Craig Photography
You can add visual appeal to your bathroom's storage by stacking the towels neatly in a glass cabinet. However, make sure that you do not add any soggy ones but only fresh and crisp white towels. You can also mix and match your collection for a burst of colour in your glass cabinet. This will automatically look appealing and attractive.
Use your bathroom bags for storage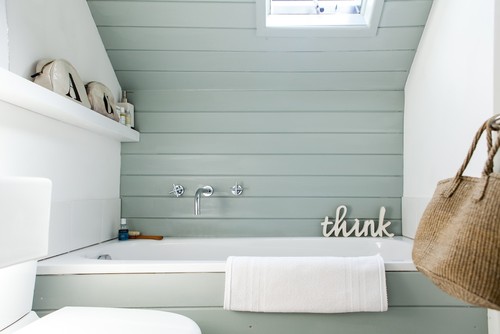 Image: Gabriel Holland Interior Design
We all use different bags for storage of toiletries when travelling. However, due to so much variety available in the market, one can choose smart and stylish ones for the show purpose in a bathroom. You can store your bottles of lotions and keep other items organized and out of sight. The large tote bags are highly popular design choices and can be used for the storage of large items like towels or toilet papers.
Include natural undertones
Image: Armory Brown
The thing about using natural hues in décor makes the space look earthy and relaxing. When you are choosing between elements to soften the visual appeal of your bathroom, then choosing neutral colours can be a wise choice. The idea is to not be too overbearing, but simple additions to have subtle hints of aestheticism. In this image, a simple scallop shell to hold a bar of soap is so beautiful and soft in appearance. It brings a harmless break into the neutral scheme of colours by its effortless presence.
Bathroom storage ideas are not something out-of-the-box but simple and creative methods of using our everyday storage options more ingeniously. All these options are novel and common place at the same time. However, they bring about a uniqueness of their own by its sheer simplicity. You can easily incorporate one or more than one of these many options into your bathroom and get an exciting space to store your everyday essentials.