A tropical vacation home lodged in the midst of the Brazilian forest, designed by Architecture firm Bernardes Jacobsen, the Guaruja House, in Sao Paulo, is an architectural play using nature and materials to bring out the density of design. Designed on 3 tier levels, the home is lifted from the ground, using five structural pillars that support the entire substructure off the ground. The home is entirely designed using steel members and has wooden doors and windows, with streaked cedar wood flooring to match the rustic look of the green forest offering some awesome eco-friendly design ideas.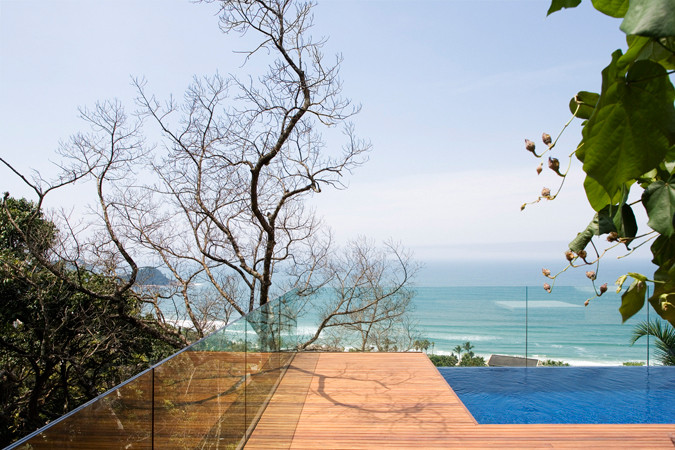 The home's lowest level consists of the family rooms that include both the private and semi-private places, which are well ventilated and sit on the structural deck raised from the ground. With advantageous views to the sea front, the home is designed to face the sea, and a swimming pool is placed at the extremity of the site. Together, with the wood decks that allow the natural growth of the plants beneath, they help in preserving the natural vegetation of the forest. There is a clear flow of movement around the home, and the facade is partly in hidden view due to the inclination of the slope.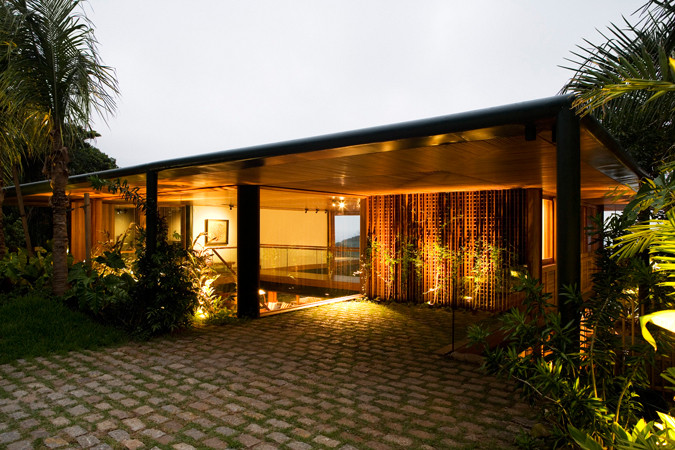 At the ground floor, the family guest bedroom, entertainment zones, and private areas are designed for the client, to entertain their guests. The spaces spill on to the external decks and is very inviting with the infinity swimming pool joining the horizon of the sea level. It encompasses the space and is shaded by the towering facade of the home. The upper floor is a much contained space, which has the entrance hallway, garage space, and balconies. It is the threshold of the home and is nestled cosily amidst the tree tops with greener views.
Photo by :- Leonardo Finotti