Located close to the beautiful treetops around Château de la Rocq, this romantic tree house " les Cabanes de Marie " is among the best in Belgium. For those looking for an escapade in the forests, this is one of the best choices in Europe, where you can enjoy the best of indulgences and comfort. Designed by famous designer Alain Laurens, this is a tree house that is 13 feet above the ground.
The exteriors: From the exteriors, the house looks more like a home that is nestled in the woods in an eye-catching design. All the outside portions have been designed in wood with the entire house standing on wooden beams. A beautiful staircase in the spiral style leads to the upper level where there is an extended balcony that gives beautiful views of the long trees around. The large wooden trunk of the tree crosses the façade making the design a truly tree house.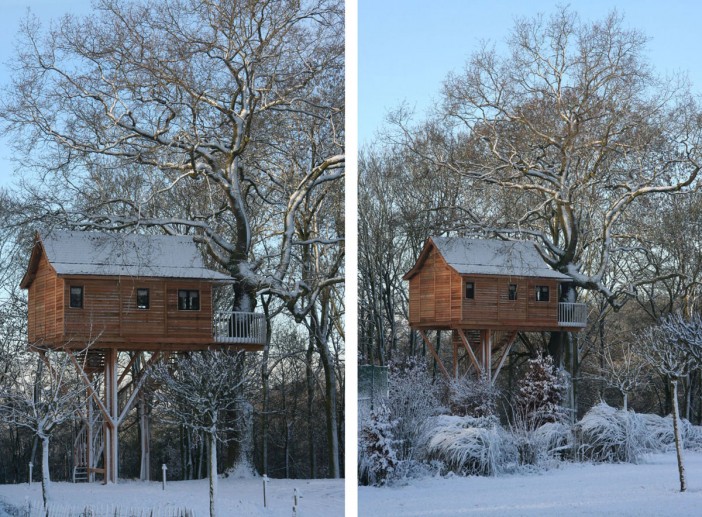 The interiors: The house is designed to offer all essential facilities with a fully operational bathroom. Ideal for two people on vacation, the interiors are designed mostly in wood to ensure the beauty of the tree house is retained to the best possible extent. From the charmingly structured ceiling in the sloping style to get away from the snow to the beautiful flooring in natural shade of the wood, this is a home for natural living.
Furniture and lighting: From wall mounted lights above the bed to small LED lights on the ceiling, the lighting is minimal and sets the mood just right for the night. Furniture including the bed, tables and side tables are all designed in the same tone of wood as ceiling and floors for a uniform natural design.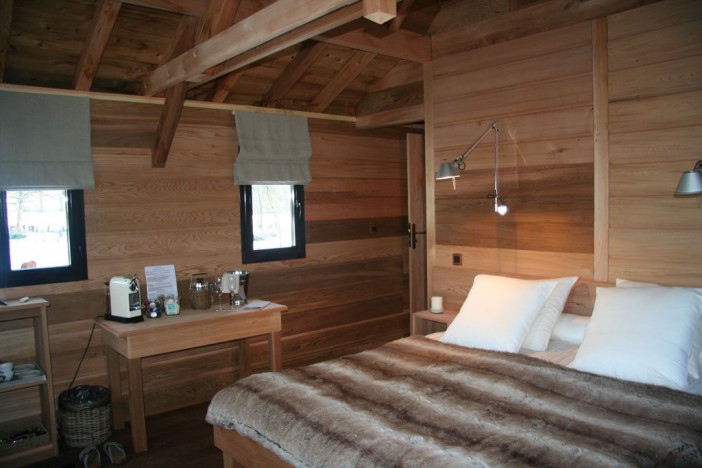 Photos courtesy Restauration Nouvelle