The importance of clean room is felt especially on days when you are tired and just want to crash onto your bed. However, an unkempt bed with dirty linen can cause you to have bad mood and also feel unhealthy. However, there is nothing more relaxing than coming home to a made up bed while sinking into crisp white sheets and warm blankets with an extra set of pillows. This is a perfect arrangement to ensure a good night sleep after a taxing day. Here are some interesting decor ideas and ways to make your bed more inviting and welcoming when you come home after a long and tiring day.
Change the sheets for change of mood
Image: Honey Bee Interiors
When you are feeling particularly anxious because of a long day at work or feeling simply under the weather, then a change of sheets will give your mood an instant lift. Crisp white linen has a very fresh feeling to it. Just curl into your bed with soft lighting and open up a book to help yourself slide into a perfect evening followed by an amazing nightcap.
Invest in a quality mattress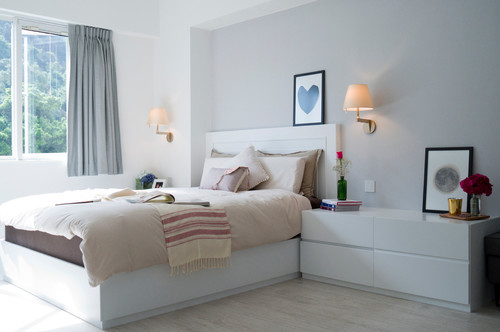 Image: Hoo Interior Design & Styling
What make up a bed are not just the pillows or linen, but also good quality bedding or mattress. When your mattresses are good, you can get proper support, which ensures proper sleep. This is necessary for you to have a jumpstart to your day next morning. An uncomfortable sleep will leave you tired and cranky for the rest of the day.
You can also think of adding a mattress topper to make your bed softer and more comfortable. Try anything from merino wool to classic feather bed to give your bed the extra comfort level needed to fall right into a nap.
Buy Natural Fibres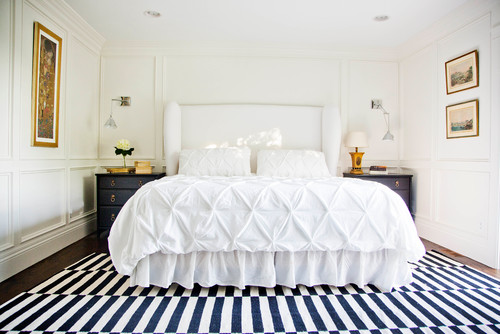 Image: White + Gold Design
Pure Egyptian cotton or Supima variety, when brushed with cotton flannel, is perfect for bed linen. Choose the one that makes your skin feel comfortable and provides you a relaxing comfort. Be open to trying new fibres. Sometimes our skin is more receptive to the cotton feel of the fabric than ultra smooth satin.
You can also add silk pillow cases for a glossy and sophisticated look. While the sheets will not be a good idea as it is very slippery, they can make up for a great fabric when choosing the pillow cases. It is very good for the skin and hair so can be a good choice for the pillows.
Get a fluffy bedside rug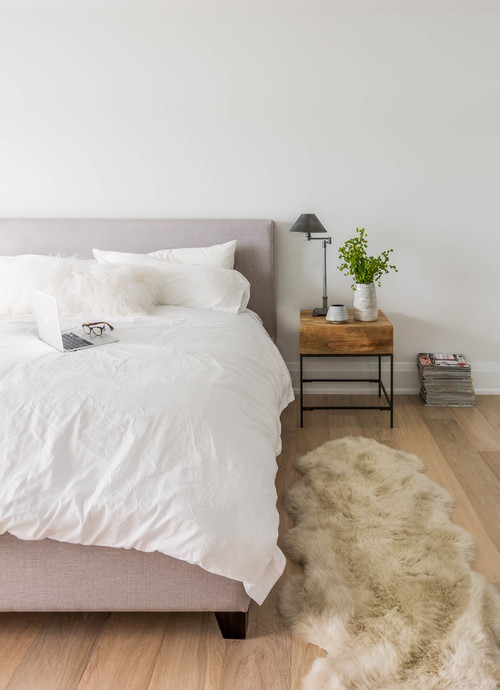 Image: Stephani Buchman Photography
When you get up outside of the bed, you can extend the feeling of a comfortable bed to your feet by placing a sheepskin rug by the bedside. You can also think of using a larger rug depending upon the size of the room. However, you can get a flat weave rug for the base and place the fluffy one on top.
Extra Pillows
Image: Su Casa Designs
The euro size pillows are one of the best bedroom decor ideas when you are thinking of adding some more to your bed. They not only look smart on your bed, but its large size helps you prop onto the bed while reading. Always consider the shams on your euro pillows when you are changing the overall linen. Keep your bed free of dust and mites by regularly switching the sheets.
Seat for the Extra Pillow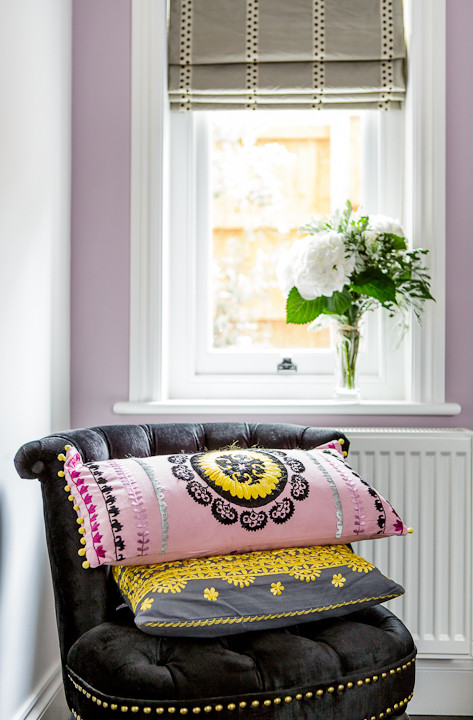 Image: Honey Bee Interiors
When we add too many pillows or bed covers on the bed, then we need a place to toss them to when we get in for sleep. However, to put them on the floor will not only dirty them but make them unusable for next day's use. To avoid this situation, place extra seat in your room to put the bed accessories on top of the chair when you get in for a night cap. You can also place a basket behind the door to keep the additional bedding.
Switch top sheets with Duvets
Image: Crane & Canopy
In Europe, it is a common concept to cover the beds with duvets instead of the top sheet. If you have trouble with these sheets messing your bed or getting ruffled around your feet, you can replace them with duvets and avoid the top sheet completely.
Keep your nightstand clutter free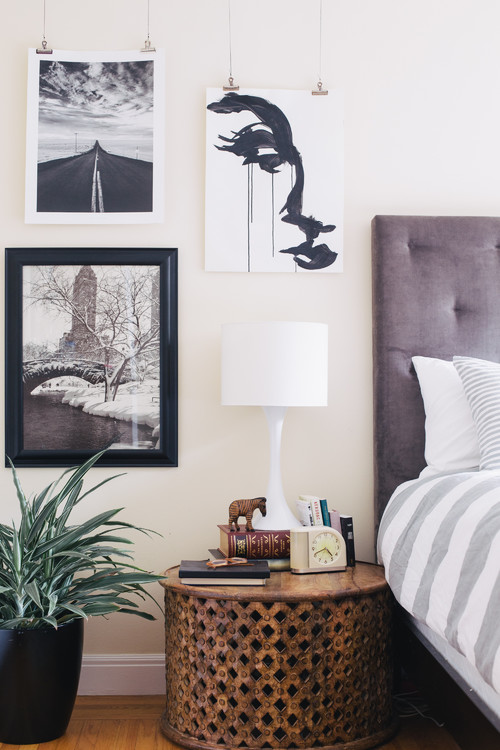 Image: Nanette Wong
We often ignore the nightstand when cleaning the bed. However, a simple brush and organizing the items will keep it clean and spotless. You can use a mildly wet cloth to remove the coffee mug rings and dust off the lamp stand. The idea behind removing all the clutter is to have the items you need during the night close at hand without knocking off other things when you are sleepy and cannot see too clearly. Ideally, a nightstand should keep a glass of water, a book, reading glasses or a candle at most.
Place a throw
Image: Nanette Wong
A throw is an essential bed item that adds a touch of softness to the foot of the bed. It is especially helpful when you are propped up on your bed reading a book on a chilly night.
Dressing up a bed into something comfortable and inviting is not a rocket science. These simple decor ideas and ways are just some things we ignore. However, importance of clean and crisp sheets far out serves the purpose of cleanliness. If you are looking for a fresh and comforting night cap, try these methods to get a good night sleep.