The most annoying thing in daily morning rush is that when you open your closet doors, all things come tumbling down. It takes ages to find your clothes for daily wear as they are hidden beneath mounts of scarves and other accessories. However, this article will help you deal with these monstrous situations with simple and cost saving techniques that will transform your closet from a hopeless mass of black hole into a convenient and most usable space in your home. You can now kiss the disorganized wardrobes goodbye and say hello to the most organized storage space in your homes.
Make a priority list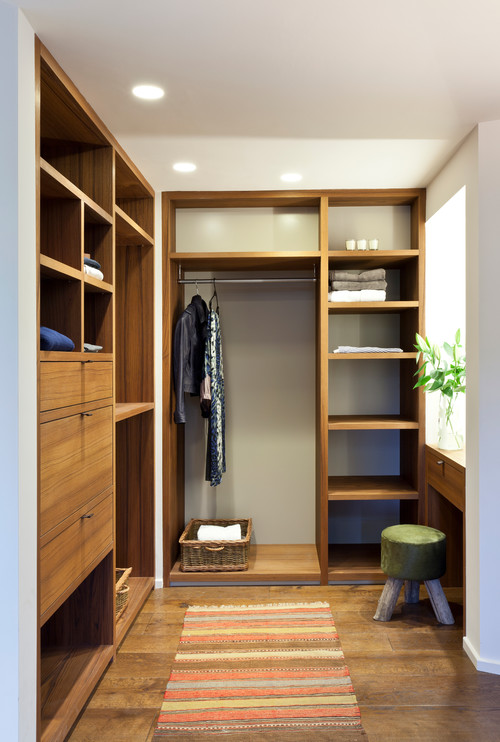 [Image: Studio Mark Ruthven]
This is the hardest and requires you to be merciless when you are choosing needs to stay and what needs to be tossed out. If you didn't fit into a dress for the last 2 years, you wouldn't in the years to come. It is time to say goodbye to all the useless items you bought on an impulse and never once wore. Take out everything and separate the usable from non-usable ones. You can either donate the extra clothing or sell it but don't keep it in your closet anymore. Throw away anything that has been damaged and cannot be fixed anymore.
Use colour coordination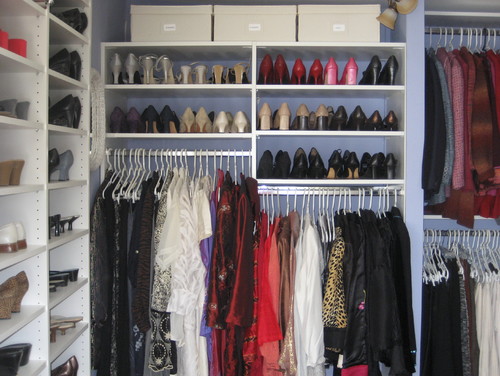 [Image: Neat Chic]
Once you have all the clothes and accessories on the floor, sort them as per their colour. This will make your closet appear more organized and make it easier for you each morning to pick outfits in a jiffy. Picking your favourite outfits will now become a lot simpler.
Face shoes alternatively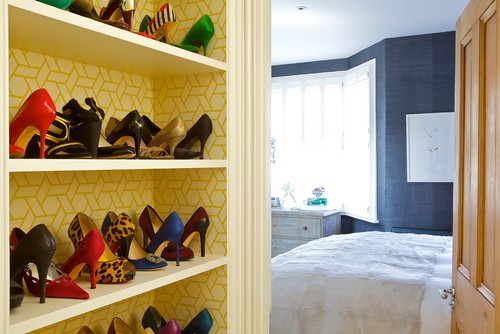 [Image: Turner Pocock]
This technique helps you in fitting more shoes into a flat surface.  
Hang & hold accordingly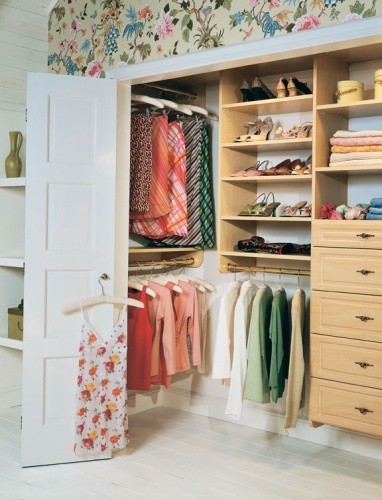 [Image: California Closets Twin Cities]
Hang clothes that require creasing which includes cotton and linen based clothing. The ideal clothes for hangers are blouses, dresses, skirts, pants, jackets, blouses, and blazers. The knitwear and durable shirts must be folded, which gives you enough room to sort your closet as per your requirements.
Use hangers that are slim so that you can fit more of these inside your wardrobe.
Place your hanging rods at different levels
[Image: California Closets of Indianapolis]
Your rods should be placed at varied levels, which help you in using every inch of space in the closet. Consider using tension rods that are much easier to install, manage and remove. It is ideal for a project like this one.
Use the hooks
[Image: Tim Wood Limited]
You can use a lot of wasted space by installing pegs and hooks that can be used to hang bags as well as other accessories like belts or scarves. They can be easily drilled into the wall or mounted with the help of strong adhesive.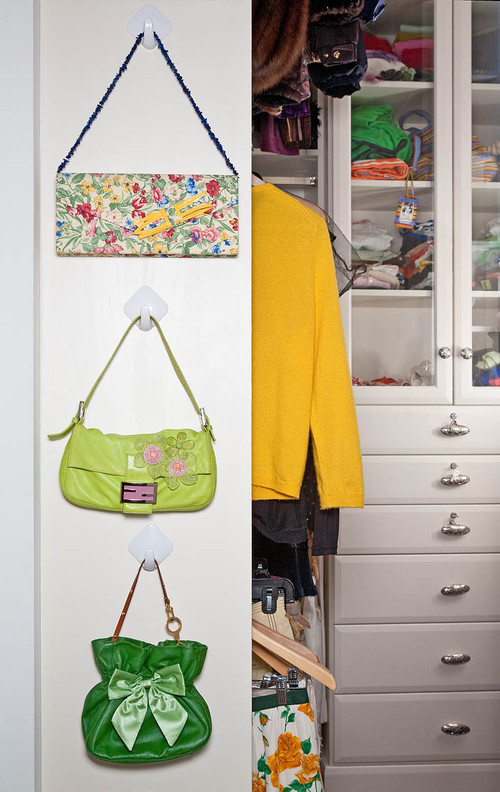 [Image: KuDa Photography]
You can also use these hooks at the back of the closet which is usually a dead space. With more visibility in your wardrobe, things look sorted and neat. If you want to use all the items that are in your wardrobe, you need to ensure that they are clearly visible. If they are chucked into the farthest corners, they will become neglected and fall into disuse.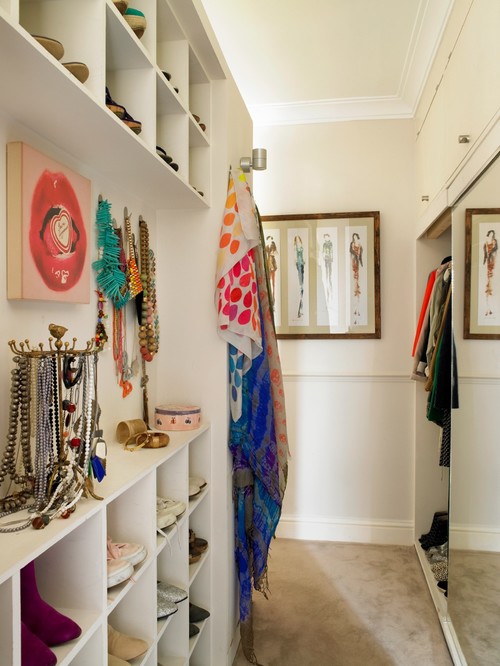 [Image: Claire Gaskin]
Take out all your scarves and ties that have been hiding in the back of the closet and use them as a display on your wall right next to the closet door using adhesive hooks and pegs. This will make your closet look more interesting with all the u and excitement.
Sort your clothing vertically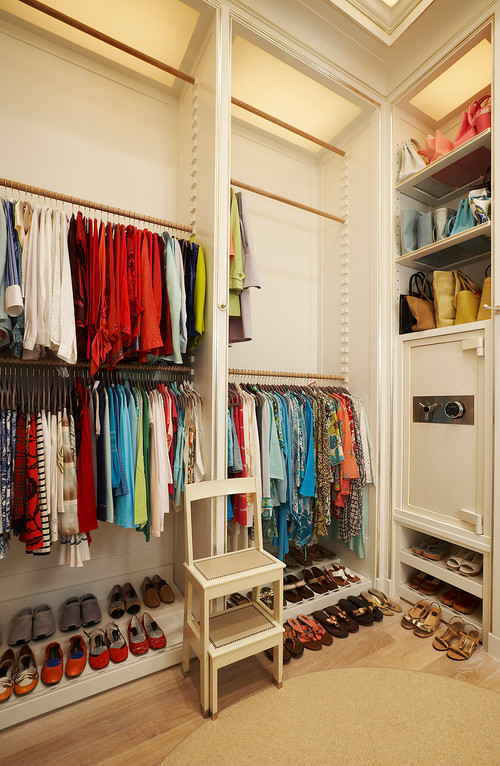 [Image: Clos-ette Too]
Go as high up as possible in your wardrobe and use tension rods as close to the ceiling as you can. Use this space to keep your seasonal clothing like boots, coats, jackets, etc. Your formal outfits will also have a designated space, which makes it easier to pick them in the morning rush.
Organize your shoes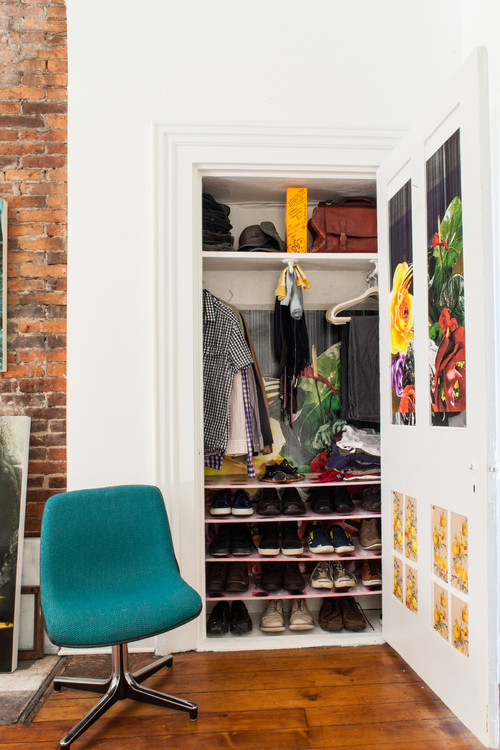 [Image- Jason Snyder]
Use the bottom of your closet to install shelves so that they can be used to stack your shoes collection. This keeps them in a neat formation and easy to access.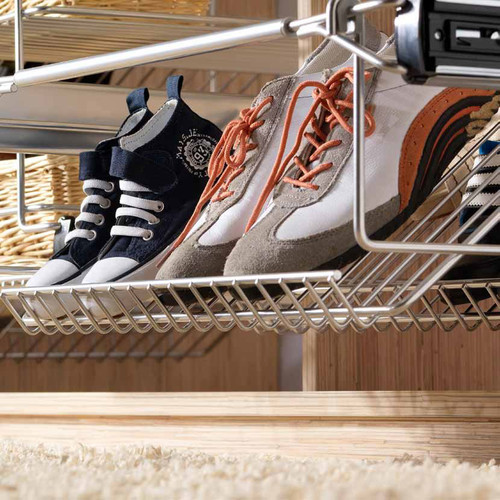 [Image: Buller Ltd]
If you cannot get a shoe rack in your wardrobe, you can also install shelves that are more durable and light weight. You can save a lot of space by installing them in a slant formation.
Make slots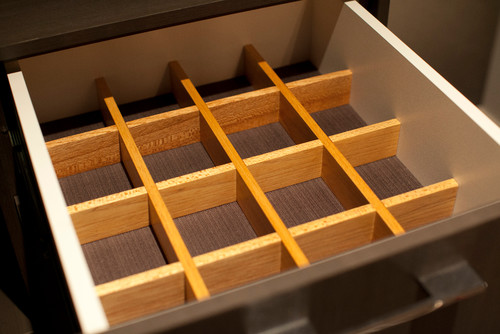 [Image: Interior Sanctuary]
When you divide small things into compartments, they automatically appear more sorted and in control. When small items run amok in a closet, they can wreak their own havoc. Divide your drawers into small cubes and use it to hold socks, tie pins or other small things that are likely to give you nightmares in a disorganized closet. Build your own dividers or use gift boxes to achieve the look.
Pull out shelves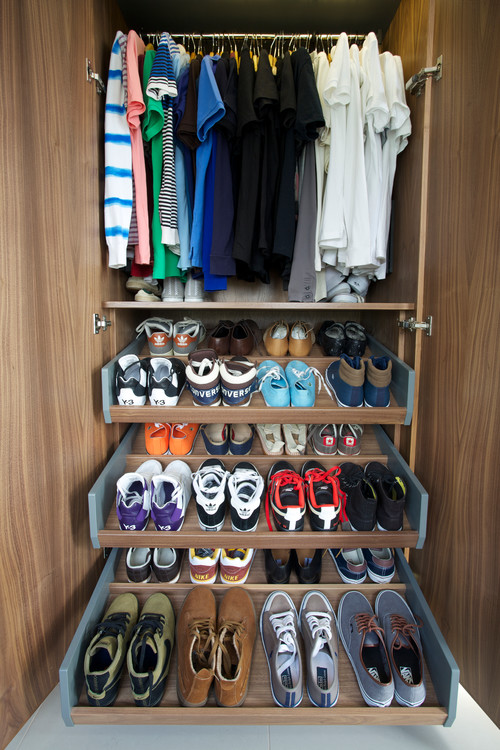 [Image: Gregory Davies Photography]
By placing all your things in pull out shelves, you would be able to view all the items clearly and keep all your belongings in a much more organized way. Push all your sneakers behind the closet, and you would still be able to see them clearly. It saves you a lot of space and helps in storage immensely.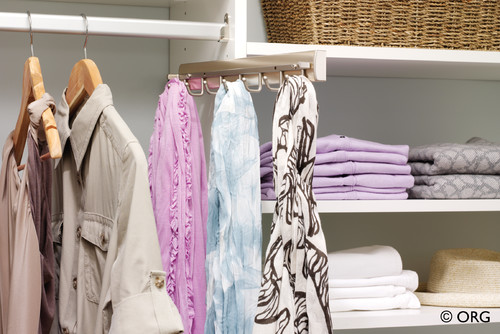 [Image: Colorado Space Solutions]
Retractable hooks make an easy and hassle-free addition to any wardrobe. They make you feel structured and hold all your accessories in a much better way.
Mark the containers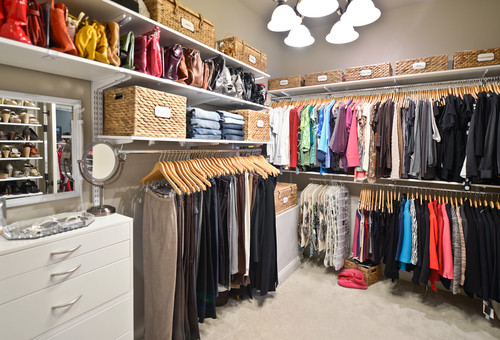 [Image: Organized Living]
Boxes are the best options if you want to hold seasonal items like hats, scarves or other small accessories. However, it would be a good practice to label them and spare you the handwork of remembering which container holds what. You can also consider using transparent boxes, which help you in identifying the items each box carries.
Trunk it
[Image: Alexander James Interiors]
You can also use old trunks to hold things instead of your closet. They are very stylish and have a lot of room. Winter bedding or thick clothes can go into them and will be safe throughout the season in their new home.
Closets are the biggest pain points for all of us and managing them is one of the biggest pet peeves. However, these simple and easy bedroom storage ideas and solutions will take that worry out of your hands for a very long time to come.