Before you start shuffling the furniture around, remodel or edit the existing living space, or plan new décor, give one look to the way your lighting works. This is a good way to encourage interesting living room lighting ideas or ideas for any other part of the room.
Lighting is one of the most important aspects of a room and impacts the way your home will look like after you are done decorating it. It is also an affordable way to bring out your room's décor without burning gaping holes in your budget. Correct lighting is the best way to set the mood right and define your style. You may be hindering the important architectural details from spilling out if the lighting functions are not tuned into your room's direction, flow, and layers.
Did you know that the lighting trend changes after every ten years? But thankfully, by simply changing a few key pieces in your room will start reflecting the current trend in your décor. It is also the best way to update the look of your dreary living room into something m more illuminated and stylish.
The core ingredients of perfect lighting are – placement, functions, and fixtures. Consider giving your living space a makeover by simply playing around with the lighting. Here are some tips to help you plan an update from your current lighting scheme.
Add Layers to your Lighting
[Arnold Schulman Design Group]
For a room to be lit perfectly, you need three basic layers – task lighting, accent lighting, and overhead lighting. For overhead light, you can put a chandelier, bedside lamps as task lighting for reading purposes and accent lights over your headboard or artwork to highlight points of interest in a room.  You can also use this tip if you want any fresh bedroom lighting ideas.
[Arnold Schulman Design Group]
In this kitchen, the lighting is featured in multiple layers. The sunken cans work as an overhead light, pendant light on the kitchen island brighten the work area and lights underneath the cabinet and above the cabinet work as an accent light.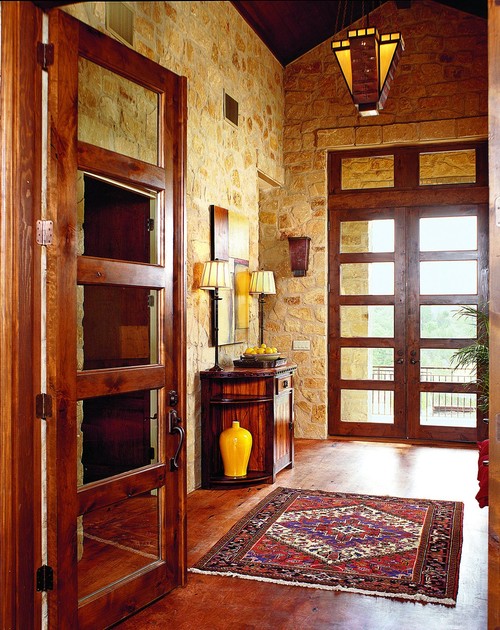 [Cornerstone Architects]
To make these layers more interesting, you can think of an artistic purpose of each of these light sources. For example, you can add wall sconces to an entryway for an aesthetic appeal and also light the way. Your table lamps can double up as a task light and chandelier works as the main overhead light.
Lighting unplanned spots
While examining the status of your lighting style, you need to remember that lighting also works as a form of art that defines your individual style, apart helping you perform practical tasks or set the mood right. You can redefine spaces by simply lighting unexpected areas in unconventional ways. For instance, add a chandelier in your bathroom or replace your reading lamps with pendant lights.
[Affiniti Architects]
The best way to find unexpected spots to light with unconventional fixtures is to find alcoves to illuminate, tray ceilings and wall niches that can throw some interesting line patterns onto the wall.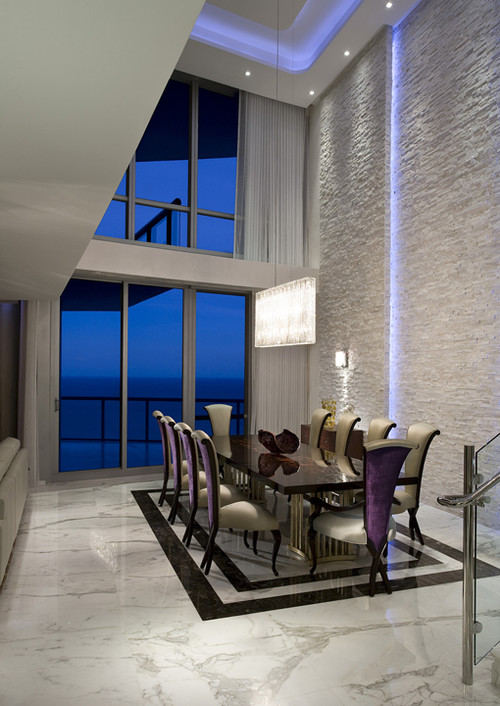 [Craig Denis]
You can also add a bit of visual interest by lighting the tray ceiling with LED lights. This will accentuate a point of interest, as in this case, a stone wall, and add another dimension to the room. The light will attract the viewer's attention to the stone wall's texture.
[Mal Corboy Design]
Another form of introducing some form of surprise to the room is by painting with light. Create a dramatic look by placing colored LED lights in spots such as underneath the Kitchen Island and cabinets.
[Ferguson Bath, Kitchen & Lighting Gallery]
Another smart idea of introducing a silhouette is by adding a light under the cabinet and inside the cabinet. Experts say that indirect lighting under and above the cabinets is the way to incorporate modern lighting design. You can also consider using tape lighting for a subtle effect of a lightened line of sight. If you are on a budget, go for xenon lighting that costs less than LED lighting.
Dim Mood lighting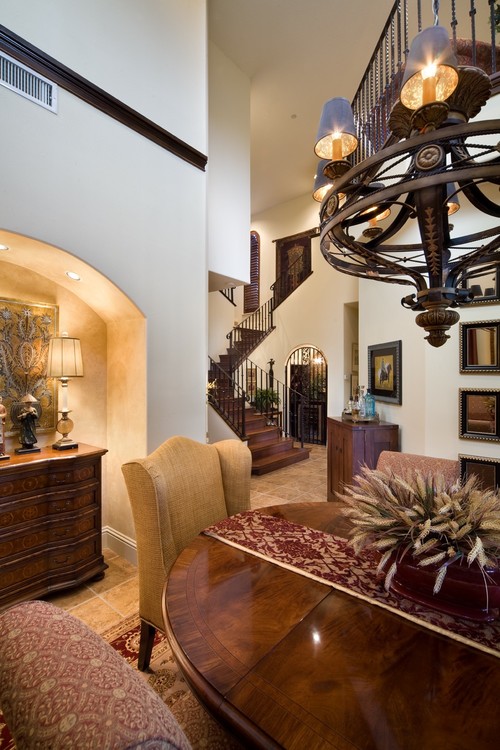 [Jorge Ulibarri Custom Homes]
Good lighting is the one that can also set the mood for you when you need. You can easily invest in a dimmer, which is not very expensive and works as an important tool that gives you full control of the quality and quantity of light. You can introduce a dimmer to all the lights in the house or by adding a wall-box dimmer in each room.
Lighting in a room should be like operating a radio; you want more control of the volume button! Lighting should also give you a similar opportunity of turning your task light into an ambient light. You can also make your lights multitasking by adding dimmers. What's more? You can save a decent amount of money by installing dimmers in your house.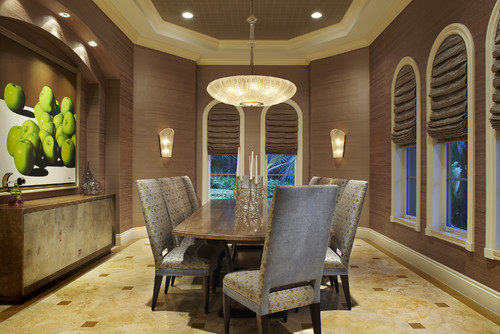 [Arnold Schulman Design Group]
To enjoy the benefits of lighting, you should consider the highest-wattage light bulb in a room. This will allow you different levels of dimming, depending on your mood. You can add dimmers to not just overhead lighting but also to the task lights. As an added advantage, you can also improve the life of your bulbs while reducing your electricity bills substantially.
Focused Lighting
FL]
The whole point of using lighting to your advantage lies in its placement and matching the source with its use. Indirect light is a great way to attract attention to detail such as wall textures, layers, etc.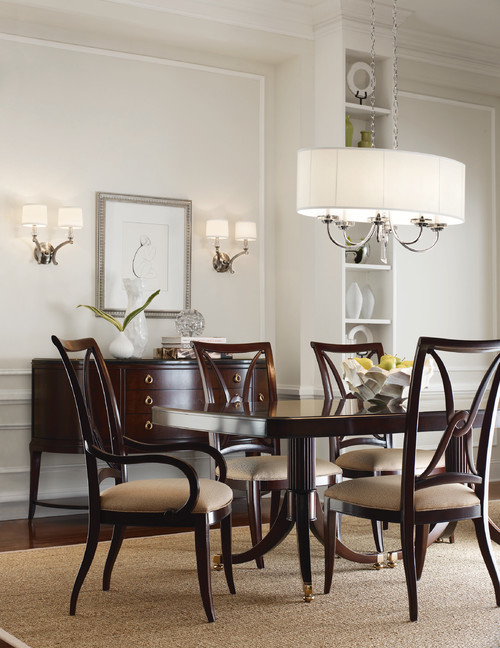 [Ferguson Bath, Kitchen & Lighting Gallery]
You can also create room's lighting that imitates daylight. This can be done by installing a light bulb that rated higher than 4,000 Kelvin. Depending upon the K rating, you can judge if the light will be bluer or cooler.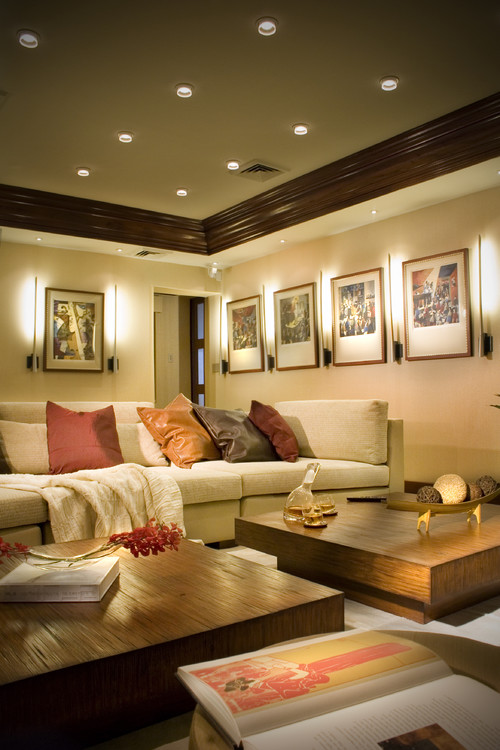 [Modern Family Room]
You can create focused lighting in any room by choosing the spots you would like to highlight. These are the spots where you will direct the light source. Wall sconces work perfectly as light fixtures to highlight artwork or bringing it to the eye level.
[Latest Style Fixtures]
The best and the most reliable way to update the look of a living room is by changing the decorative lighting with the ones that have the latest style. Ceiling fans with lights are now outdated so avoid that. You can, in fact, replace your ceiling fans with attractive chandeliers, keeping the illumination between 150 and 300 watts for optimum lighting.
[Jorge Ulibarri Custom Homes]
When you add a chandelier to a dining area, make sure that it is at least 30-36 inches above the dining table. Match the thickness of the chandelier with the table which should be half the width of the table.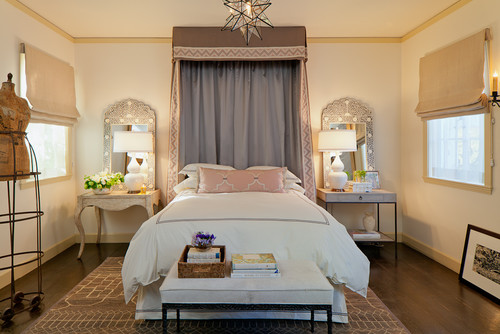 [Laura Martin Bovard]
To make things more interesting, you can also mix and match the lights. They don't necessarily have to come from the same design family. Mixing styles can make your room look more versatile rather than boring.
[Arnold Schulman Design Group]
One can also take their lighting cues from a style that falls somewhere in between different finishes. Pick something that has clean lines with a neat finish. Ditch the old, dark scrolls for something more fresh and light.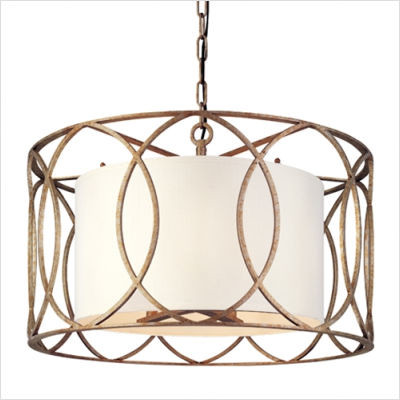 [GSN Lighting] 
This mixed metal, dull gold finish is foiled silver on top of gold. This finish is highly popular because it has elements of conventional yet contemporary look.
[alene workman interior design, inc]
Crystal is a preferred choice of lighting and can be used across various style bands. Adding a crystal chandelier to a room or a bathroom, like in this case, draws attention to the areas underneath the lighting. In this bathroom, a wave ceiling is being illuminated by the chandelier.
[LampClick]
This one made a comeback recently for its combination of bronze metal with bamboo design.
Redefining the Edge
Track lights and recessed lights are a great, low-voltage way to light something directly. They are also easy on the pocket.
[Turn Collaborative]
Think of using Translucent glass shades on pendant lights to reduce kitchen glare. If you are hanging overhead lights, they should sit at least 30-36 inches above the island surface.
It is better to use lights with a slightly red cast in your kitchen for a better output.
[Ernesto Santalla PLLC]
You should also consider track lighting for eye-intensive activities. Invest in lights that can be pinpointed according to your need.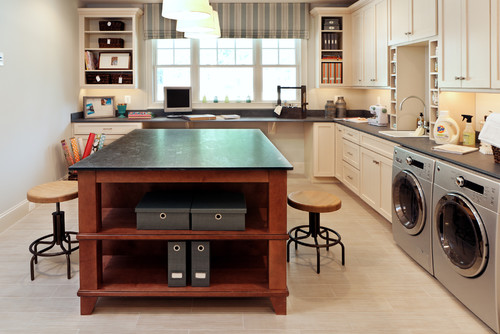 [Dream House Studios]
Looking for bulbs to highlight the task areas, then use bluer lights such as high K-halogens for such places!
Lighting is an important part of décor, but they are also necessary for their functionality. By using these versatile lighting ideas and tips, you combine the aesthetic appeal of lighting with its functionality to come up with exciting décor ideas.