If you are pressed for space in your tiny bathroom and have to make do with a common bath and shower, then the real struggle begins. The chances are that you are already settled in on shower-bath combination, but if you should go with a curtain or glass door are an entirely different matter altogether. While some prefer the soft look of a curtain, which has the option of being changed as you please, and there are also others that pro-glass doors because of its low maintenance quality. If you are torn between the two options for your bathroom design, then these benefits will help you make a sound decision based on knowledge.
Shower Curtains
They make the surface look soft
[Image: Mark Williams Design Associates]
You can change the aesthetic and visual appearance of your bathroom with a simple addition of a waterproof fabric. If your bathroom has many fine edges, then this look will soften the décor and make it look softer. In this image, the classic look of marble and tiles has been played with gray paint. Thanks to the beautiful curtains that the bathroom doesn't look clinical.
For the ease of maintenance, ensure that the fabric of your curtain is washable at home. This will prevent any form of staining or mildew formation.
Add a roll top curtain
[Image: Oliver Burns]
It is not that simple to dress roll up baths especially if they have a shower fitted. The water spills and splashes may become hard to deal with. In this scenario, you cannot even use glass panels because of all the curves and turns. If you absolutely must use glass, then you would have to go with fully customized option. In this case, the most convenient option is to get a ceiling-mounted rail with waterproof shower curtain that can be moved around easily, all the way to the end of the tub.
In this image, an earthy look has been used in the mix with tobacco palette, which makes this bathroom looks effortlessly timeless. 
Add character to its appearance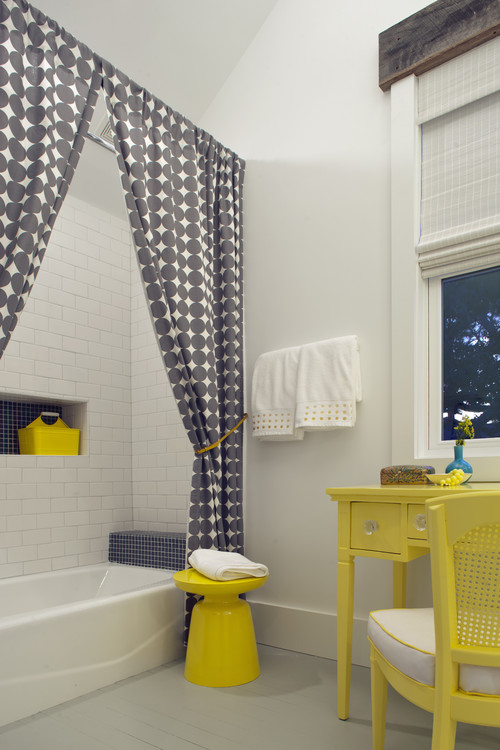 [Image: Rethink Design Studio]
Shower curtains are the quickest way to add a blast of colour to your bathroom décor. With their prints, they are capable of adding personality with the least effort. The best thing is that when you feel bored with the look; just replace it with a different style.
Don't be shy to use colour in your bathroom. In this image, the homeowner has used bright accents, which liven up the ambient and fresh white walls reflect off the sharp yellow hues. The overall sharpness of the colour has been downplayed by grey curtains with a geometric pattern.
Modern and Chic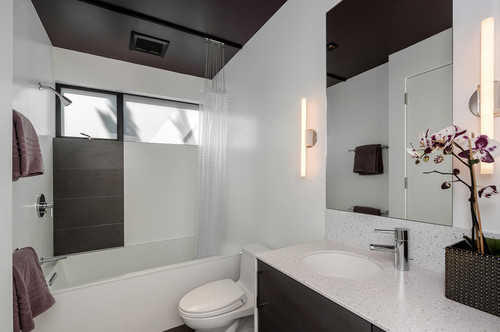 [Image: Studio Fleming]
Many people believe that shower curtains for a modern bathroom is an unnecessary addition. The design is capable of functioning on its own. However, in this image, the transparent curtain on silver chains provides a chic and modern look with a contemporary finish.
The curtain is almost not there, but still makes its soft presence, which cannot be done with glass. The texture has been further augmented by the shimmer of the chains. The whole scheme fits the brown and white look.
Make it pretty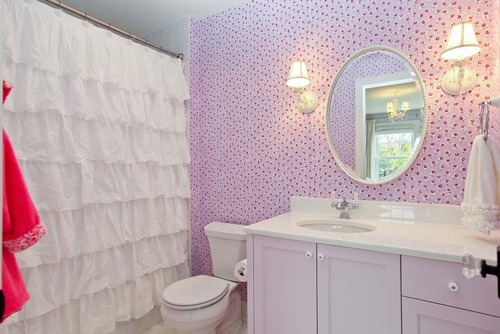 [Image: Refined LLC]
You can make your bathroom look girly pretty by adding a frilled shower curtain and match it with floral wall paper to finish the look. The curtains have the flexibility of being prettified, which the glass chambers lack.
Shower Glass Doors
Choose fully enclosed space
[Image: Bluewater Home Builders]
In this buried bath, there is no way that the water can escape and the sliding doors completely cover the area, which enclose the tub in a simple way. When you have limited space, sliding doors make for a wonderful option as they don't need to pivot out to open. The space becomes your to use without any obstacles.
Expand your area 
[Image: COUPDEVILLE]
You can add a simple frameless glass in all kinds of bathrooms, regardless of the style. However, this may not be workable in a bathroom with an all-white design where classic materials and lines take more attention. If you have a very small bathroom with little to no space to spare, then the glass enclosure will make the perfect space without visually shrinking the room like curtains or fussy glass fittings.
Make use of tricky spots
[Image: Crisp Architecture]
If you have an alcove that has been sitting idle, you can insert a recessed bath into that space. This is mostly space available in an unused attic or nook. However, the real challenge is to use the sloping wall if you need a shower too.
This is where you need to add a bit of customization, which can accommodate odd shapes. It can be used for non-standard heights, as well as angles. This is neat and splash free solution to some space that has been sitting uselessly.
Easy opening and closing
[Image: Boscolo Interior Design]
Curtains are rather boring when it comes to access options. You can either draw them to one side or split them from between. However, with the shower screens, there are quite a few options to play with.  You can leave the panel hinged or make it sliding. It is up to you how you want to access the shower enclosure.
In this bathroom, the glass panel is much larger than the standard size and uses hinged sections. This makes getting in and out easy and the panels can be folded away when you are not using the enclosure.
Simplicity is the key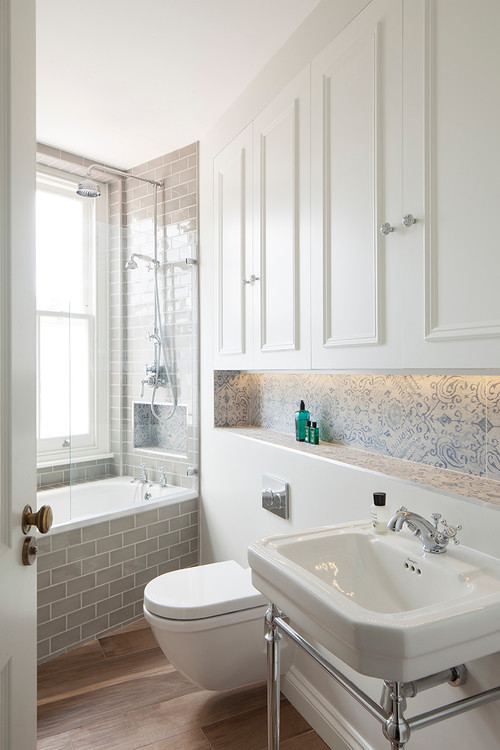 [Image: Ardesia Design]
If you already have a lot of designs going on in your bathroom with fancy tiles and fixtures, then the best thing to do is to leave it simple. Plain sheet of glass will fit right in without commanding too much attention or overplaying the existing scheme.
It is better to look for a glass that has already been finished with specialized coating so that the dirt or limestone does not make the glass too dirty. It may increase the cost but will spare you a lot of effort in cleaning.
Both these options are good in their own way. Apart from the design choices, the most important consideration to make is the available space. A lot of it depends on how much space you have before you zero in on the design. Just use these simple bathroom design ideas and tips to pick the one that works best for you.