The Black White Residence is one of the best homes for a single family that one can come across, thanks to the hard work of David Jameson– a well known Virginia-based architect. Located in the beautiful Bethesda in Maryland, USA, the house is more of a unique theme that reflects in name. The monochromatic theme of the house in black and white is visible in the exteriors and interiors. From the exteriors, the house looks more like home in the woods with white walls and black beams combined with large glass panels and windows. In interiors, the theme remains the same with better views of the surroundings.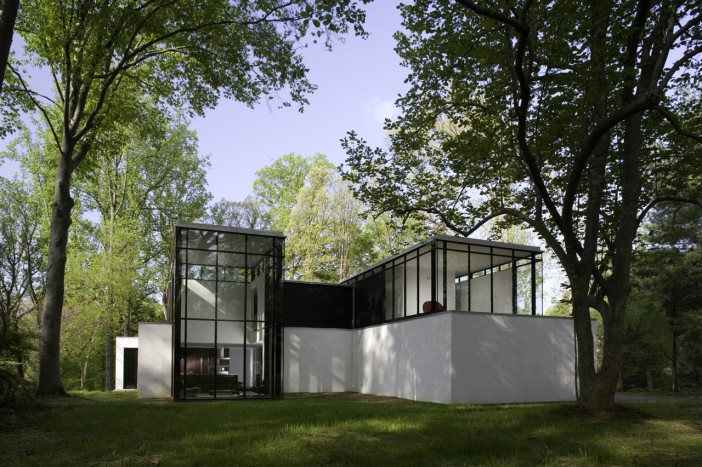 The home has a very inimitable finish that is hard to overlook. The use of wood in most parts of the home is evident, but the shade is essentially on the darker side for a black tone. The flooring of the home has been done in black/gray and slate shades that complement the white walls and black beams of the windows and walls perfectly.
The bedrooms of the house have wooden floors with a light finish and furniture in the same kind of textures. The idea is to ensure the beauty of the black and white layers are retained. Colors are manifested in more sophisticated choices and in accented forms with reclining chairs. The sofas in the living room come in rich materials in black, matching the gray-slate color of the floors. The windows open to the green outdoors and each room has amazing views from all corners. The lighting is mostly ceiling mounted with occasional use of lamps. Without any unwanted detailing, Black White Residence in Maryland, USA is a perfect setting in minimalism.
Photos by: Paul Warchol Photography