Living room colors need to be revamped time and often as this is the first room that guests check when they enter the house. One of the most unique colors that one can add to the living room is blue. In color therapy, blue has been associated with calmness and relaxation, as they think of it the perfect soothing color that attracts attention. For the interiors of the room, blue can work best when used in the right shade and proportion. Here are some simple tips that will help in balancing blue in the living room and drawing inspirations for accentuation.
The choice of color:
The dark and navy blue is not a very interior color, though many designers have tried to incorporate them in the living rooms. For rooms where there is a need for smart designer and inner calmness, it is the aqua blue or the turquoise blue that makes the mark. The cool color of the crystal water looks amazingly refined and worth experimenting with. A few tones of dark blue can be used, but we will discuss more on that later.
The choice for wall colors: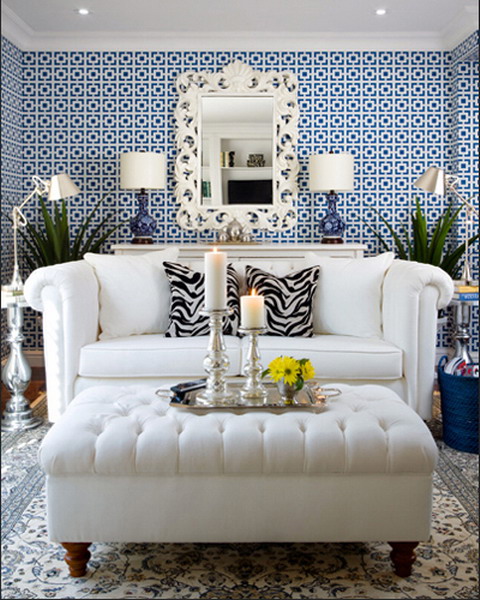 In the interiors of living room, blue is one the most soothing colors that one can have. Associated with positive energy, blue can be used in light shades for all walls or one can even choose one wall in blue with the adjacent in white. When it comes to coordinating blue with other colors, white comes as the most obvious choice because both blue and white are easy to the eyes. It is also excellent idea to use a few wallpapers in blue to bring attention to the color and add layers to the wall designing. Textured wallpapers look astonishingly classy and simple ways of revamping the living room.
The choices in furniture: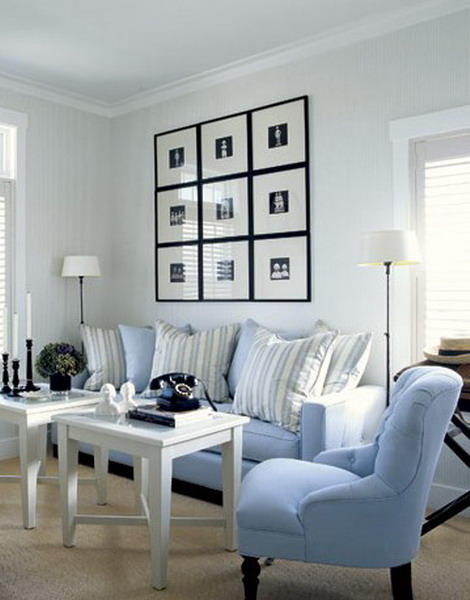 If better investments for the living room are your forte, look for sofas and chairs in blue, preferably turquoise. Where it is possible to change the color of the fabrics, one can change the same to give a completed new look to the furniture. To top blue furniture, it is best to keep other colors at bay, especially any bright color. If decorative pieces and cushions need to be added, they are best chosen in white or red, without diluting the essence of blue.
Small changes in decors:
For homes where there is no need for unwanted revamping, it is best to look for small changes. This can mean adding a few cushions in blue or even an ottoman and stools in blue. Curtains, rugs, carpets and paintings are other discrete things that can be smarty changed in the living room to redo the interiors. Such small things can change the color theme for living rooms where there are other colors already in use. Using varied shades of blue for interiors in same layer can also work for large spaces.