Casa Kimball is the perfect Caribbean retreat and modern rental villa that one can come across. Located in Dominican Republic in Cabrera, the house has an astounding area of 20,000 sq ft and features eight fully operational suites that offer dramatic views of the Atlantic Ocean. The entire villa has been created by Architect firm Rangr Studio using the three acres of property where there are plenty of almond trees. The infinity pool seems to merge with the ocean, while the interiors are all about lavishness.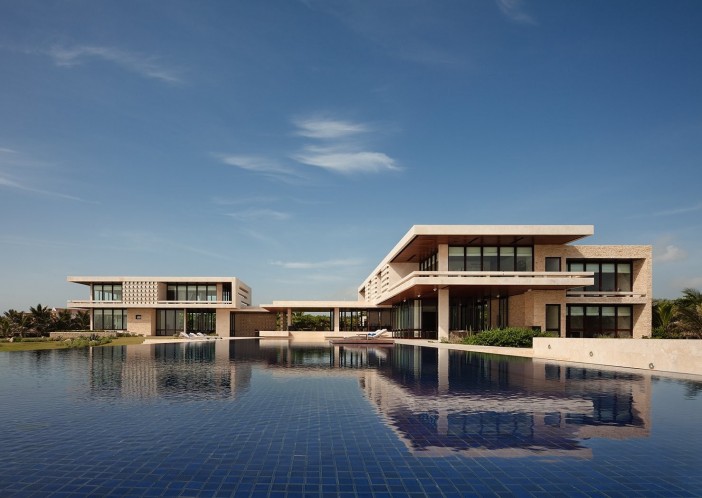 Each of the rooms has large glass windows and doors that offer panoramic views of the sea around, while the interiors are meant to splurge into luxury. Each suite has been designed with mixed materials and furniture, to ensure that the beauty of the house matches the lavishness of the exteriors. For the interiors, marble and wood in varied balances have been used, which work perfectly for creating a mood. The bedrooms have wooden ceilings with large white flowing curtains for a smooth look. The staircases are in open style, while the old stone styled walls look thoroughly exquisite.
For the furniture, the design studio has used varied contemporary and modern items with some in wood and others with extensive modern style. Portions of the public areas close to the pool have eco-style furniture and large rotational doors, ensuring the beauty of the ocean homes within the walls. The lighting is all about a soft approach with focus on textures and materials used in the rooms to bring attention to small things and create a romantic approach. Simple, classy and enigmatic, this villa in the Caribbean is meant for rejuvenation or for a perfect honeymoon.
Photos by: Paul Warchol Photography