In our previous post on choosing curtains for children's rooms, we discussed how you can choose the fabrics and designs. This particular post is more about choosing curtains for the rooms of girls. Most parents want their girls to live in fairy princess castles, and that's the reason it is best to choose the right design for the rooms of our beloved girls. Here is a close take at how you can choose the right curtains for the young growing kids.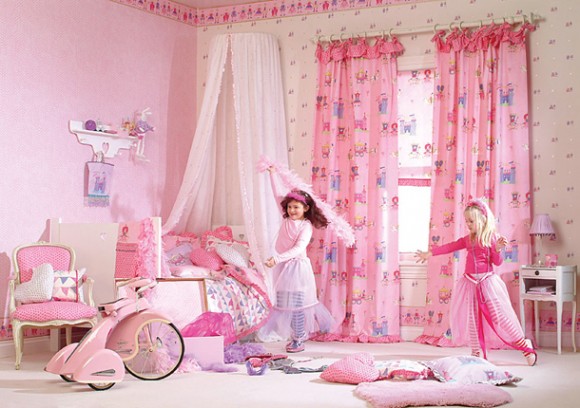 Mix of two curtains: The first idea is to look for two set of curtains in varied fabrics. The first one is essentially a heavy one, while the second one is light airy one, making it possible to feature two things in style. One of the curtains can be in prints featuring butterflies, leaves, roses and other flowers, and the other one can be simple one matching the color shade of the other one. This is one of the most banal options that one can have, and that's the reason it is essential to experiment with this look.
Same set of fabrics: Another way to get curtains for children's room is to match the fabrics of curtains with other things such as pillows, bed linen, cushions and more. Generally, such kinds of curtains are designed as per order, but you can even choose to sew at home. This is one of the expensive ways of designing rooms because you would virtually have to choose everything from the scratch.
Complementing the walls: If the walls are in a bright color, one of the best things that you can do is complement the walls with matching curtains. Such a theme or design works well when the walls are in darker tones and don't need any more decoration. When the walls are designed in wallpapers, look for colors that are used in larger proportions.
Contrasting the walls: One of the many ideas to add curtains is to contrast with the color of the walls. This works exceptionally well when the walls are in light shades such as white, beige or cream. From adding printed curtains to more contrasting block curtains, there are choices for all kinds of rooms and spaces.
Choosing the fabrics: We have talked about choosing curtains before, but here we will talk of heavy and light fabrics. Heavy fabrics are good to look at and have a serious texture. On the other hand, the lighter fabrics allow more light to come in and ensure the breeze keeps flowing. It is important that you think of the lighting solutions before choosing the curtain fabrics. Keep in mind that colors loved by girls are essentially conventional, so there is no harm in opting for the conventional choices such as pink, red, fuchsia, yellow and blue.
Growing girls like to be consulted for designing their room, so open up with little girl to know her preferences.
Checkout few interesting options: