No matter what type or brand of tile you are splurging on. It can be rare natural stone or classic porcelain, but to choose the design is just part of the equation. It is about how the tile is being installed, which completes the informed decision-making process. With the help of this article, you can easily pick the perfect option or design ideas on the basis of the layout of your bathroom, kitchen or any part of the house.
Stacked
Image: Architect Mason Kirby Inc.
This is one of the simplest forms of all layouts where the tiles are installed to form a basic grid. This look works best in contemporary spaces with neat lines and clean shapes. It also complements the exotic wood interior, as shown in this image.
This kind of layout is a great idea when you have a modern looking space in rectilinear forms, especially when used with bright grout or a tile with bevelled edge. Together, it creates simplicity of Zen-like décor.
Brick Pattern
[Image: Lisa Gabrielson Design]
A subway tile has a standard layout, as shown in this image. It is laid in a simple brick pattern where each row is balanced by the width of half a tile. This formation results in long horizontal lines that make a room look wide. This layout has a timelessness quality to it, which can be worked on any tile of rectangular shape and makes sense with all kinds of spaces.
[Image: Lonergan Interiors]
This layout looks particularly stylish when it is applied with grout of contrasting shade. Like in this image, white tiles have been installed using gray grout. This contrast in colour emphasizes the pattern of the tile layout.
This kind of formation can be used anywhere, but the only point of consideration is to use it in spaces where the one simple tile is being used all across.
Bricks installed vertically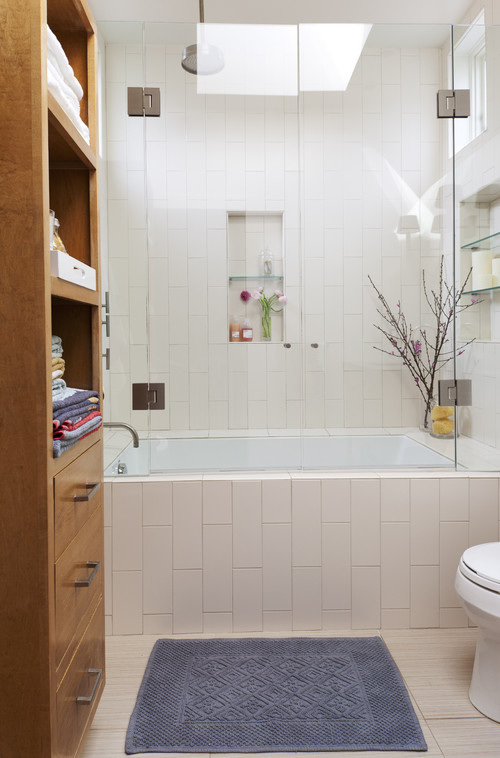 [Image: EM Design Interiors]
By using the brick pattern by rotating it vertically takes the wide look perspective to another level. In this case, the height of the room is enhanced as opposed to the width as in former layout. It is also more modern in appearance with its classic look but with a twist.
This is best used in a bathroom, which is small in size so that its height can be lifted up.
Large Brick
[Image: Thomas Buckborough & Associates]
This formation is a tad different from the classic layout, but the effect is far more overwhelming, especially when you use large stone tiles in a rich texture. This pattern can play down the impact of grout visually, which gives a more seamless appearance all across the room.
This formation is a perfect choice when you want to create an illusion of an uninterrupted view of unbroken material. You can further enhance the effect by using the same colour grout.
Herringbone
[Image: Mahogany Builders]
This type of formation is achieved when the tiles are laid in a zig-zag pattern on right angles. This type of look is highly sophisticated and has an elegant visual appeal. Regardless of what material you use, herringbone pattern never fails to amaze. However, this type of layout requires that the tiles be cut at the borders additionally, which will cause wastage of material.
[Image: Dyer Grimes Architecture]
The placement at a certain angle on the walls creates an amazing visual effect, which is ideal for accent walls. However, a large surface must be avoided as the pattern would then appear too overwhelming.
This pattern is best used in a traditional setting or to create a transitional effect with classic white on white.
Basket Weave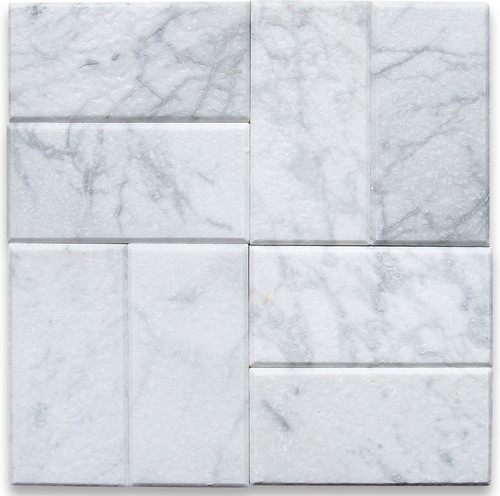 [Image: Stone Center Corp]
This kind of pattern takes ties several ties together in such a way that it gives the appearance of a square tile. They together form an effective formation which is quite similar to herringbone outcome. However, in this case, you can avoid wastage of material as it does not require additional cutting. As a matter of fact, this formation needs no additional cutting at all which is a good project for DIYers.
When you need to create a subtle impact on your contemporary décor, this design or pattern will serve you well.
Mosaics
[Image: John Lum Architecture, Inc. AIA]
Mosaic as a word conjures up images of unruly patterns put together to create a bright and lively formation. However, in the context of design, mosaic is just a simple small tile in a similar shape, which is attached to matting so that they can be installed easily. The most common shape is 1 inch by 1 inch square, although many other patterns are now available these days.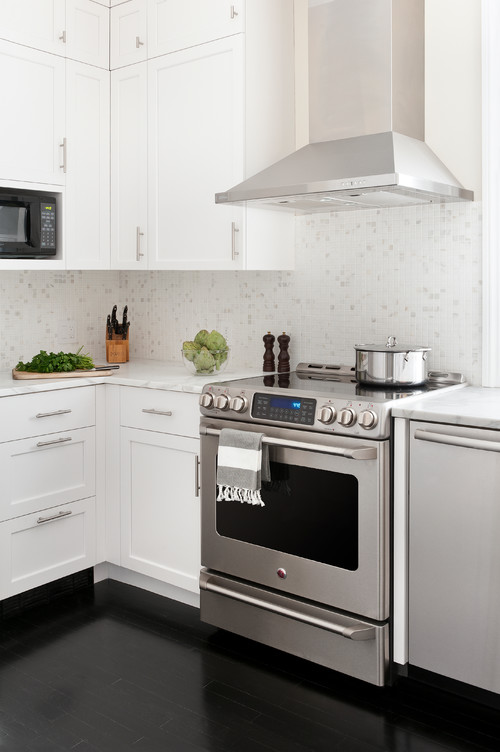 [Image: Pinney Designs]
Mosaics are most commonly used to accentuate certain areas. Since they require more grout for installation, it can be expensive to use them for full height of the wall. It also would require much higher maintenance if exposed to moisture or environment of heavy soil. This is why they may not be a suitable option in bathrooms that are prone to mildew.
However, they do have an elegant appearance of a rich stone with its multi-tonal effect, and it does not even cost half as much. This is why they are such a sought after backsplash option.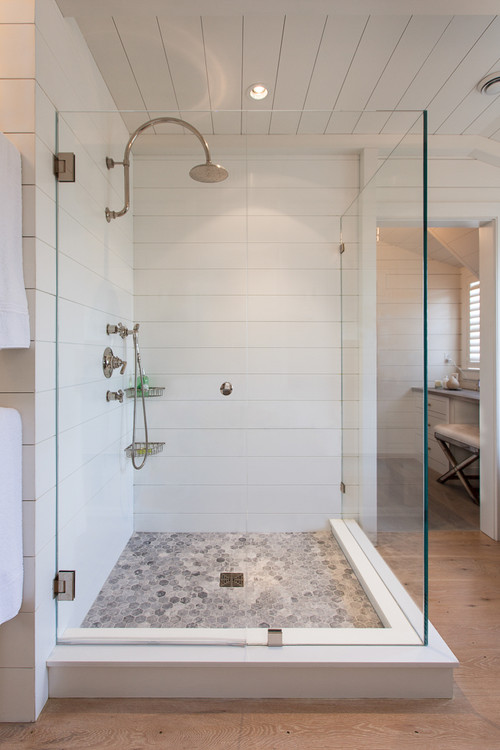 [Image: Jonathan Raith Inc.]
When this formation is used on the floor of a bathroom stall, it is beneficial to have more grout as it creates a less slippery surface. They also offer a sharp contrast to larger tiles as the dramatic difference in the size seems like an intentional mismatch.
The best place to use mosaic is when you want to highlight an accent wall, bathroom stall or a niche.
Accent Borders 
[Image: Amroso Design]
There are many options available in the market these days that provide easy border or accent tile solutions. It adds a beautiful divide and a visual interest and also serves one more purpose when planned properly. Sometimes, when the tiles are being installed to the room's full height, not all the tiles will measure exactly to the room's size. Hence, they would require wasteful cutting to fit perfectly. However, with accent borders, you can fill the gap with a narrow stripe so that the tiles add up to the exact length of the wall. You can add a visual interest and avoid costly unattractive cuts on your tiles.
When calculating the exact number of tiles required stacking up to the exact height of the wall, you need to take the grouting and the border into consideration. It is better to involve a professional at this stage so that you can do the exact math at the beginning of the project.
Solid Slabs
Image: Toronto Interior Design Group | Yanic Simard   
To give your space a modern backsplash, you can also consider using a single solid slab. Although it may cost more than a tile formation, it is still a popular choice for compact kitchens as the material requirement is less. It creates a seamless open look with uniformity with a single piece that is cut to form the backsplash and the counter.
You can also toy with less expensive options by cutting off slab pieces to create a shorter backsplash using luxe stone and cheaper material for the countertop depending upon the matching patterns for the two.
Tiles are an important item for the décor of your house and must be planned with the utmost insight and the way you want the space to appear. Pattern plays a huge role in determining the final look so engage yourself and your designer to understand the dimensions of the room, and then use your artistic bend of mind accordingly.