Accenting the bedroom is one of the coolest ways to add that extra zing to the most private space. If you are looking for accenting a single wall, choosing the right color is extremely important, and here are some classy color interior design ideas that you can choose from.
[Image – Four over One Design]
Orange: Certainly not for the lovers of subtle interiors, orange is extremely easy to love and creates energy and spirit in the bedroom. In case you think you don't want this color for your bedroom, you can choose for the kid's room as the little ones always love to have more energy around.
[Image – Busybee Design]
Red: Talk of the romance ready bedroom and red comes to the mind. Either for adding a collection of photos or for simple texture, there is something about the red inspiring romantic bedroom ideas, which is easy to admire and adapt to.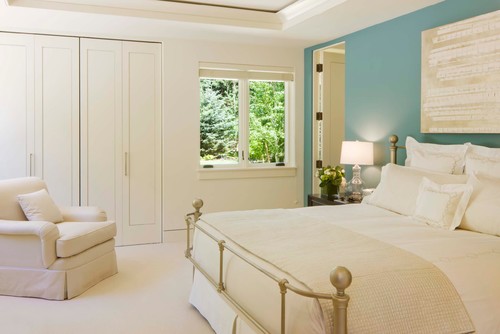 [Image – Forum Phi]
Blue: For a single wall, blue acts as the perfect color, comforting and calming the mind. You can choose to color the wall behind the bed in blue for a stylish accent! If you have a light colored bed, even a darker shade of blue works well.
[Image – Panache Interiors]
Green: Willing to find the perfect balance in the bedroom, choose to paint a wall in green. One wall in green can work with almost all kinds of contemporary themes and have a very positive effect on everyday living.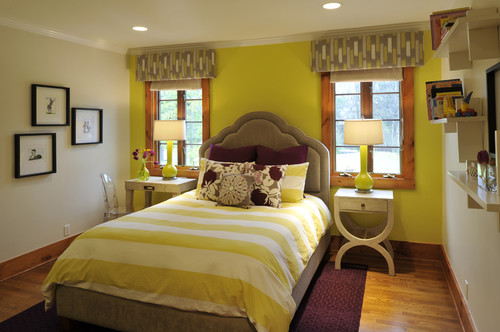 [Image – Beckwith Interiors]
Yellow: Want that perfect smiling day? Yellow is the solution to a happy bedroom that oozes smiles all the time. You will love the color even more when you look for the stunning matching with the furnishings around. If the classy yellow doesn't appeal to you, check for the citrus shades of the same family that creates the same feeling.
With these amazing interior decoration ideas for your bedroom, start matching its wall with accents now!