Sergey Makhno Office and Showroom, in Ukraine, designed by Sergey Makhno + Illya Tovstonog is a contemporary based architect's studio that reflects the ideology and working style of the client. It is designed and executed by the client and his team, where the studio is a collaborative effort with design inputs from various other artisans from Ukraine with murals, sculptures and bas-reliefs. Based on a rather mixed spatial typology, the studio breathes unconventional, challenging spaces that highlight the use of materials and sculptures in the 4m high ceiling studio. This challenge behind the design portrays the usage of spaces in more than one way that promotes flexibility in re-organising the layout for future expansions.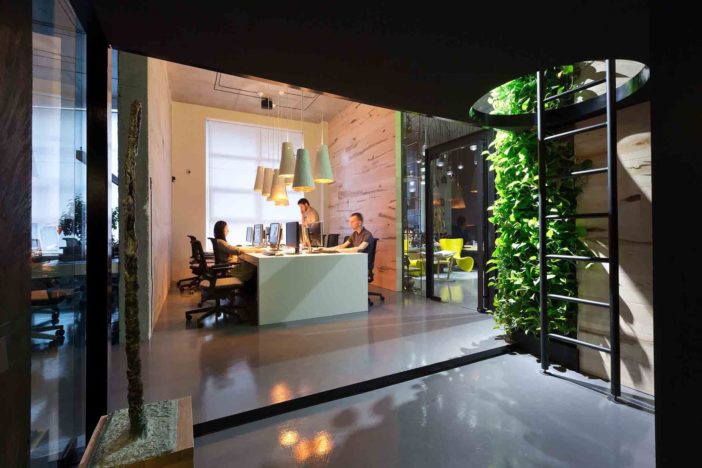 There was also a need to design spaces that represent a home-like environment to provide a more relaxed and laid back working studio. Backed by green planters and foliage's, the studio and the showroom lies on a similar plane enhanced by the use of materials like wood, concrete, glass and fabrics. It is a rather boxed layout, where large cubical cabins are used as working spaces, and other functions follow the form resulting in zero wastage of space. Moreover, the use of ceramic pots, lamp shades, murals and sculptures from selected artists bring out the richness of the space and render a livelier ambience to the studio.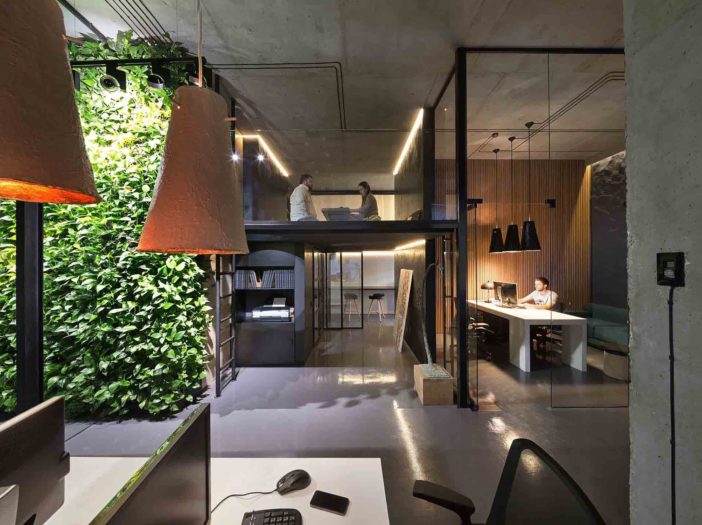 Another interesting aspect of the studio is the apt use of materials where concrete dominates over other materials in terms of texture, volume and artwork. Moreover, the glossy look of the concrete floor reflects the ceiling and the silhouettes of the wall in a more subtle manner thus creating a fluid like space inside the studio. Other design ideas and aspects include the use of green hedged walls, steel ladders, pre-fabricated concrete tables and exposed ceiling systems with smart technology to regulate lighting and ventilation units. On the whole, the studio is an expression of art and nature in a contained space.
Photos By : Andrey Avdeenko