Designed by Makoto Yamaguchi Design, the Polygonal Villa, in Karuizawa, Japan is a perfect example of a contemporary space for a musician couple, who wanted a display gallery and a place to perform with other artists. The villa is a geometric polygon with sharp corners, which have been utilised by the architect into efficient spaces for the gallery. The polygonal layout has a vast gallery space divided into 2 chambers with an open terrace adjoining a bathroom and closed kitchen.
The design ideas reflect the essence of purity in icy white shades, where the effort was made to conceal wood in the internal space. With careful planning, the only materials to be seen inside were that of the tall glass panes, stainless silver, and white walls. This gives a comfortable ambience for the musicians to perform and enjoy nature amidst this uncluttered space. The roof of the polygonal layout is raised out to form a pointed spire, whereas, in the internal ceiling, the space is efficient in resonating the sounds of various musical instruments, which reflects and hits the glass panes providing a soothing effect.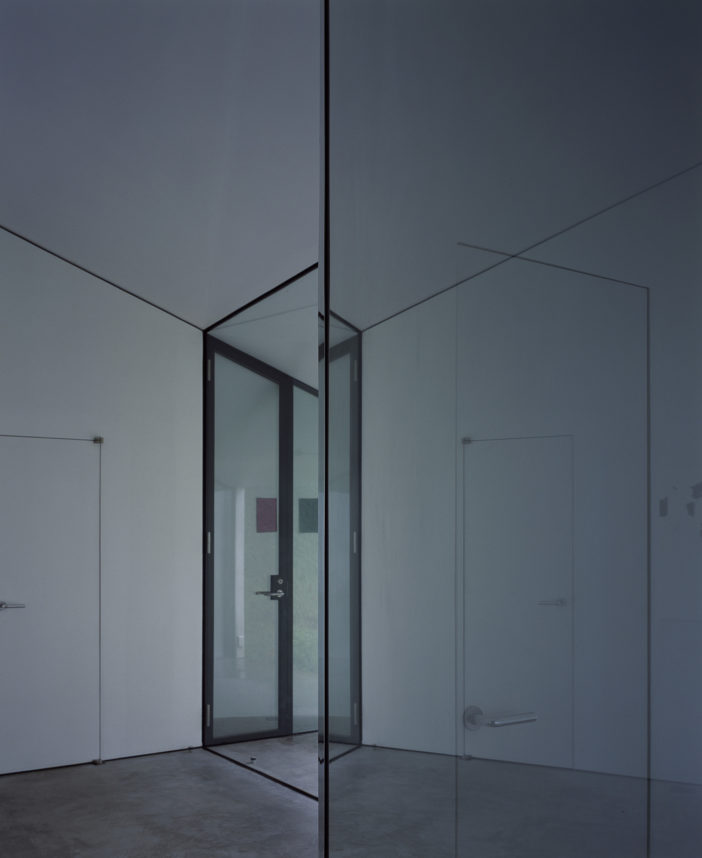 On the facade, there is this vast glass pane that acts as a wall reflecting the surrounding landscape and illuminates the insides of the gallery space. The architect has left the space free from furniture and other interior walls, so as to give a sense of openness to the villa. This is more like a free flowing space form that is un-defined yet it gives a lot of depth to the connecting spaces. Being less detailed and left plain seems to do the trick for this villa/gallery that is nestled in the contoured site of Nagano. A timeless piece of design in a contemporist form, explored by space and voids is the signature style of this nostalgic villa.
Photos By : Koichi Torimura