You can use your work desk for any purpose, be it for home business, to write letters or even check an email. However, when you have an office at home, there is always an extra advantage, as far as design is concerned. If you can alter your workspace to make it more fun then why stay with something that looks bland and boring? Here are 12 quick tips and interior ideas to bring a sought after change in your desk arrangement to make it look more appealing and less daunting.
Organic Desktop
[Image: Feldman Architecture, Inc.]
This organic wood work desk is very friendly with the environment of the room and also provides abundant workspace without looking too imposing. You can actually seat two people at the desk and they can work together simultaneously.
Add an Angular Dip to your Desk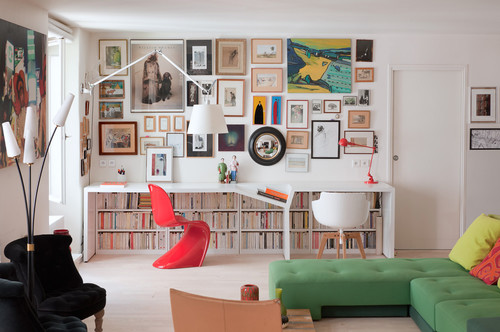 [Image: Christophe Vendel]
If you have a double desk at your disposal, then you can divide its length by using an angular dip. This section is perfect for holding important papers or even books of import. In this image, the designer took to another level when he added wallpaper in the style of book shelves and books print just under the desk.
Storage Bin for a Sturdy leg
[Image: TASARIM PERDE VE DEKORASYON SAN. TIC. LTD. STI]
This desk has been supported by using a storage bin for a leg. The size of the desk, made of reclaimed wood is, is ideal for a child's bedroom. These bins that are beneath the desk are open and make it easier for the person to access the items that are stored in there. Use it to store crafts supply that can be reached easily.
Library Styled Desk
[Image: Corynne Pless] 
In this image, the designer has induced card holder pulls for the drawers on a desk that has been designed in library style. You can add additional character to this desk by painting just the drawers in vibrant hues and replace the handles for card holder pull outs.
Desk Made of Reclaimed Wood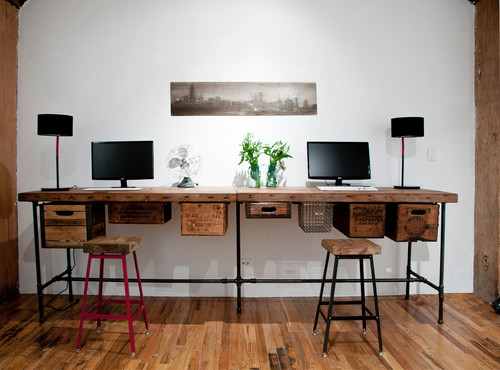 [Image: Urban Wood Goods]
This double desk uses all the elements that make it look every bit vintage. The pipes for a frame, crates for drawers and reclaimed wood for the surface are together combined in a unique combination. This desk is not only stylish and innovative but also functional.
Desk with a Bookshelf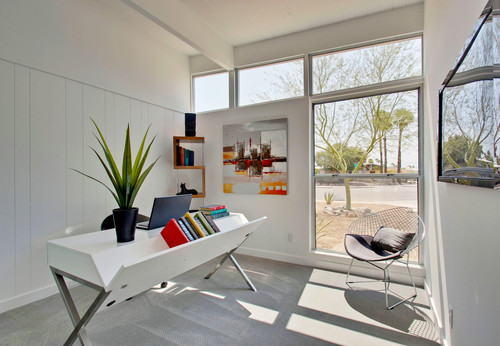 [Image: House & Homes Palm Springs Home Staging]
If you are a voracious reader, then having this desk will really be an appealing option to you. You can have all your reading material close at hand and a built in shelf only makes the utility of this desk grow manifolds. This glossy and slim shelf runs by the side of the desk that enhances the storage option, especially for the book lovers.
Space Saving Floating Desk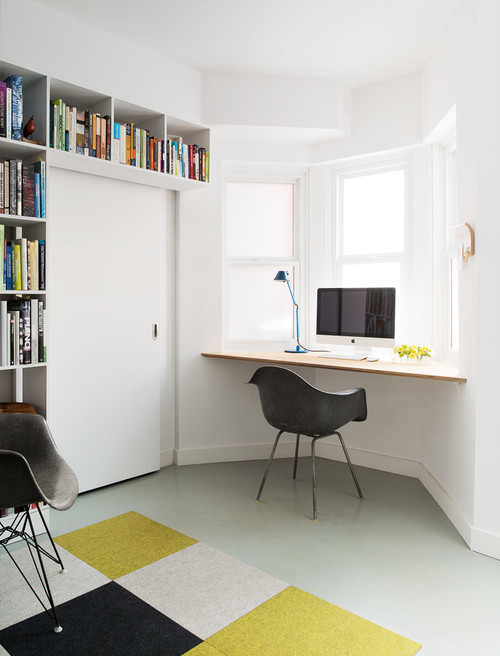 [Image: Pause Architecture + Interiors]
If you have a corner in your room that is not serving any purpose, then you can use it to install a custom fit floating desk. This corner is perfect to make for a cozy nook to work, and it is also a very good way of using wasted space.
Low profile standing desk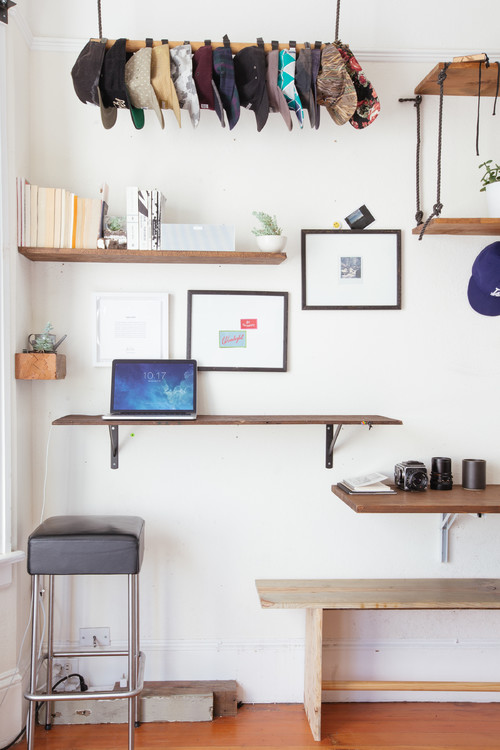 [Image: Nanette Wong]
Do you have a dearth of space but would still like to have a work desk? This ultra simple and space saving option requires absolutely no more than is necessary. You can install a wall shelf to make up for a workspace in minimalist style. You can also put a stool that can neatly be placed under the desk when not in use. Add a few more shelves by using the vertical space and a bit of storage around your work area.
Color me pretty
[Image: Set the Stage]
Get more out of your old discarded desk or a breakfast table and breathe fresh life into it by adding a few coats of shiny paint. If you are one of those lucky people who have the luxury to use an entire room for office, then you can also use a larger table. This one can be placed in the middle of the room and make plenty of spacing out options available. You can also avoid cluttering your walls with unnecessary storage shelves.
Give yourself a view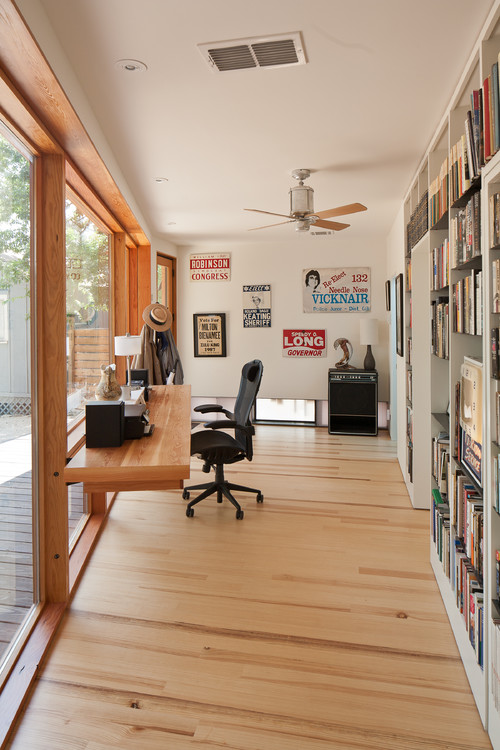 [Image: Murray Legge Architecture]
If you are someone who enjoys taking in the views to break the monotony of staring into your computer screens, then this desk will serve you well. You can attach a work surface that is designed in such a way that it adjoins a large window will give a peaceful spot to work and ponder, all this while giving you a good space to work with. The only point to note, however, is that to avoid screen glare, you should avoid a window that gets direct glare from the sun.
Add extra lighting to the desk
[Image: Vita Design Group]
It is very important to have a well lit work space for effectiveness and productivity. You can think beyond the boring bent lamp for lighting. You can add recessed lighting, like in this image, into a panel made of walnut wood. The lights make the space more focused and also adds warm glow. You can also control the lumens by using a dimmer switch placed within reachable distance on your desk. Illuminate the area as per your requirement; you can also dimmer the lights when the area is not in use but can leave it on for impact. You can even consult an expert for awesome lighting ideas.
Desk Spot with Chalk Painted Walls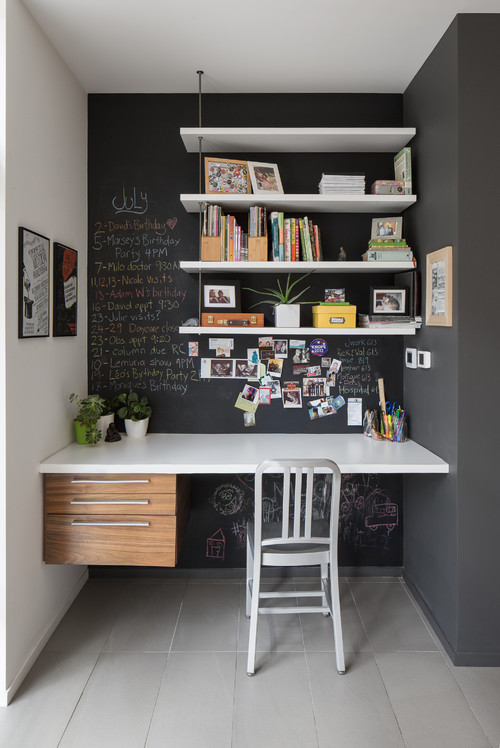 [Image: John Donkin Architect Inc.]
A floating desk can be installed into a nook which is better used with a cozy a workspace. To make things more interesting, you can also add a coat of chalk paint on the walls. There is another variant available these days for a chalk paint that is magnetic in nature. Now you can not only add notes but also clip important pictures and papers without leaving any marks on the walls.
Work requires focus but that does not mean that it has to be boring. Using these design ideas and tips and more can really transform your space and make you more productive.