Holidays are all about spreading the spirit and cheer in whatever ways possible. It is as if the whole atmosphere is celebrating with you with warm homes, crunchy leaves beneath your feet, happy times with loved ones and the spirit of joy and festivity in the air. This is the best time to share a laugh or two with the people that you love and care for.
Here are some low-cost decor ideas to bring that smile and cheer on your table and add a touch of personalization along with some freshness to your meals. These tips have been compiled by taking inputs from the people who belong to the creative industry.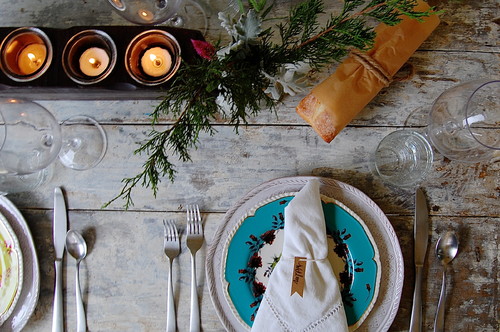 [Image: Corynne Pless]
In this image, a photo stylist, Gina Sims says that the first thing about your styling your table comes from the theme, the vibe and the colour. It is only later that you can add the items that will together form an impactful décor.
The ideal theme for the season is a neutral palette that fits the rustic element and with few splashes of colour can be augmented. You can also consider adding floral and bold colour through the plates. Some name tags can also be used to implement a touch of personalization. With the labels, the effort seems planned and genuine.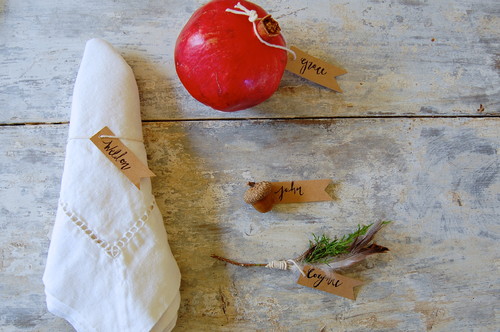 [Image: Corynne Pless]
Create some cute name tags by using strings and card stock. You can play around with a couple of ideas to get the perfect look that you desire around your table. Here, after trying a few options, this simple looking string was selected that is both elegant and adorable.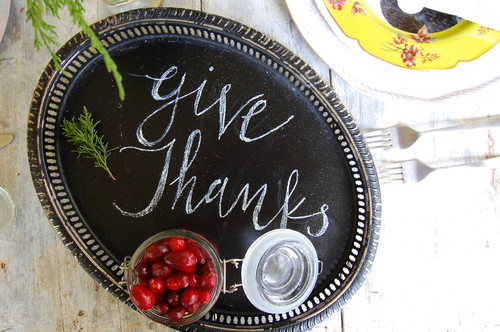 [Image: Corynne Pless]
Another nice thing to do will be to spray paint a metal tray with chalkboard paint so that you can add a personal message and add some jest as well as personalization to the table. You can keep changing the message as it pleases you and makes the tray a perfect accessory to any occasion, all round the year.
However, be sure to avoid placing the food directly over the text written with chalk. This is the reason it is best to use the tray for holding wine glasses or displaying a cookie jar.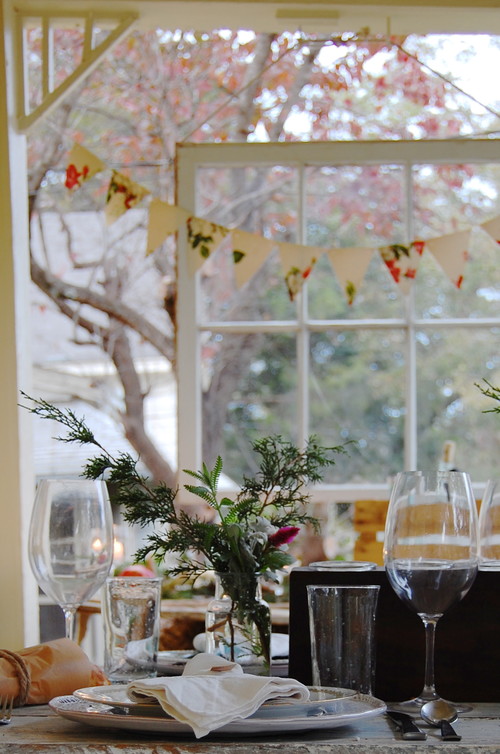 [Image: Corynne Pless]
You can add a number of layers and direct the vision of an onlooker towards the ceiling by planting some exciting decorative layers over the table top. You can use an entire wall for this purpose. You can hang stuff from the ceiling or from trees if you are seated outside. It always adds more drama and character with the help of these items. It can be anything from a garland to lights to pom-poms, etc. In this case, height has been added to the room by suspending a window and then dressing it up with a garland.
Simple paper garland can be created with the help of cutting paper that has vintage floral prints. Cut them into interesting shapes such as triangles and sew them together into an old string. You can also use old art books with thick covers for this purpose.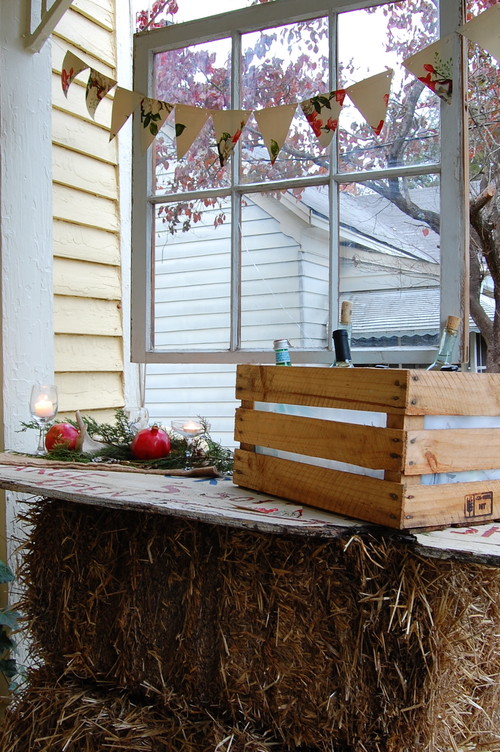 [Image: Corynne Pless ]
Nothing makes a spot more exciting than thinking out of the box. This table has been created using hay bales, which is a perfect material for an outdoor bar and will blend beautifully if you are planning to host a dinner outside. You can easily make this table, which would be able to hold the drinks while you are warming up to the fire or helping yourself with some appetizers.
You can complete the look of the table by stacking the hay bales and covering it with a vintage sign to make it into a table top. In this image, a wooden crate has been used as a wine cooler by stapling some clear plastic on the inside while holding the bottles and ice.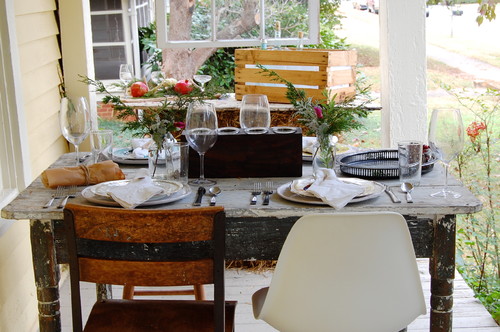 [Image: Corynne Pless ]
A small effort like a makeshift table made of hay bale is enough to transform the setting of your dinner table. Just add the whole setting to your porch or backyard, and you are ready to entertain your guests with style.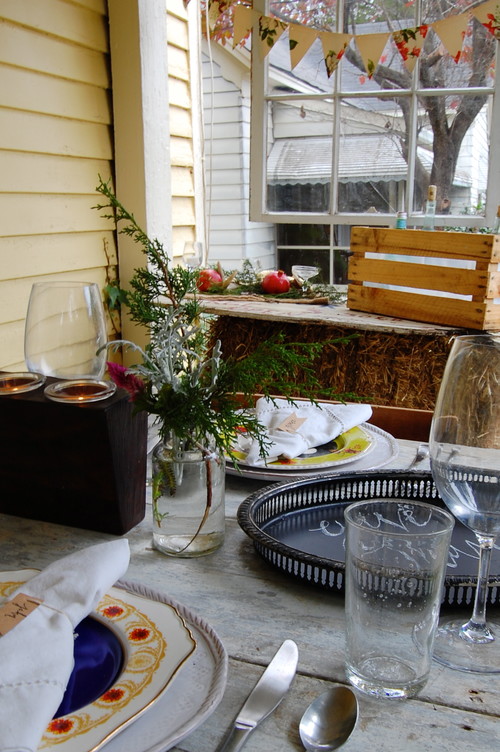 [Image: Corynne Pless]
To make the best of the fall season, there is nothing better than eating outside. You can get a bit of outside to your table by adding leaves, nuts and other such accompaniments that remind you of the fall season. Spray paint the accessories with natural or metallic shade like copper that goes well with the fall season. Look for acorns that will also be perfect addition to your table décor.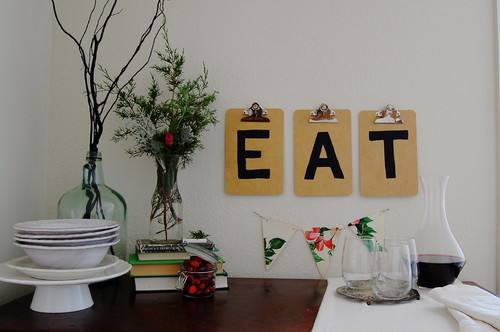 [Image: Corynne Pless]
If you want to add more interest in your table setting, you can use items like vases and cloches of different heights. Among the best table decor ideas, raise some of the accessories and vases to play around with the height. You can also just pick some long dry sticks from your backyard and put them in a glass vase. They are not only simple and elegant but also add a touch of texture and length to the display.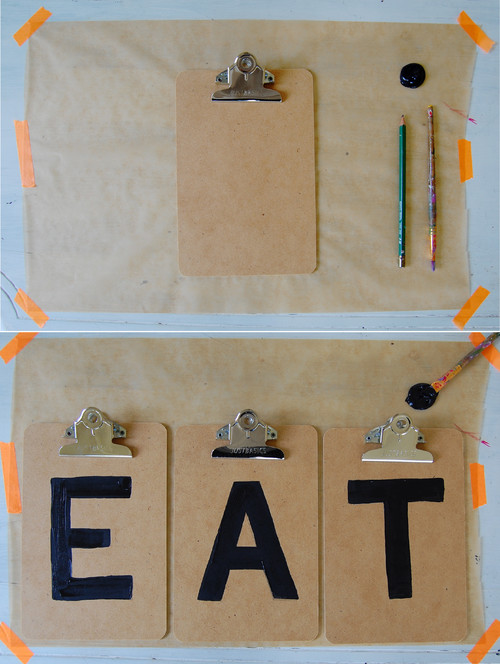 [Image: Corynne Pless]
You can also add illustrated clipboards that are cheap, interesting, and also, unique. Just pick up an inexpensive clipboard from the market and paint the letters to make up a word. You can also use washable paints to reuse the boards later.
This is one of the cheapest and the most interesting ways to update a blank spot on your wall. Just prep up the space by outlining letters in your pencil.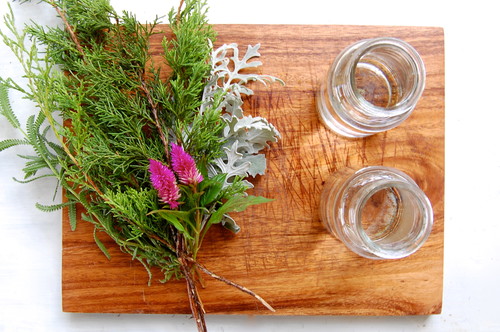 [Image: Corynne Pless]
John Cooper & Celia Barss of Woodland Gardens provide some easy and inexpensive tips to manage your flower arrangements. They have more than 80 varieties of organic vegetables, fruits and cut flowers.
You can go on a hunt in your backyard or that of your neighbour's of grasses, leaves and herbaceous plants. The best choice of seasonal flowers, as per the experts is white tuberose. They are very simple in their appearance and highly fragrant. You can also pick some coniferous branches while you are out on a walk, and then dress them up with a mix of flowers.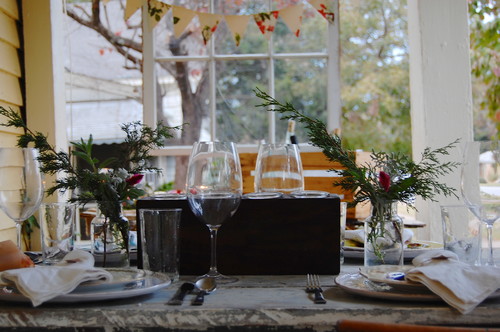 [Image: Corynne Pless]
It is always better to look in your yard for ideas if you are unsure about what to do. There is nothing that provides inspiration the way nature does. Just replicate what you see outside and come up with organic arrangement that look perfect and in place.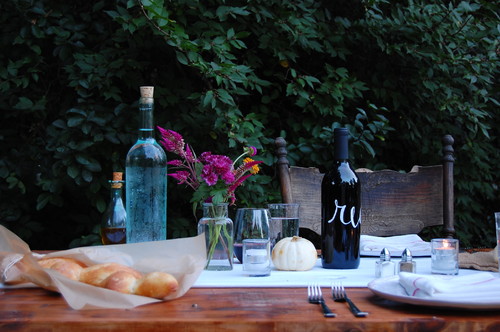 [Image: Corynne Pless]
Another smart idea around the table is to recreate the wine bottles with enamel paints and a small bristle brush.
If you have a clear wine bottle, then you can use them for storing water on your dinner table. Just remove the label adhesive using soap and warm water while washing the bottle thoroughly and vigorously. Fill the bottle with water and store it in the refrigerator. Just when your guests arrive, you can store this amazing water pitcher for display and to hold drinking water.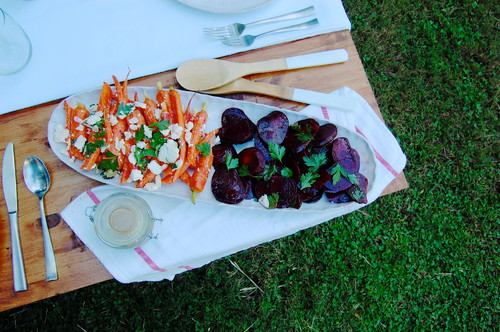 [Image: Corynne Pless]
Make your serving spoons more interesting by dipping one end into the paints. Use them for serving purpose and complete your fall collection of the table.
With smart decor ideas from the experts, you can take a break from boring ideas for serving dinner and get some excitement around the table. If you have to create memories this holiday, create the ones that are unforgettable with your style and eccentricity.