You are proud to have a garden like that aren't you? With healthy and happy plants frolicking the wind and flowers spreading their fragrance, it is a delight to have a space of that sort just outside your front door boasting of some great exterior and interior design ideas. Make it all the more special and lovely using The Northern Bush Honeysuckle – a beautiful, golden, gleaming plant with fiery foliage and bright yellow flowers to adorn your space.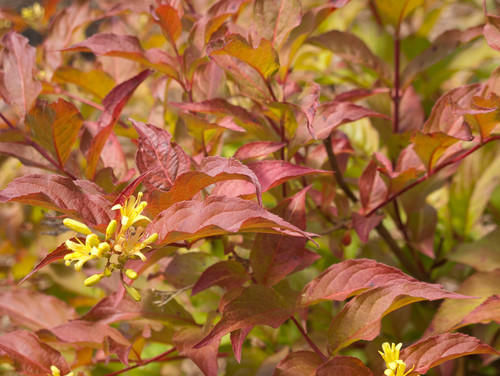 [Image – Le jardinet]
The botanical name Diervilla lonicera refers to this very plant. The mature plant measures 3 feet tall and wide. It is a native to the United States and Canada, and is a very adaptable plant species. Because of its striking color and remarkable looks yet hardy growth, it is a favorite with people with less time to devote to the garden maintenance.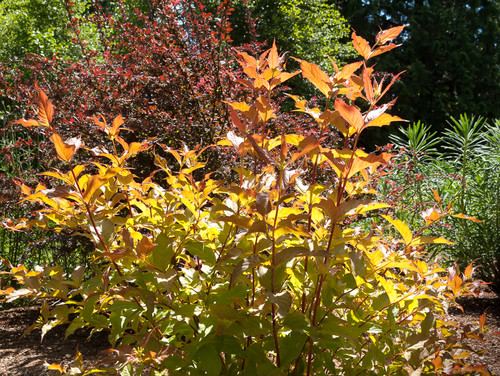 [Image – Le jardinet]
The plant has many attractive properties:
It is a pollinator attractor, which makes it a hub for butterflies and birds of all types.
It is an ideal garden border, being ornamental and decorative to look at.
It works well both in sun and shade.
It is drought tolerant and can be used to cut erosion on the soil, if that is the worry in your garden.
It also tolerates low nutrient soil making it a sturdy plant.
It is a low maintenance plant, which blooms with fragrant flowers in summer.
It grows quickly, and also, regenerates soon in case there is some damage to the plant.
It is an ideal plant for covering the bare patch under the shady trees.
It has a striking foliage color, which makes it lovely to look at.
Ideal for growing in an established garden, as it fills up the space quickly.
Use the Northern Bush Honeysuckle in your garden and get ready for some great compliments from the visitors!