Located in Italy, the Camper Store Milano by Kengo Kuma and Associates is an out-of-the-box concept, with creative inventiveness in form and function. The store, with a rather odd parallelogram in plan, faced a tightrope on space, cost and time before posing many a challenges, to the design. In such a small space, a creative design calls for inventive and resourceful thinking where storage and display form the biggest concern factors.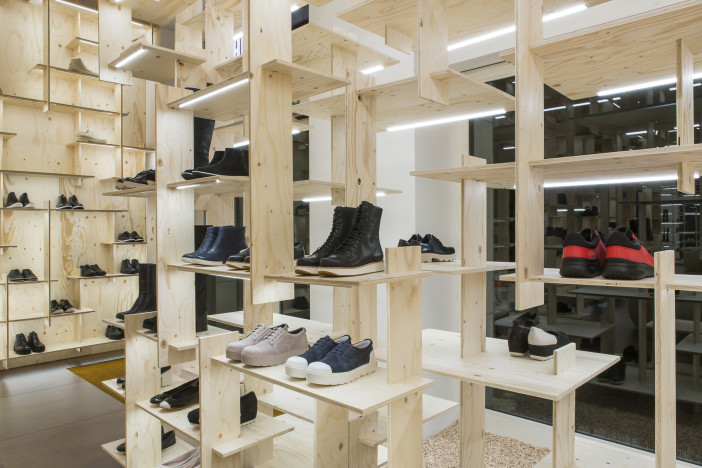 As a head start, the store used two dominant materials such as organic ply and beige sandstone, to highlight the essential features of the interior décor. The palette of the store remains muted with neutral tones where the organic plywood, cut into thin planks, creatively interlocks with one another to form an interspatial abstract pattern.
Each of the horizontal and vertical plywood adapts to fit into various sizes and forms over the wall, thus keeping the display unit, versatile in nature. Moreover, this display unit runs all the way from the floor to the ceiling and stands edged with the periphery of the store. Towards the corner turn, the cash counter stands, adjoined by a full height mirror, parallel to the street façade.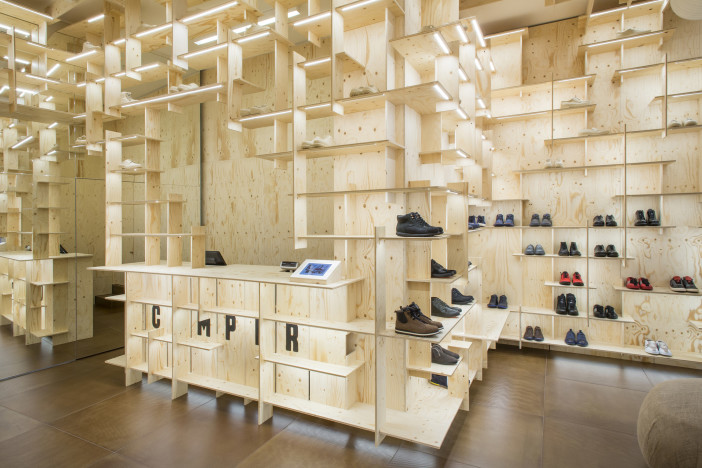 Another aspect of the interspatial display unit is the fixed low wooden seats, which offer flexible seating and display options. Conversely, the use of sandstone for the floor enhances the natural vibe of the décor. Additionally, textured woollen seats, as a low bean couch, make up for a comfortable seating and provide a relaxed ambience, thus breaking down the monotonous look of the display units.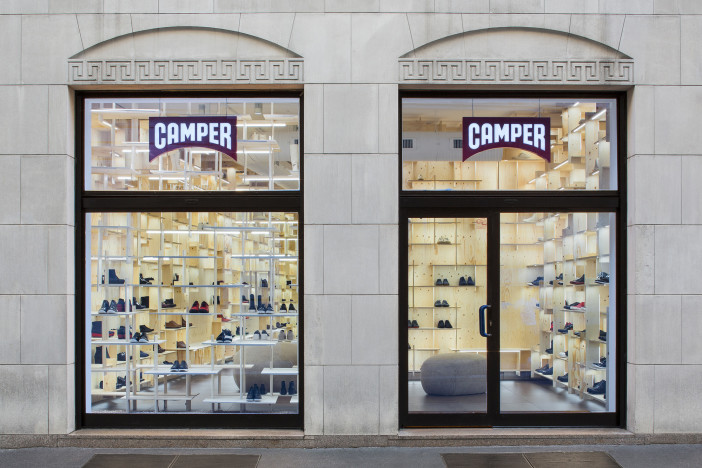 Likewise, the ceiling of the store comes across as a plain old flattened base, with track lights for direct lighting on the display units. Moreover, each of the plywood is custom fabricated on site, as the abstract form is a variable factor, and hence, the vertical planks were set in place, before arranging the final form of the display unit. In essence, it is a very innovative solution for a small space, with the use of minimal materials with crafted precision of woodwork.
Photos By :Zeno Zotti