We would all like to have that large bathroom that makes us feel pampered and splendid every time we walk in for a shower. However, unfortunately for many of us, it is a distant reality. Thanks to creativity and stylish mini bathroom accessories, you can actually liven up your cramp little bathrooms into a chic avatar without losing out too much on the design. There are also many tricks that you can employ to maximize the space in your bathroom. For starters, white is always what works best in tiny bathrooms because of its ability to reflect off natural light and create the illusion of space. You don't have to completely sacrifice other colours just so that your bathroom looks big enough, but can use these healthy design ideas and tricks to get a fine blend of style and space.
Get tiny bathroom accessories
[Image – Chantel Elshout Design Consultancy]
There has been a lot of innovation these days regarding the size of the bathroom fittings and accessories so that they can easily fit even the tiniest bathrooms. If you have a bathroom that is awkwardly shaped, you can place your bathtub under the eaves. When you have a small bathroom, you can even spend on luxury items without burning a hole in your pocket.
Make use of the corners
[Image – C.P. Hart Bathrooms]
One of the amazing bathroom design ideas is to use one of the corners in your bathroom as the shower enclosure. You can also use the wall hung furniture that makes the space look wider as you can see the floor underneath the furniture.
Colour the walls in calming shades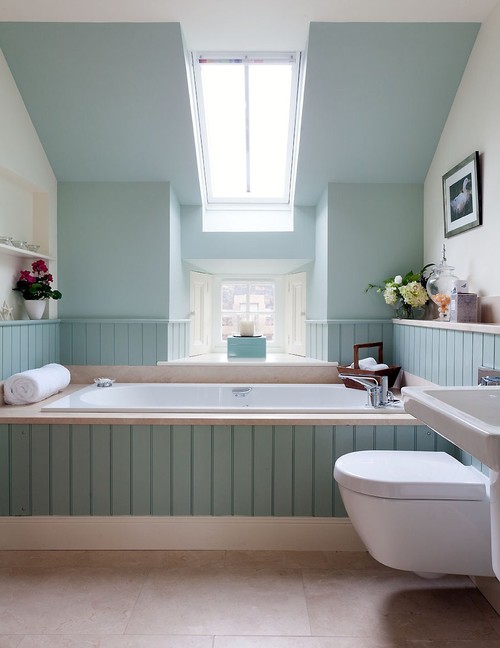 [Image – Robertson Lindsay Interiors]
You can use colours in your bathroom freely. In this image, the soft blue colour adds length to the bathroom by covering the ceiling, panelling and the walls. It is not only aesthetic, but also makes the bathroom look more serene.
Don't be afraid to use white
[Image – Maxwell & Company Architects]
The white tiles in a small bathroom are the safest best as they add the illusion of space and never fail to add visual appeal with the gray coloured grouting. You can create the most impactful visual of your bathroom by keeping the rest of the accessories to a bare minimum.
Be creative with strange architecture
[Image – Luis Trevino Architects]
If your bathroom is awkwardly shaped, don't be afraid to experiment with it. Even though, in this image, the bathroom space looks tricky to design but the sloping window and the narrow dimensions have been put to use very creatively. The window is a good source of natural light in the bathroom and the glass shelves with low hung basins are a welcome addition to this narrow space.
Play with Dark Colours
[Image – Honky Architecture & Interior Design]
Even though, many people feel most comfortable in the presence of white colour in their bathrooms because it is safe, there are also dark shades that can add just as much value to your bathroom. When you use the dark colours, play it up with ambient lighting to get a spa like feel, which is warm and cosy.
Use Fixtures wisely 
[Image – Rossington Architecture]
When you are designing a small bathroom, you really need to be more than just creative. In this bathroom, the ceiling has a slope and the a glass panelled shower has been added in the higher end while the lower end sees an addition of plunge in with a mosaic detailing for added effect. The vanity unit provides storage capacity in this otherwise small bathroom.
Built in Shelves for Storage
[Image – Wanda Ely Architect Inc.]
When we are struggling for space in a small bathroom, we need to use every available inch to make sure that it completely serves the purpose, especially when it is about the storage. In this bathroom image, the tiny shelves have been stacked in all the available nooks to make ample storage space providing some great storage ideas to the visitors. Using good quality chunks of wood against the wide backdrop gives an interesting appeal to the bathroom.
Use tiny spaces creatively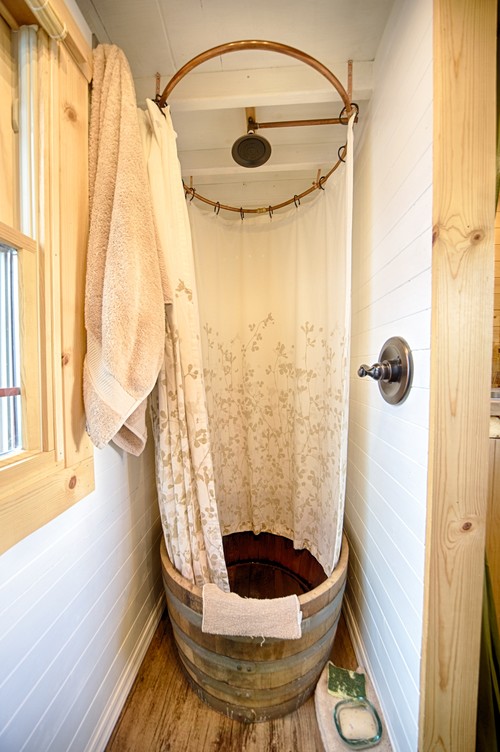 [Image – The Tiny Tack House]
Small is not always about Spartan and minimalistic. It also means using the available space in the most creative and inventive ways. Like in this bathroom, the use of pocket size shower with an old school wooden tub is not only interesting, but extremely inventive.
Add a bathroom in a bedroom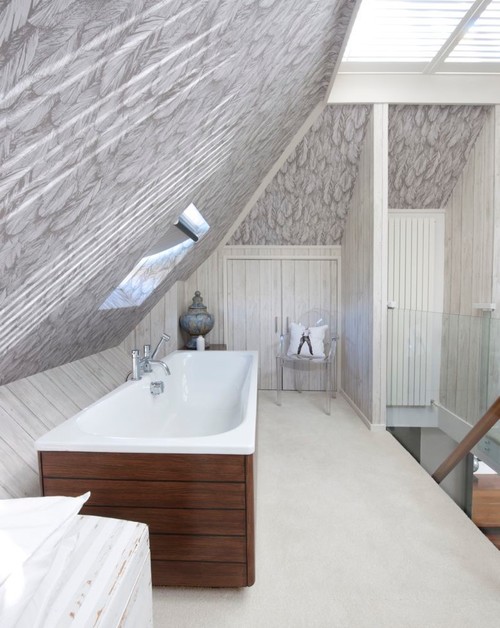 [Image – Walk Interior Design Limited]
When you have a tiny bedroom and not sure how to add a bathroom, all you need is some extra space that has been sitting uselessly. You can simply use that space to install a bathroom without needing extra square footage. This bathroom has been converted from a loft in the bedroom with a full length bath that sits under the sloping roof window.
When you have a space constraint, then all you need is to be more creative and inventive in your approach while designing your bathroom. There can be many interior design ideas to explore and experiment with if you have an artistic bend of mind.