There is always a room in the house that looks incomplete for some reason. No matter how much we dress it up it lacks the quality of looking inviting. This thought when occurs to you while looking at your master bedroom, it can be a very nagging one and not something that you can ignore so easily. Master bedroom is your sanctuary, and it has to be perfect in every way to be able to give you the comfort and relaxation that you expect from your room. If you are looking for interesting and innovative interior design ideas and ways to build your bedroom, then these ideas will come in handy as they come straight from the experts.
The Rug 
[Image: Jerry Jacobs Design, Inc.]
It is not really a good feeling to wake up on a cold winter morning and the first thing that your feet touch is a cold hard floor. This is what rugs are for to make your bedroom floor comfortable for you when you wake up in the morning. However, rugs are very expensive and can add to the problem in making a decision whether to get one or not. Many people often get confused about the rules behind placing rugs in a room, and if there is a specific way to add a rug to your bedroom.
The top most designers recommend that this is when you need to throw out all the preconceived notions about the rules and concentrate on how you intend to use the available space.
In this image, the rug has been neatly placed underneath the bed that creates a border but does not go all the way to the wall. This is because when you wake up, you sit placing your feet down, and there is no need to cover the area beyond the nightstand. This is when you can save money on the size of the rug as they are expensive and are priced as per the size and type of the rug.  Getting creative will help you think of different ways to place smaller rugs next to the bed, which can be used as a runner. You can also play up the position of the rug to make it seem large.
Sitting Area
[Image: Jerry Jacobs Design, Inc.]
In the master bedroom, there should always be a provision for a place to sit. You can include a chair or a chaise lounge to meet that purpose. In this image, the room belongs to two sisters that were given the master bedroom in the house so that they have enough space. The designer has played with the colour scheme by using colour block pattern on the chaise lounge, which blends in with the rest of the décor.
However, if you have smaller rooms but still would like a sitting space, then professional designers suggest using a swivel chair, which has the flexibility to move as you move around the room.
[Image: Jerry Jacobs Design, Inc.]
You can also conserve some space by placing a chaise, love seat or a bench at the foot of the bed. This is another area for you to explore your creative side. As in this image, two ottomans have been placed instead of the regular bench, which is a common choice for most bedrooms.
However, there is just one rule to this style that no matter what type of seating you choose, it should be narrower than the bed so that corners can be exposed.
Mirrors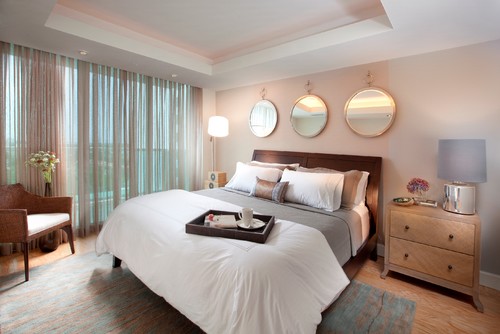 [Image: DKOR Interiors Inc. – Interior Designers Miami, FL]
When you are using mirrors in your bedroom for additional décor, you need to choose the style and the placement carefully before installing them. Many people do not prefer to see their reflection in the mirror while they are in the bed.
To solve this problem, the professional designers suggest that they can use smoky or tinted mirrors so that the people do not see their reflection when they are propped up on their bed.  
[Image: Peg Berens Interior Design LLC]
Another expert suggests that it is also very crucial to place these mirrors properly. In this room, the mirrors have been placed to the left and right of the bed, which can allow the people to get a glimpse of them as they walk past the mirrors but will not have to look at their reflection when they are in the bed.
No matter where the mirrors are being placed, the key is to know what the mirrors will be reflecting when they are placed there. It may not be a good idea to place a mirror opposite to a toilet, which can seem a little awkward when the door is open. It is instead advised to place a mirror where it can reflect an amazing artwork, spectacular view outside the window or a beautiful fixture that can augment its presence through its reflection.
Throw Pillows
[Image: DKOR Interiors Inc. – Interior Designers Miami, FL]
It is a common thing to see too many throw pillows on the bed and spend some crucial minutes trying to make space for you. These days, however, you can do with less throw pillow and fluff up the existing ones so that you can add more volume.
The designers say that you can play with a lot of texture, colour, size and different patterns by testing what arrangement works best for your bed. It is better to buy from stores that allow returns so that you can check your purchase at your home. Some people also buy more pillows, try the ones that work and return the ones that don't. It can be very tricky to make a decision at the store.
Bedside Storage    
[Image: Britto Charette Interiors + Miami Florida]
It is extremely crucial to have a drawer in your nightstand. This space will come in especially handy when you need to hide away the items that you need within reachable distance and also does not clutter the table top. This could be your half read book, a bottle of night lotion or other items.
When you are choosing a nightstand with drawers, you need to pick that has one drawer and a shelf or three drawers. The experts say that these numbers may seem odd, but they have the ability to balance out the space. If you have a tiny space, then just buy one nightstand, which can be balanced by a stool, tray table or a floor lamp on the other side.
Another designer suggest that you can also go for cool clear spacing by getting a wall mounted shelf right next to the bed that acts as a nightstand. There are also many floor lamps with built-in trays that can do the trick for small spaces.
Curated Collection by the Bedside
[Image: Martha O'Hara Interiors]
Bedside storage is a very important aspect in any room. However, there are also items that would add to the look of the room when displayed. A thumb rule in this case is to keep it simple and minimalistic. You can place a stack of books along with a bowl of flowers, a vintage clock or an aesthetic looking coaster to hold a glass of water. These small beautiful pieces should look visually pleasing and for everything else there is a drawer.
An expert suggests that you can also place a decorative box by the nightstand if you do not have a drawer. This will hold small items like a remote control, jewellery, lotions, etc. while keeping the space clutter free.
Chic Lamps for the Bedside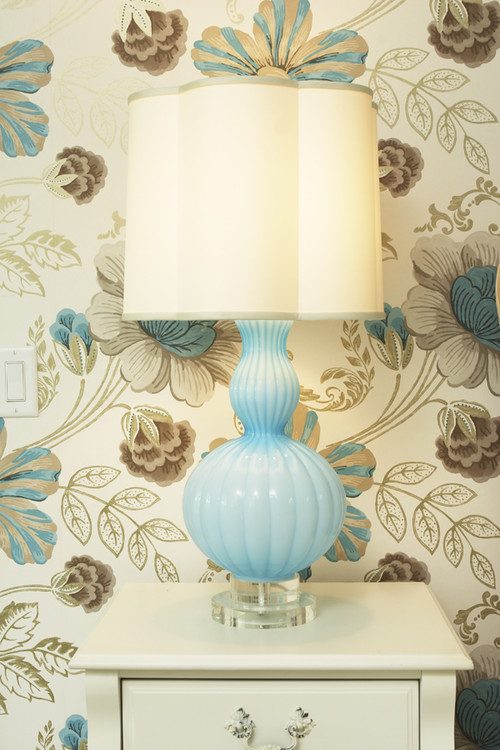 [Image: Martha O'Hara Interiors]
No matter if you are an early riser or a late bedtime reader, a bedside lamp is a must in every bedroom. Experts say that the height of the lamp should complement that of the mattresses and the nightstand. It should also be compatible with the way you intend to use the space. If you are a reader in bed, then you would require more light to illuminate the book so the lamp should be higher.
You also need to consider the shade of the lamp. The size and the shape of the lamp decides a lot regarding the shade and should ideally soften the harsh glare of light and cover the headboard. This light is perfect for reading and also does not cause glare.
Add some Sex Appeal
[Image: Britto Charette Interiors – Miami Florida]
Don't be afraid to experiment with the boudoir, which has an important role to play in the raunchy side of your life. Designers say that you can add soft and silky wall coverings to play up the sexual appeal in your bedroom and pair it with a quilted headboard. Also, allow your lights to be turned up and down as per the mood.
In the case of lighting, you can consider using dimmers on your bedside lamps or the chandeliers to control the illumination.
All these aspects together play a huge role in making your bedroom a sanctuary that it is famously known. These bedroom design ideas and tips have been compiled by taking inputs from reputed designers and experts that offer valuable advice in designing your room perfectly.