Most of the time, the home office doesn't get a huge space, thanks to the shrinking size of the modern apartment. While space may be limited, the need for an area to work at home doesn't ever fade, and that's the reason to find options for the smaller rooms. Here is a simple guide that will help you in finding ideas for small home offices and make things more practical.
A rollout table: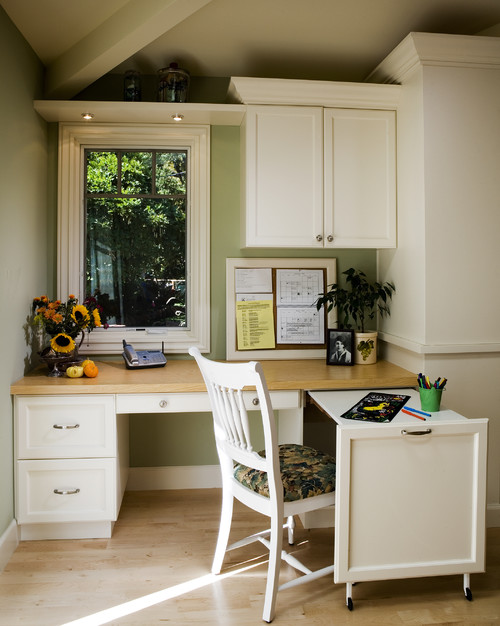 [Image Credit: Harrell Remodeling]
There are days when we work from home when we just don't have the energy to go to the office. A rollout desktop or table works perfectly when you need extra space, but not very often. Such tables are generally placed under a main table and can be pulled out whenever needed. You do not need to compromise on knee and leg space, nor do you have to complain about the lack of space- Perfect and simple!
Low shelves: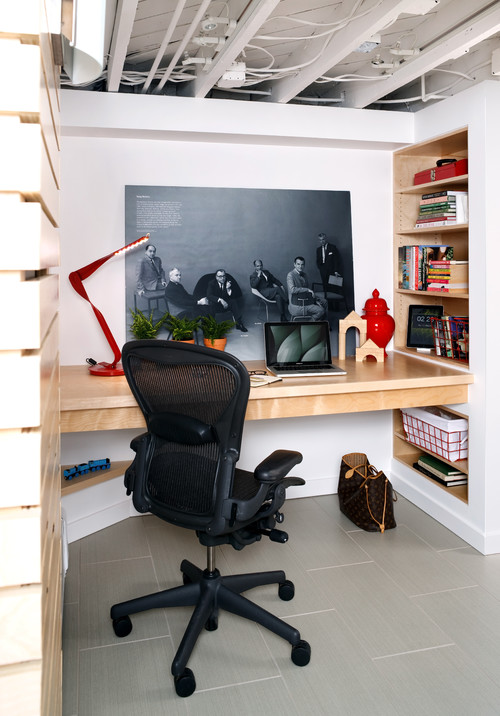 [Image Credit: Wentworth, Inc]
The space under the main table of your home office can be used in a variety of ways depending on how much space you have and the area you need for legroom. A corner triangular shelf or even a small shelf on the side can be good enough to store papers and files that are only needed once in a while. Also, if you have too many files, the lower shelves can be a good place to categorize everything in small bins. Labeling the bins with a Dymo label printer will help you keep everything organized as well.
Wall desks: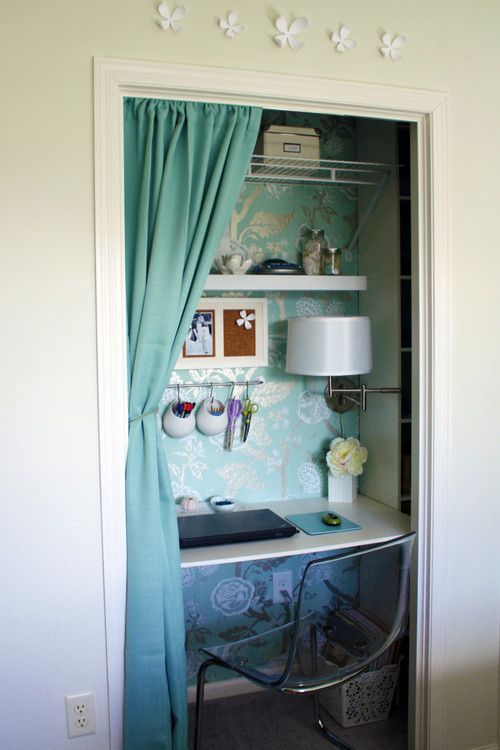 [Image Credit: iheartorganizing]
If you only have a small space between two walls, or have an entire wall that is free for use, the home office can be set up there. Some people choose to use those spaces between walls to add cabinets, but others like it for a desk where a chair can slip in and can be used when needed. Additionally, you can install a few shelves above the desk to keep your files maintained in order.
LED/LCD screens for dual purpose: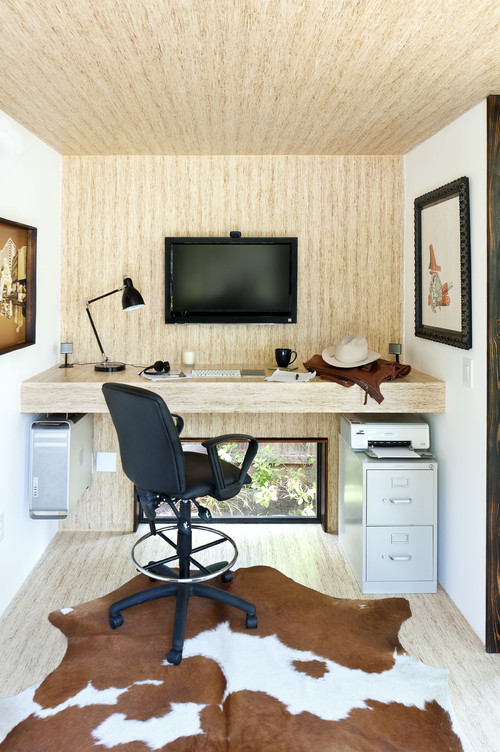 [Image Credit: Sett Studio]
We are not always in the mood to work, and that's why having a source of entertainment in the home office is essential at times. Rather than having a small computer monitor or laptop for work, you can use the main wall of the room for an LED or LCD screen and utilize it for both work and entertainment. The bigger the screen, the better the environment!
Pullout drawers:
[Image Credit: Lucy Johnson Interior Design]
If open shelves with everything on display seems odd to you, you can either invest in pullout drawers, or install some sort of cover. There are some sophisticated designs on the market where the drawers can be operated by a button or remote if desired. Drawers make it easy to label and keep things organized by their use. Look for more conventional large drawers for sorting things, rather than having too many confusing small drawers.
Of course, you can also look into more creative options that will work around the space available, but those are more specific and customized solutions.