Often a little bit of color adds a different dimension to a room. It sometimes so happens that we rent a place and go there to stay. The main problem with rented places is that you cannot make changes with the wall color even if you want to. More often than not people are thus stuck with a color that they do not like at all! Well, in cases like this, you can always add a little bit of color to the room to spruce it up and hence the wall color is not noticed much anymore. There are various ways of taking attention away from the walls. You can put up clocks or cover it with interesting pictures or nice and creative photo frames. You can also use the right kind of lighting to make sure that the wall color does not become the defining factor of the room.
However, nothing works better than two different colored curtains when it comes to rectifying the hideous wall color. Even if you have sober and pastel shade wall colors, these kinds of curtains really do work well. They add color as well as a different spirit to the room, making it look more bright and cozy!
Planning to add a little color to your room? Here a few ideas to guide you along the way:
It's really a child's play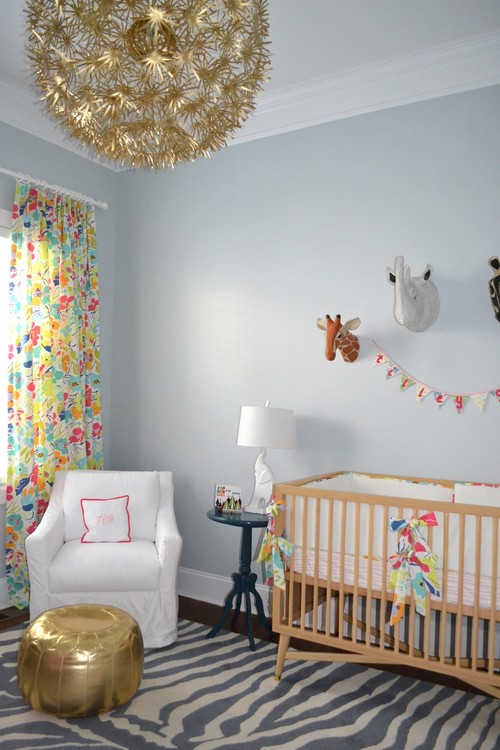 [Poplin & Queen Interiors]
When it comes to decorating a child's room, especially a girl's multiple colored curtains are the best choices. If you want to make the room in a certain theme, then get the curtains in that theme. A jungle safari theme is a really cool one. Even though initially it might not sound as the best choice for a girl but a look at the touch of pink and other bright colors, makes it the perfect choice for your darling angel! Make sure that the wall colors are of pastel shade to balance out the brightness of the curtains.
Bathrooms can be fun too!
[Fawn Galli Interiors]
Whoever said that bathrooms have to dull and gloomy or plain white? Add some color to the most private room of your house. Even if you want to keep the bathroom curtains plain in color, it is best to go for a shower curtain that employs a lot of color. Colors, rather than plain white, are much easier to maintain and do not soil so easily. They also add a fun mood to the room where you can sing along and shower away to your delight!
All work and no play makes Jack a dull boy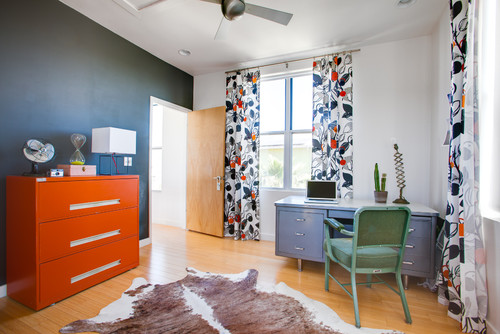 [Kailey J. Flynn Photography]
Home offices are a pretty common thing found in houses these days. Actually they are one of the most necessary rooms of the house if you have a job, which demands more time from you than other professions do. A home office is crucial especially for a writer or one who works from home. It is important that you like this little workplace of yours. It is best if the room has a large window and your desk faces it. In this way, maximum light will fall on your table, making it easier for you to write or even just sit and think. Do not at any case paint your home office dull. Even if the walls are solid or nude colors, spruce is up with multi colored curtains. They really help in lifting the somber spirit of the room.
Sauvé and sophisticated
[Ashley Campbell Interior Design]
Beige walls and white and gold curtains work wonders when it comes to decorating your living room. This combination adds a cozy feel to it. It is always desirable if the living room area has a big window. Any kind of furniture is suitable when it comes to such a combination of wall paint and curtain color. Old and antique ones go the best. If you go for a large sofa, you can make it interesting by opting for various types of cushion covers. Potted plants inside the room go well with this color.
These beautiful room decors will help you get some ideas of your own to accessorize your own rooms with!