When the dining tables are round or oval, it helps in involving all the guests in a conversation and also eliminates the risk of bumping into corners as you walk past the table. You can also add more chairs if you have more guests at the table than the original seating plan. These simple reasons are enough to ditch the boring square or rectangle tables and bring home a round one. You may already have an existing table or you are planning to get one, you can use these quirky decor ideas to dress up the spot and make it look more inviting.
 Dark Wood Table in combination with Loop Design Chairs
[Image: Elizabeth Reich]
You can add more joy and cheerfulness to a serious looking dark coloured pedestal by bringing in loop chairs. The curves not only complement the round shape of the table but can also add an element of fun in the dining area.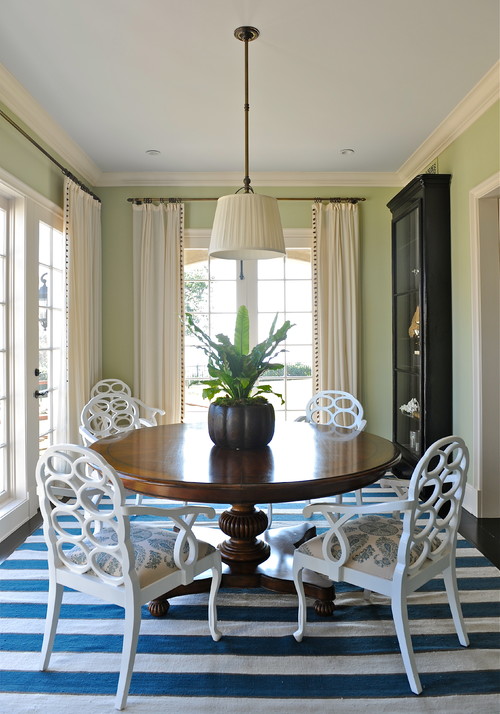 [Image: Katie Leed]
Loop chairs were designed by Frances Elkin in 1930 and as of today are the epitome of style and comfort. You can pick one of these traditional chairs in a modern black or white colour to suit the theme and décor of the room.
Leather Chairs for Glossy Stone finish Table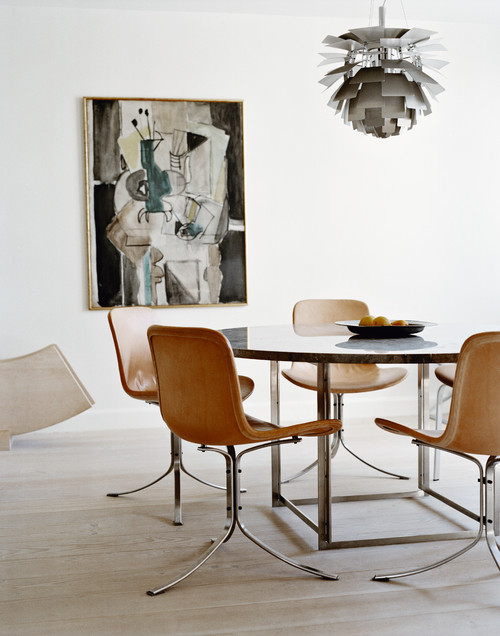 [Image: Danish Design Store]
A sleek stone table has an aura of its own and a shine that dazzles the dining room. However, you can downplay the lustre by adding leather chairs that are not only comfortable, but also very chic. The metal base used under the table and the chair help in binding the design together.
Banquette and Modern Chairs for a Tulip Table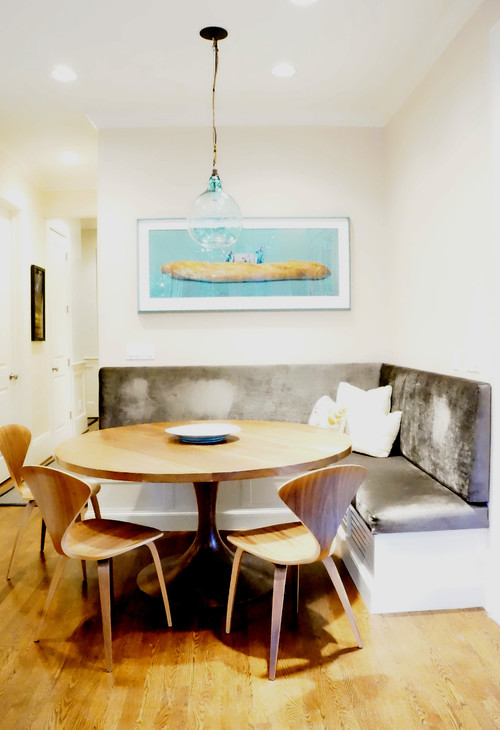 [Image: Jette Creative]
In this image, the luxurious banquette has been dressed up with a custom walnut table and the traditional chairs. This design provides a comfy nook in the house without demanding too much space and provides the guests to be comfortable and taut while in conversation with one another.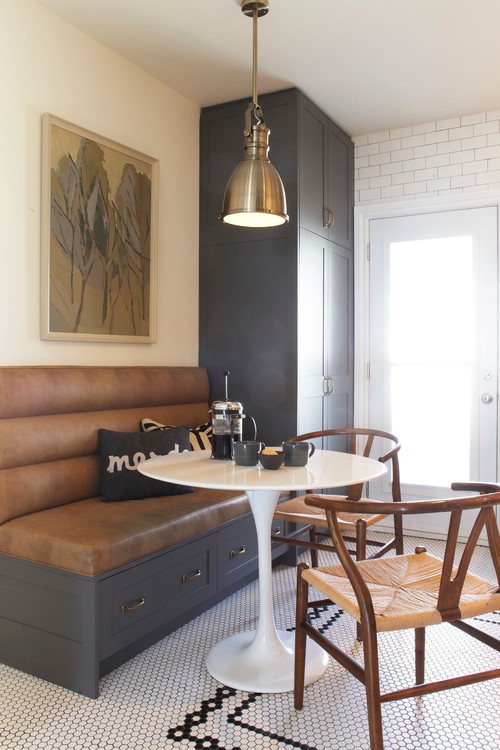 [Image: Barbara Purdy Design Inc.]
In this iteration of the same setting, the white tulip table breaks the rule of the look with its simple contemporary appearance. The leather banquette and wishbone chairs are warm as well as welcoming while the table is crisp contrast.
Chinese Chippendale Chairs to Complement the Lacquered Table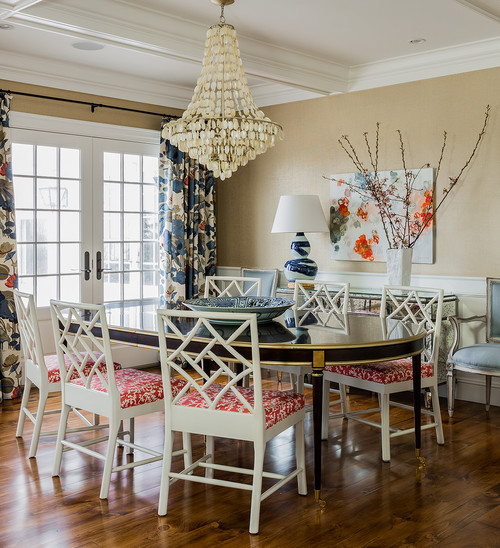 [Image: Katie Rosenfeld Design]
The lacquered dining table adds elegance and old world charm to any room. However, these Chinese Chippendale chairs do no less in complementing the appearance. The bright white upholstery keeps the room fresh and light and provides a stark contrast to the black table.
Louise Style Chairs for a Rustic Pedestal Round Table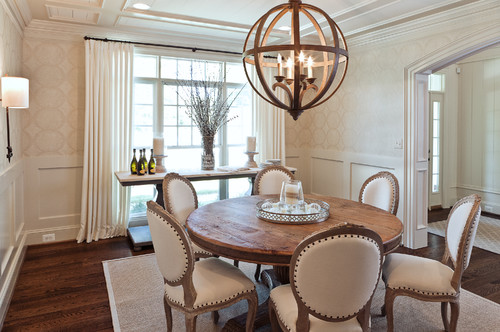 [Image: Dream House Studios]
A raw wood table is what brings in a country-house feel to the house. It has been paired with white Louise chairs to augment the elegance factor. The neutral linen upholstery does wonders to match the raw finish of the table.  It offers some great furniture ideas for your dining room.
Brentwood Chairs for Café table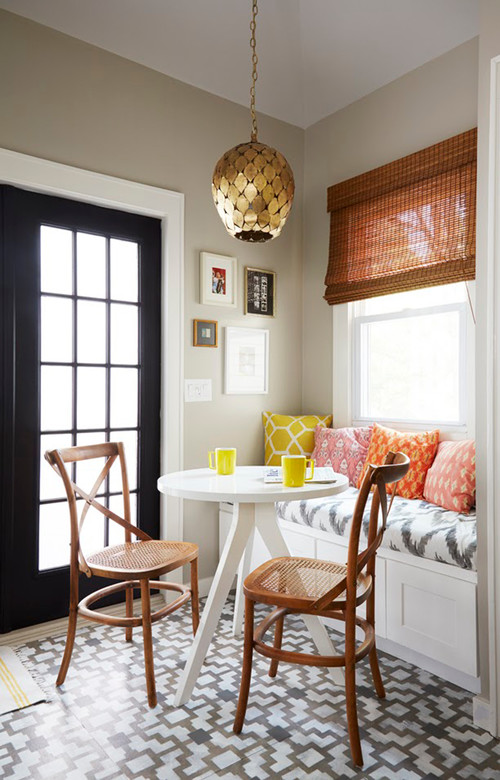 [Image: Janna Makaeva/ Cutting Edge Stencils]
Play up the Viennese vintage look of this café table by adding Brentwood chairs. This dining nook has been made roomier with the addition of a window bench, which is colourful and contemporary.
Contemporary Round Table with Louis Ghost Chairs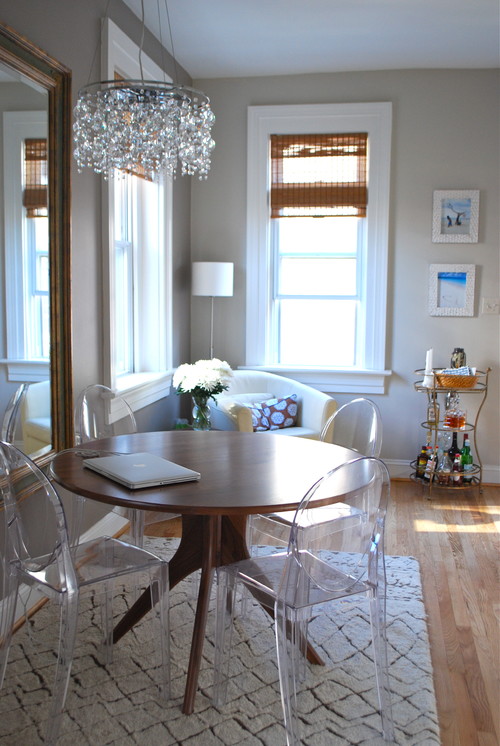 [Image: Megan Blake Design]
If you have a space crunch, this table with the chair combination will serve the purpose perfectly. The clear chairs are versatile and can match any kind of décor and create the illusion of space as they have no visual appearance. It can be paired with warm wood mid-century table to balance its sleekness.
Add colour to Round table with the Bamboo Chairs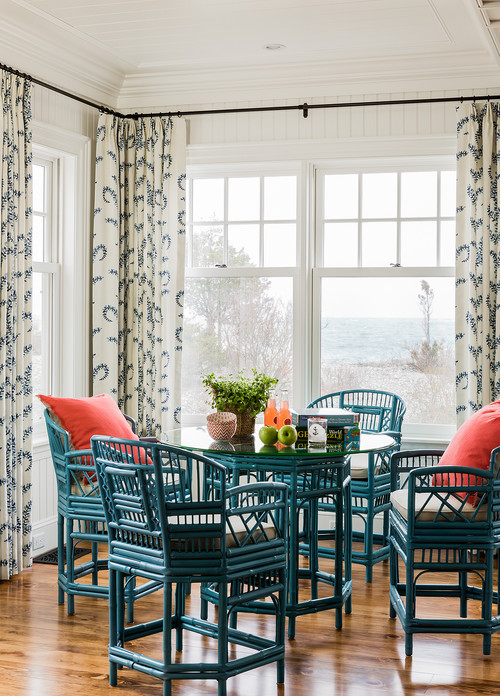 [Image: Katie Rosenfeld Design]
Every once in a while, one can take a break from mixing and choose the tried and tested matching route. A steel top glass table with a bamboo base has been matched aesthetically with the chairs of the same colour and design. You can add this simple bunch to your patio, pool or even inside the house to create a comfy dinner nook.
Rustic Stool Pairing with Flea Market Table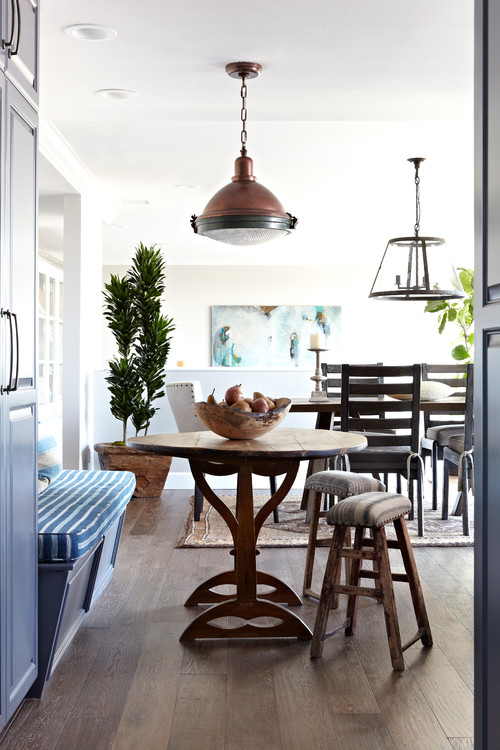 [Image: Janette Mallory Interior Design Inc.]
If you got lucky and got yourself a quirky round table off a flea market, then a matching chair solution will take away its quirkiness. Instead, pair the table with a cushioned bench and eclectic mix of chairs or rustic stools to play up the look. Go chair hunting and grab the eccentric pieces to dress up your table.
Modern Chairs with Flamboyant Traditional Table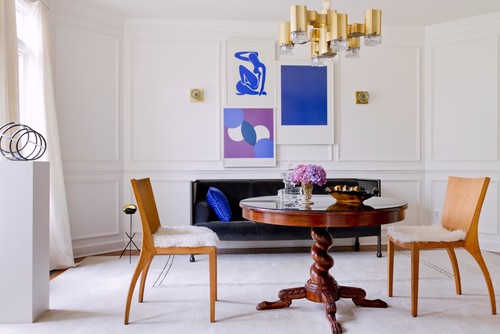 [Image: Raji RM & Associates]
When you have a table that is a standalone statement, you need to give it proper treatment for the sake of its flamboyance. Ditch the boring matching chairs for this one and add sculptural modern chairs for the look to stand out.
Round tables can be a very exciting play area for the designers and creative people that are looking for eccentricities in their home décor. Just use some of these simple tips and get a perfect sitting area for dinner that would be loved by not just your family, but also your visiting friends. Engage in long meaningful conversations sitting around a round table!