If you are struggling to discover the ideal dining table for your dining room and are unable to get to one specific piece; if you are confused because so many options are available and your are tempted to look for many more, only increasing the dilemma – you need this key. Discover your own style of interiors, your tastes and preferences and get to one style which is ideal, the perfect choice for the home. This is a simplified key for your convenience and you will be assisted using it. Take a look:
Are you a clean – lines fan?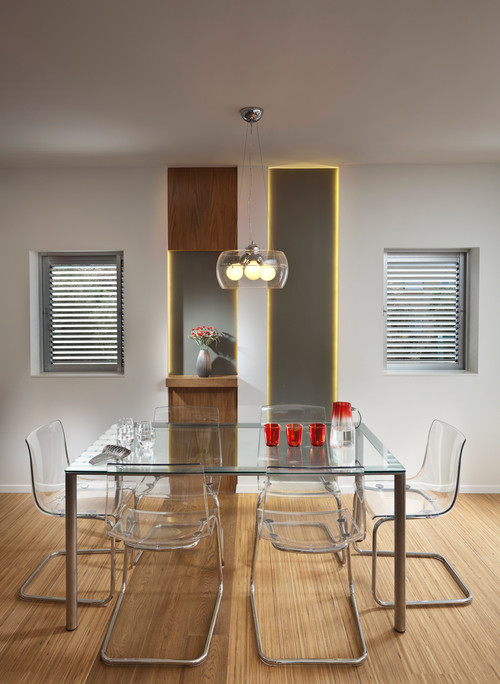 (Image: Elad Gonen)
If you are a fan of sophistication but not pompousness, this is your call. Go for a glass table with an iron or steel or wood frame, which is not very overbearing and pair them with elegant and sleek glass or metal chairs with a dainty frame. Nothing too bulky but strong and functional! You would want to avoid glass if you live with small kids though.
Are you an entertainer?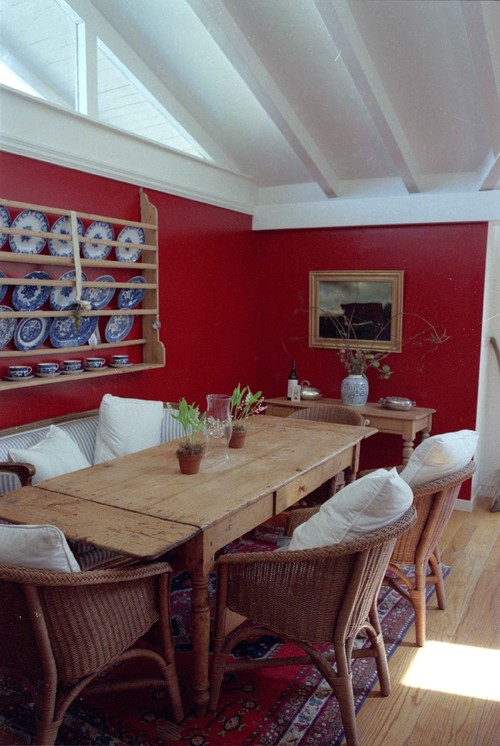 (Image: Glenn Robert Lym Architect)
This style is slightly to the larger side – preferable extendable. If it can accommodate, say 6 people, and then be extended to fit in 10, nothing better. The extension can be a pull out, a fold-out or another side table attached to make it bigger as a whole.
Are you a minimalist?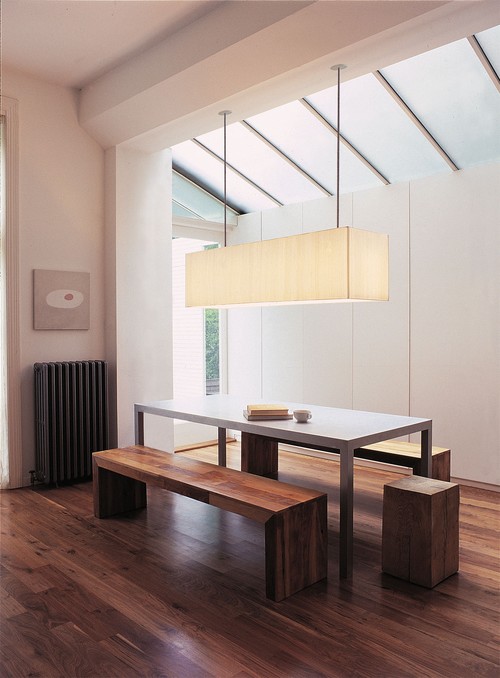 (Image: usona)
If yes, this is the table style you must pick. Straight lines, metal and no frills at all – this style is as simple, plain yet elegant and easy to clean as it can get. It will not only soothe the minimalist within you, but also blend easily with the other furniture items and décor you may have in the house. The materials that work best are solid wood, metal and simple fusions with minimal add-ons.
Are you a nature lover?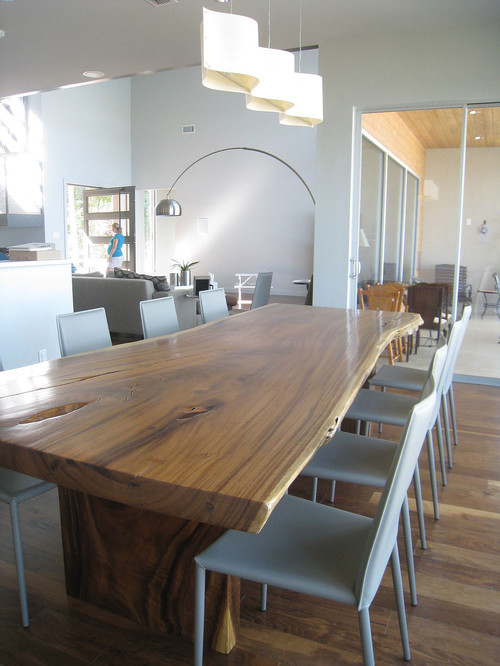 (Image: Fusion Home)
Use reclaimed wood, recycled wood or salvaged wood as the tabletop. If you are buying a table, get something with a non-fancy top and replace it with the said material and if you are getting it made, nothing like it! Use something off a romantic tree-like teak. It is an expensive choice, but nothing can match the look or style of these tables.
Are you the rustic lover?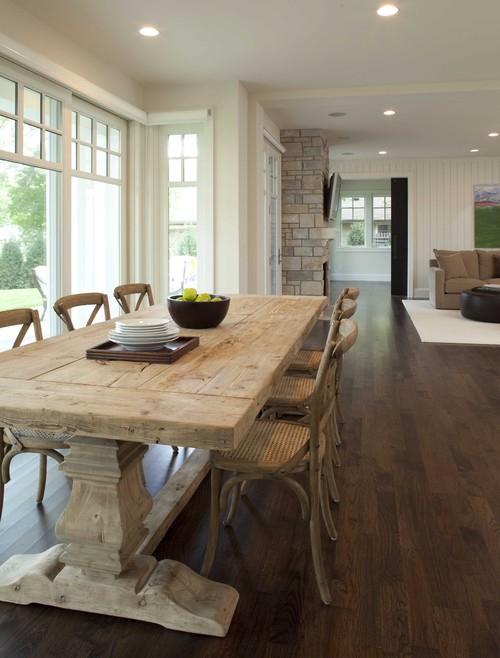 (Image: Charlie and Co. Design, Ltd.)
Go for farm style or cottage style, hard wearing, solid-top tables, which are low maintenance, not very polished and simple in design. Traditionally used on farm houses where the family sat together to eat the farm produce after a hard day on the fields, this table gives your dining room a close-to-the –soil look and adds a rustic charm to the interior décor.
Are you a blend of modern and edgy?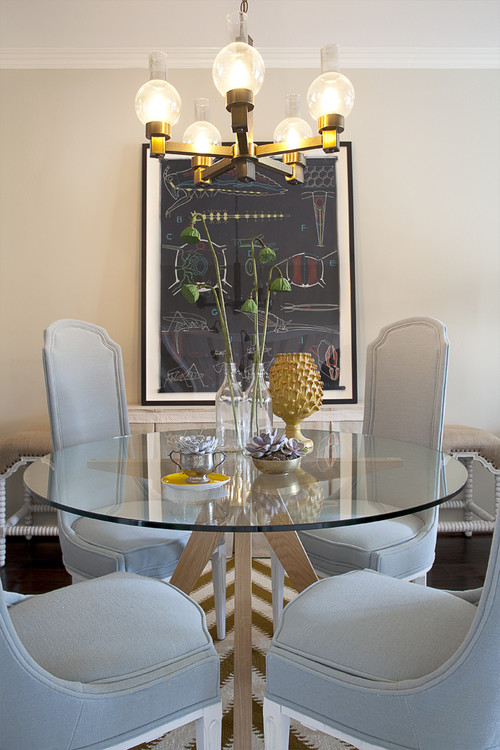 (Image: Domicile Interior Design)
Go for a modern round table – the perfect amalgamation of yester years and present. Go for something in a fun material like glass or metal and combine it with sleek, high backed chairs for a cool look. You can still use your linen and china, but it has to match the pace of the table – don't go for your mom's floral sets, instead adopt sleek and modern cutlery and napkins in a solid color. Keep it simple yet grand! It can also be a nice oval for something in-between the rectangle and circle.
Are you a traditional eater?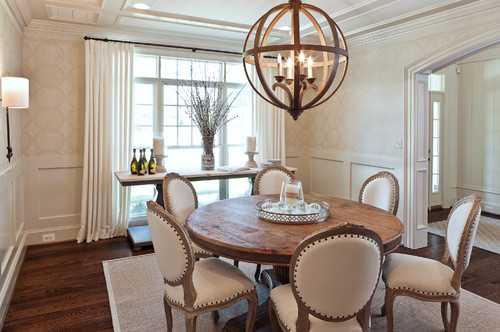 (Image: Dream House Studios)
This makes you the perfect candidate for a round, traditional wooden table, to be adorned with expensive linen and china with an elaborate centerpiece and coffee and conversations! It is easier to hold up talking on a round table, and it is also simpler to accommodate more people on the table if it is round.
Are you a nightlife lover?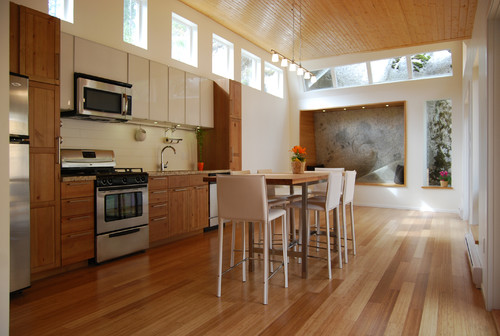 (Image: Sandrin Leung Design Inc.)
Well, this makes it so much simpler! Go for a trendy, bar counter style table with high bar chairs and recreate the lounge ambience at home. The perfect place to hold a wine tasting, with lounge style dimmer lights hanging atop, and spirits and laughter filling the air – the perfect way to entertain your kind of crowd!
In nutshell, the answers to these questions will resolve your dilemma of buying your ideal dining set and enhance the interiors of your room. Happy Shopping!!!