TWS & Partners are acknowledged for their contemporary designs and ideas, and this house named Distort House is designed by them in Jakarta, Indonesia. Making the most of the tropical setting and village forest, the designers have planned the house featuring lush green exteriors with many trees and a park around. The open front space offers amazing views from the upper portion of the house.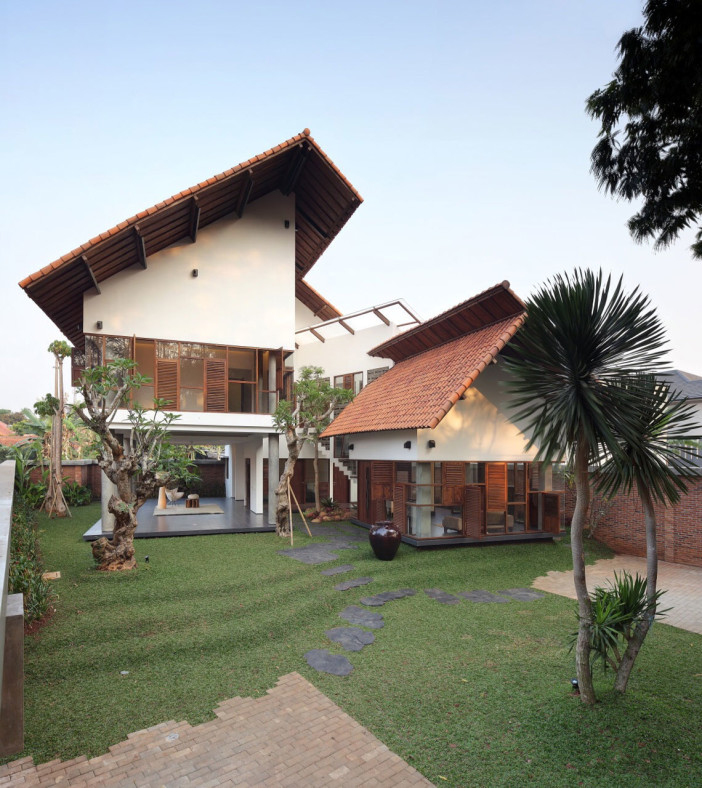 The large living room is open enough with open walls, like living in a forest in itself. For the materials, the designers have worked extremely hard on using recycled and reused materials to the best possible extent. All the wooden windows of the house are crafted from recycled wood and used in varied styles with use of clear glass and louver. There is also natural concrete plaster color exposed in areas to make the design look as simple as possible. The walls have simple white color that combines well with the wooden ceiling and windows. Even the ceilings have been crafted of recycled wood planks, contributing the best to the nature.
What attracts visitors to the house is the use of terracotta roofing that is extremely complementing to the surroundings. The roofing tiles have no additional polish to ensure the heat levels are balanced with the porous openings of the tiles, which is excellently in tune with nature. The designers claim the tiles can reduce a huge amount of heat from entering the house. For the front gate, there is use of reused steel bars. The lighting solutions are perfect and attribute a lot to the main design of the house. In short, this is a home that uses the best of natural elements and keeps balance with the needs of nature.
Photos by: Fernando Gomulya